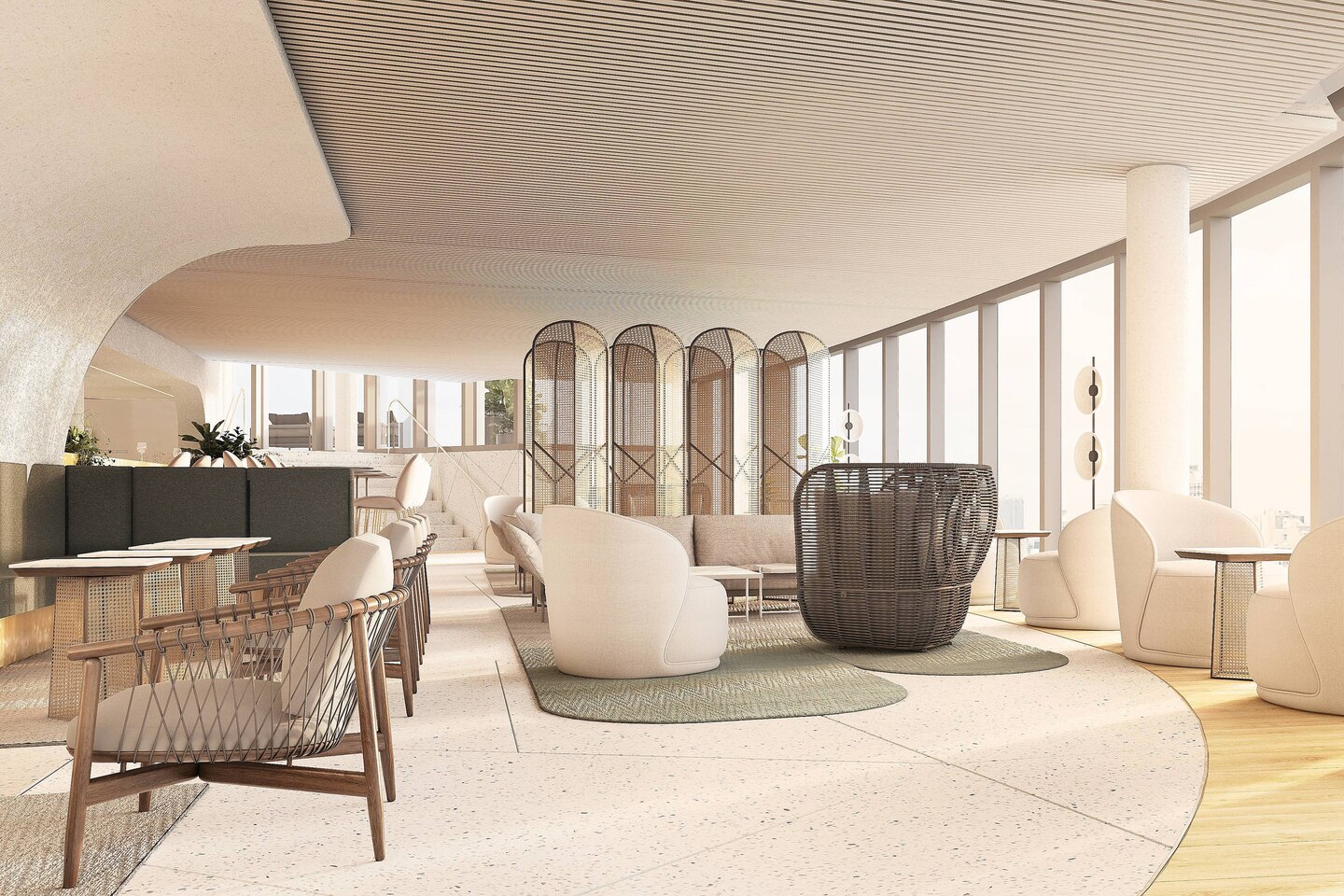 Melbourne's growth as a premier destination for events and tourism is once again highlighted with the recent development of Marriott Docklands, part of the mixed-use Docklands project; District Docklands, a recent showcase of new waterside restaurants, bars and shopping.
Totem Group recently had the pleasure of scouring the luxury landmark courtesy of Marriott Docklands in an exclusive all-access pass, ushered through two petal shaped interlinked towers to a light infused foyer formed with graceful curves. The bold property is another lustrous design by DKO architecture, reflecting the tastes of the next generation of travellers.
Taking its design cues in a blend of inspiration from Australia's fashion capital and the yachts moored on the docks, the first five star property to hit Docklands offers a reprieve from the visual noise of daily life. An innovative and sophisticated space awaits, detailed with the functionality of a modern traveller in mind, providing 189 contemporary fitted rooms with 24-hour room service and dedicated 'M Club' floors, a space away from the world, curated to unwind, refocus or work privately.
Sophistication throughout the property further expands to its meeting and event spaces, with the 'promenade', featuring floor to ceiling windows and cutting-edge technology, equipped with vertical sound absorbing partitioning system allowing 3 separate flexible spaces. Accommodating 200 people in theatre style and 96 in cabaret, with two adjoining rooms for up to five break-out spaces, making an ideal setting for small-mid sized groups.
More intimate and unique displays of fine features are enhanced in the meetings and events space with fairy lights installed in the ceiling and access to the outdoor terraces.
The real showstopper however can be found on level 15, wrapped around the curved building, the 20m wet edge resort-style infinity pool with adjoining bar and sky high views for group size of up to 80 guests, has you feeling a little less edgy Melbourne and a lot more Singaporean sleek. "It has an unparalleled feel to the property. For a moment it was almost as if I wasn't in Australia" – Melissa Byron, Totem Group.