There's good news from the Land of the Rising Sun as Japan Airlines continues to rise. The airline is surging ahead with daily flights from Melbourne and Sydney. As one business traveller said recently of a Melbourne to Tokyo flight: 'Once you fly JAL, you will stick with them forever.' With a service weighted predominantly towards Business and Premium Economy, here are 8 great reasons why it's easy to fall in love with Japan Airlines.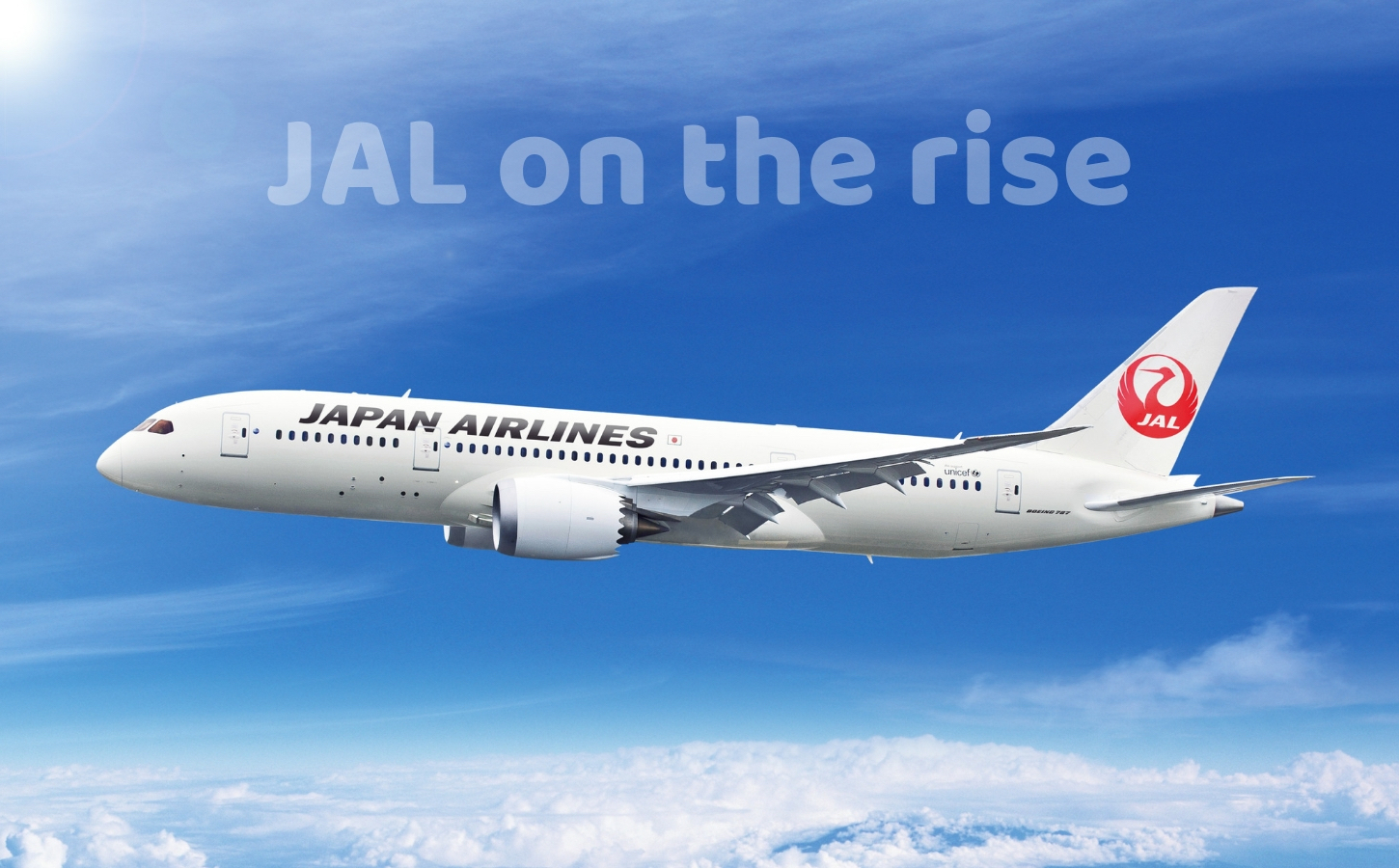 Dreamliners with a difference
The Japan Airlines Dreamliner experience is different to the others for a few reasons, the major one other Dreamliners have the nine seat configuration (3-3-3), but JAL seats are 2-4-2, therefore raising the convenience and comfort levels to better accommodate couples, families or business partners together. Simply, it means there are eight seats rather than nine – so each seat has an extra width of 5cm. Business and Premium Economy class seating is outstanding, with the Premium Economy seat pitch a remarkable 107cm, which is up to 10cm more than most other premium economy seats. There's ample storage pockets (more than the usual), a USB port and 110V AC power supply. A shell-type seat means you don't have to worry about seat recline hassles. Even in Economy class the seat pitch is generally 74cm-81cm, but JAL's is 84cm meaning more room and what's helped the airline achieve the World No.1 on Skytrax for Economy Seats. Power adaptors and international adapters on every seat is very convenient for those who carry gadgets and laptops… which is most of us. Huge legroom, and basically great configurations for seating, especially in Business (2-2-2) but seat placements are staggered so you have your own aisle if you're on a window, therefore not having to interrupt the person next to you.
Shinto and Buddhism are the major religions of Japan. A very small minority of Japanese are Christians.
Baggage bonanza
As a general rule, airlines have a carry-on luggage limit of 7kg on average but the good folk at JAL have fattened it up to a beefy 10kg, which is about 40% more! You also receive two bags at 23kg checked in on Economy and Premium Economy, while Business Class allows for a Sumo-sized three bags at 30kg each. Along with carry on luggage, you can have one small item that can fit under the seat in front.

Secret weapon: Omotenashi
Everybody knows Japanese hospitality is next-level. Japan Airlines is big on the Omotenashi philosophy, which is hard to define. Often translated into English as 'hospitality', omotenashi is a lot more but largely revolves around being completely selfless in approach to receiving guests, where "a perfect balance of attentive care and unobtrusiveness is achieved to create an intimate environment of trust, relaxation and respect between those sharing the moment". Tightly woven into the fabric of Japanese culture for centuries, the spirit of omotenashi  leaves an ever-lasting impression and the JAL team does it impeccably well with unparalleled service. It starts from the ground staff  – who wave you off on the tarmac – through cabin crew to the JAL staff behind the scenes, are inspired by the spirit of omotenashi to provide passengers with the ultimate travel experience and giving you a taste of Japan at the same time.
Sporty Japan, a hot spot
As we highlighted last month following Luxperience in Sydney, Japan is also on the comeback trail in a luxury travel sense, some of which is coming off the back of major global sporting fixtures including the Rugby World Cup 2019 and the summer Olympic Games in Tokyo (2020). Put simply, it's a hot spot next year and beyond for travellers. From an Australian perspective, flight choices are in great competitive order especially with flag carrier Japan Airlines surging back into calculations with its affordable, spacious and irresistible premium economy and business class offerings. And there's the growth buzz in Japan itself. "There are a lot of hotels opening in the next two years and people are realising Japan is so much more than just sushi and temples," says Sally Miles, of the Japan National Tourism Organisation's (JNTO) Sydney office. "The sporting events are a great way to attract people who wouldn't otherwise think of Japan as a destination, especially with the Rugby World with matches all the way from Hokkaido sall the way down to Kyushu, obviously it's a great way to get travellers to the regional areas of Japan," Sally says. "There are a lot of great hotels opening up over the next two years, particularly in the regional areas for the world cup, and others opening in Tokyo in 2020." Japan Airlines covers all destinations throughout Japan.
Always on time, reliable…
An expat living in Japan told me recently if a Japan train is 20 seconds late, you can expect an official statement only minutes later. Such is the precision and reliable nature of the Japanese and their way of doing business. And Japan Airlines is no different. It's in the DNA. After all, Team JAL only recently was awarded the Skytrax World 5 Star Airline status in July this year, a prestigious status decided through such things as an airline's ervice, inflight experiences, connections, interline partners, connections and services. The award for On Time performance six years in a row is another feather in its cap. Traveller's Choice Trip Advisor 2018 "passenger choice awards" won Best Airline in Japan and fourth in the world, and Best Cabin Service and Best Wifi in Asia and Australia.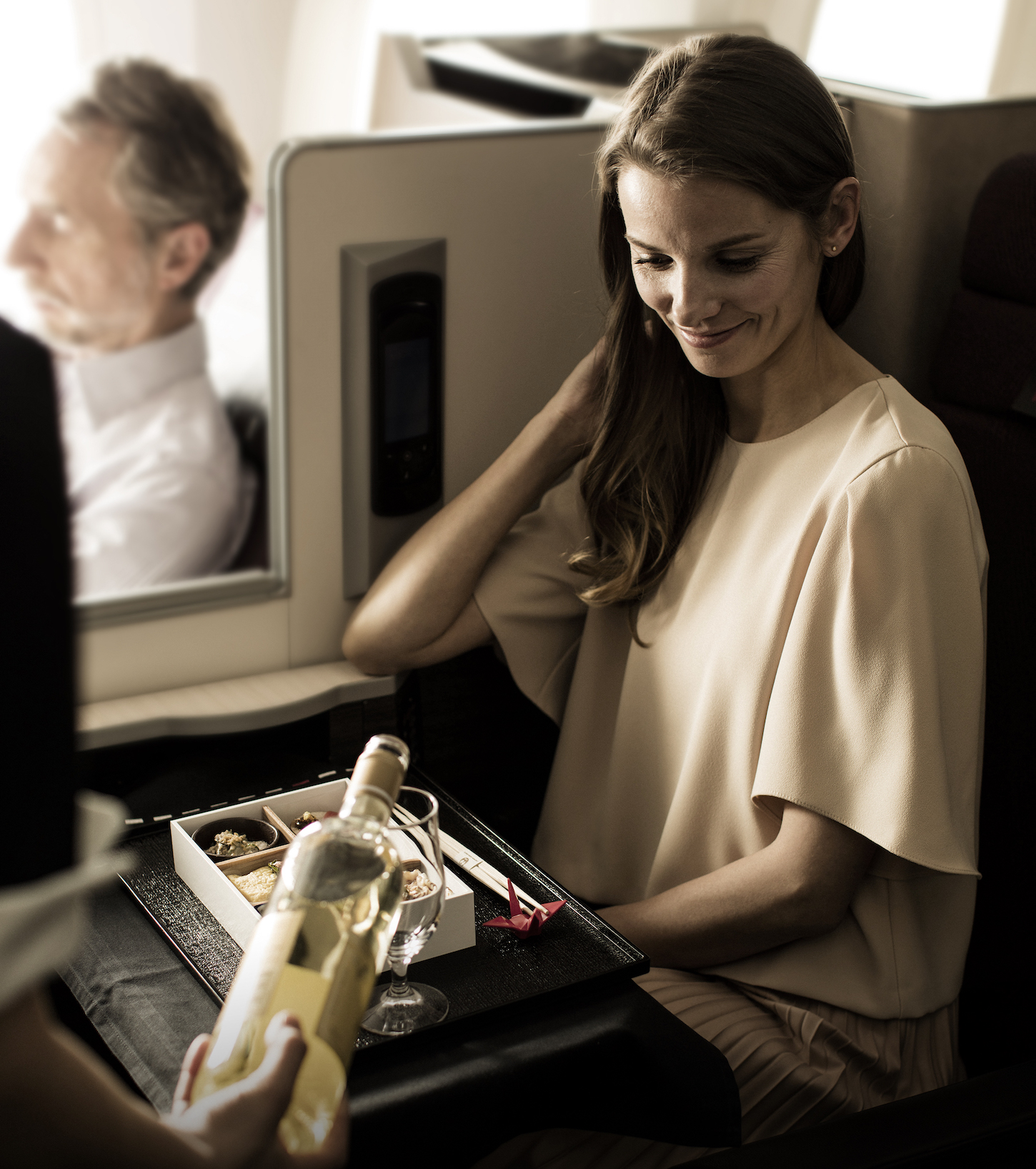 "The food is simply excellent. Airline food isn't usually a culinary experience, however, JAL takes their flight meals seriously to a different level. It's unforgettable."
The food is insanely good
Feasting in the sky is a whole new experience with Japan Airlines, who have also only recently started inflight meal reservations (Western or Japanese) for its Business Class passengers. Think Noodles, Beef Teriyaki, hand rolled Sushi, the airline's original chicken curry and more. Rati, a consultant with travel management company CT Connections, recently travelled to Tokyo on a Japan Airlines flight from Melbourne and says: "The food is simply excellent. Airline food isn't usually a culinary experience, however JAL takes their flight meals seriously to a different level. It's unforgettable." Then, of course, there are the ample offerings in the Japan Airlines First Class Lounge at Narita International in Tokyo and the Marhaba Lounge in Melbourne – speaking of which…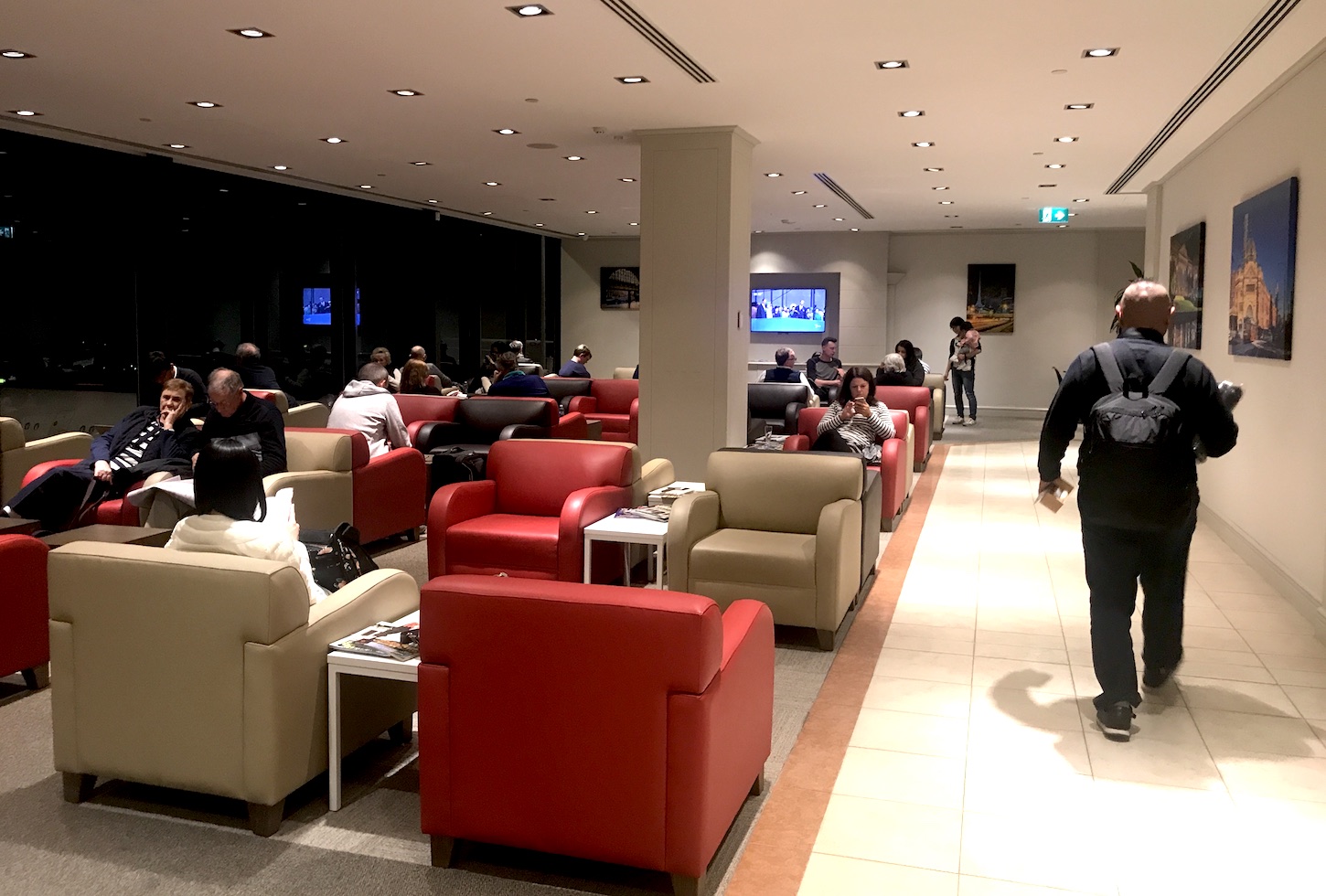 Marhaba Lounge magic
Japan Airlines is aligned with the Marhaba Lounge at Melbourne airport, so anyone heading off on the midnight flight to Tokyo has a super place to relax, freshen up or enjoy some great food and refreshments. The best thing? It's never crowded. Operated by worldwide lounge operator Marhaba under the Marhaba brand, the lounge at Melbourne international has comfy sofas and massage chairs, a tasty international buffet, full range of drinks from the bar, a shower spa, free Wi-Fi and business services centre, TVs, and newspapers and magazines. The lounge is open daily from 4am to midnight.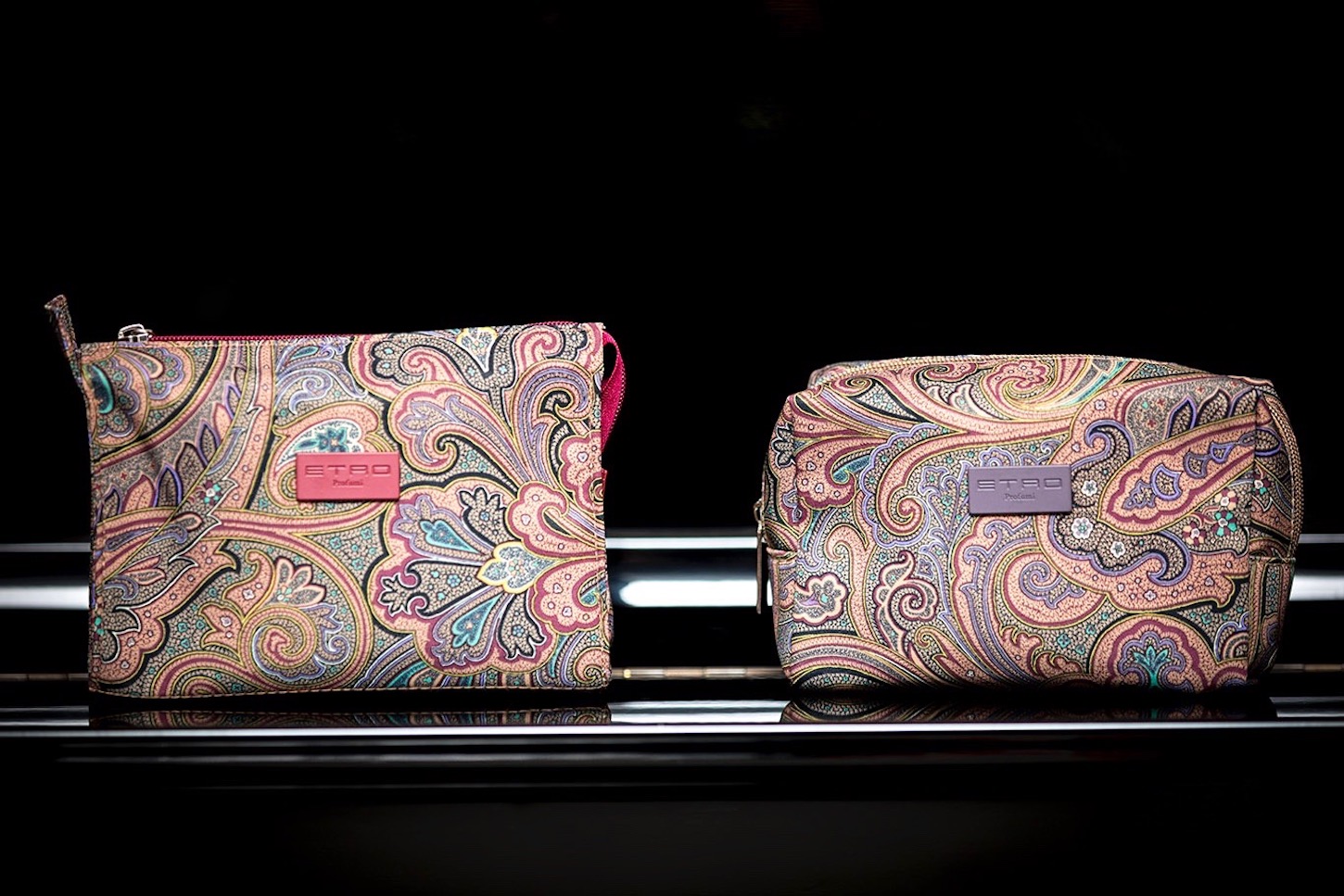 A little Italy in amenities
Japan Airlines Business Class flyers are treated to some class and style on the amenities front thanks to its collaboration with Italian brand ETRO which is renowned for luxury fabrics and quality craftsmanship. JAL also works closely with another brand, Tatsumura Textiles. The stylish and impressive amenities kit includings: lip balm, toothbrush set, moisture mask, earplugs, eye mask (flights from Japan), steam eye mask (flights to Japan), a pocket tissue and slippers. For a snug snooze, you can also take advantage of the airline's cardigan lending service.