A night-time entry sets the scene for a family adventure like no other as Sharon Ho discovers Club Med in the Maldives, a place where an all-inclusive approach makes everything easy while you absorb the sheer beauty of a magical destination.
Expect the unexpected. That was the first lesson for my daughter and I who began our Maldivian adventure with a 30-minute speed boat dash in the night from Male Airport to Club Med Kani.
Our flight from Australia arrived at about 9pm in the evening and a night-time boat transfer seemed a little unusual, but we quickly discovered it's the norm for all resorts around the Maldives.
The verdict? Pure exhilaration.
A crystal-clear night sky with a wonderful view of the stars formed the perfect backdrop as we jetted through the Indian Ocean with the reflection of a beautiful crescent New Moon dancing on the water.
Upon arrival, Gina, one of the friendly Club Med guest officers was already at the pier waiting with a warm welcome, as were the fish that were gathering in all shapes and sizes around the pier. We instantly knew we had arrived in a patch of paradise.
Beachfront bliss
Shown to our deluxe beachfront terrace room in the darkness of night meant we couldn't see much outside, but the room was inviting and very comfortable.
Being an early riser at about 5.50 am, I walked out of the terrace and on to the beach from our room to be treated to a very calming, soul refreshing sunrise almost like a morning kiss from Mother Nature.
The beauty of Club Med is its all-inclusive concept, so we didn't have to think about what we were going to have for breakfast, lunch and dinner.
Buffet heaven
Event though there are two other restaurants at Club Med, we were more than happy to dine at The Vehli throughout our stay.
The Vehli serves a great selection of international and Asian style dishes. Served buffet style, the fact we were willing to eat at the same restaurant, three meals a day, four days in a row, is testament to the quality of the food. Everything was so fresh and tasty with plenty of variety.
In fact, one would never go hungry or thirsty at Club Med. The bar is open all day serving a huge selection of drinks for all ages. From pop sodas and milkshakes for the kids (our favourite was the chocolate milkshake), to healthy juices, cocktails and a great selection of alcohol for the adults.
There was also a snack station next to the bar serving olives, antipasto, nachos, and staff can even make up a simple sandwich if you needed something to fill up between meals.
A sense of adventure
My daughter took a beeline to the Flying Trapeze after breakfast one morning.
Most of the activities are located just next to the beach, providing amazing views of the clear blue turquoise sea no matter what you were doing. After a trapeze session, we joined in for some 'Foam Party' which was a hit for grown-ups as much as the kids.
There is an abundance of activities from snorkeling and kayaking to stand up paddleboarding and land activities such as badminton and table tennis. When Club Med says it's all-inclusive, they really mean it, offering guests with opportunities to simply relax, eat, drink and play all they want.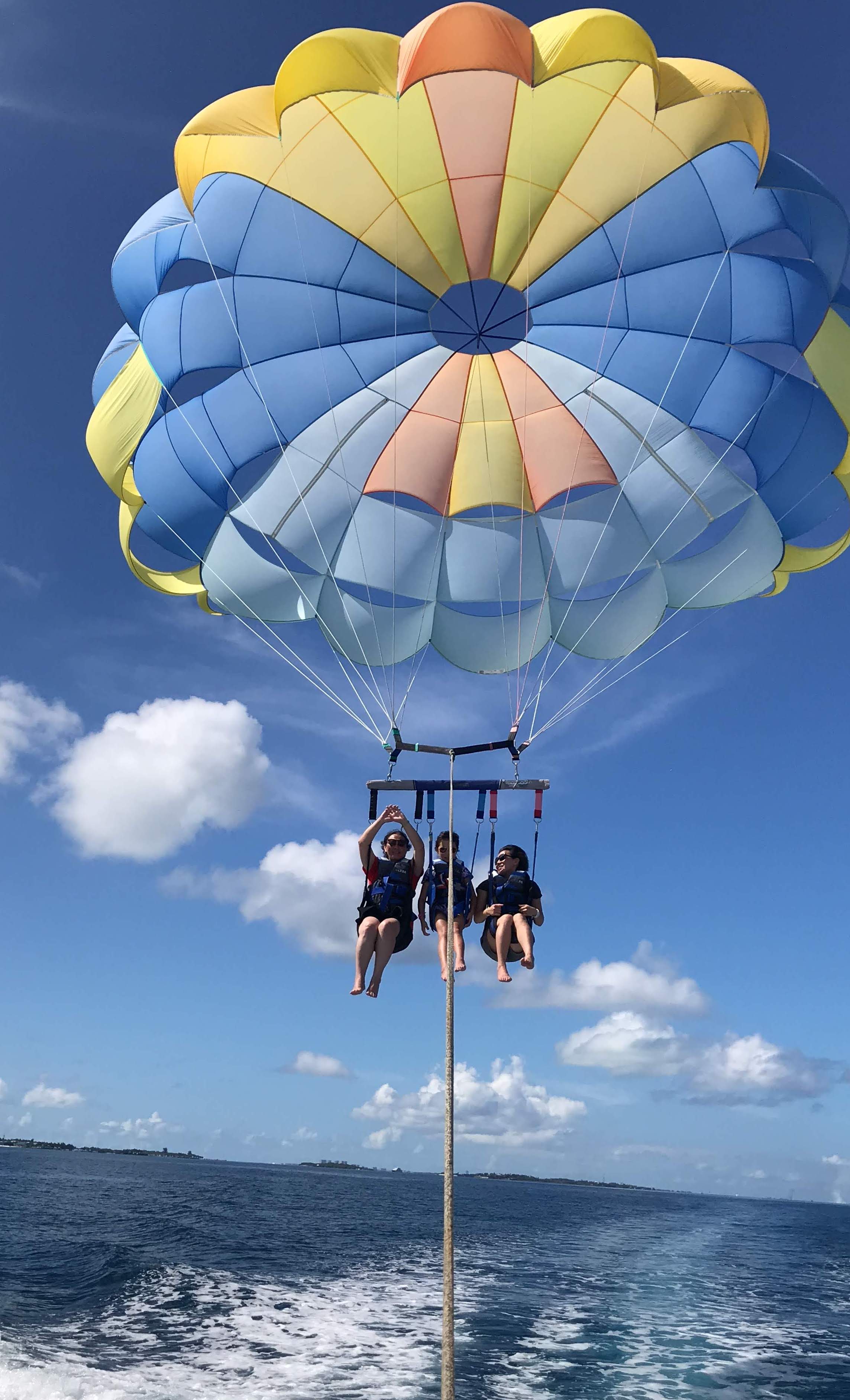 "We signed up and enjoyed a spectacular sunset cruise and when the dolphins came by our boat to play, it truly became magical, especially when one of them put on a show and flipped for us."
Sunset cruising, dolphins and parasailing
Through Club Med's excursions we were able to take a closer look at the beautiful nature and natural habitat of some of the most amazing creatures that call the Indian Ocean home.
It started with a very friendly staff member, Ripon, who approached us while at the poolside, asking if we would like to go for a sunset cruise. He assured us that we would see dolphins but if we didn't, he would invite us to the cruise again the next day. We signed up and enjoyed a spectacular sunset cruise and when the dolphins came by our boat to play, it truly became magical, especially when one of them put on a show and flipped for us.
Next morning parasailing came calling. With such crystal-clear waters and gorgeous weather, it was a chance to see the Maldives with a bird's eye view as we soaked up the aerial views from above the Indian Ocean.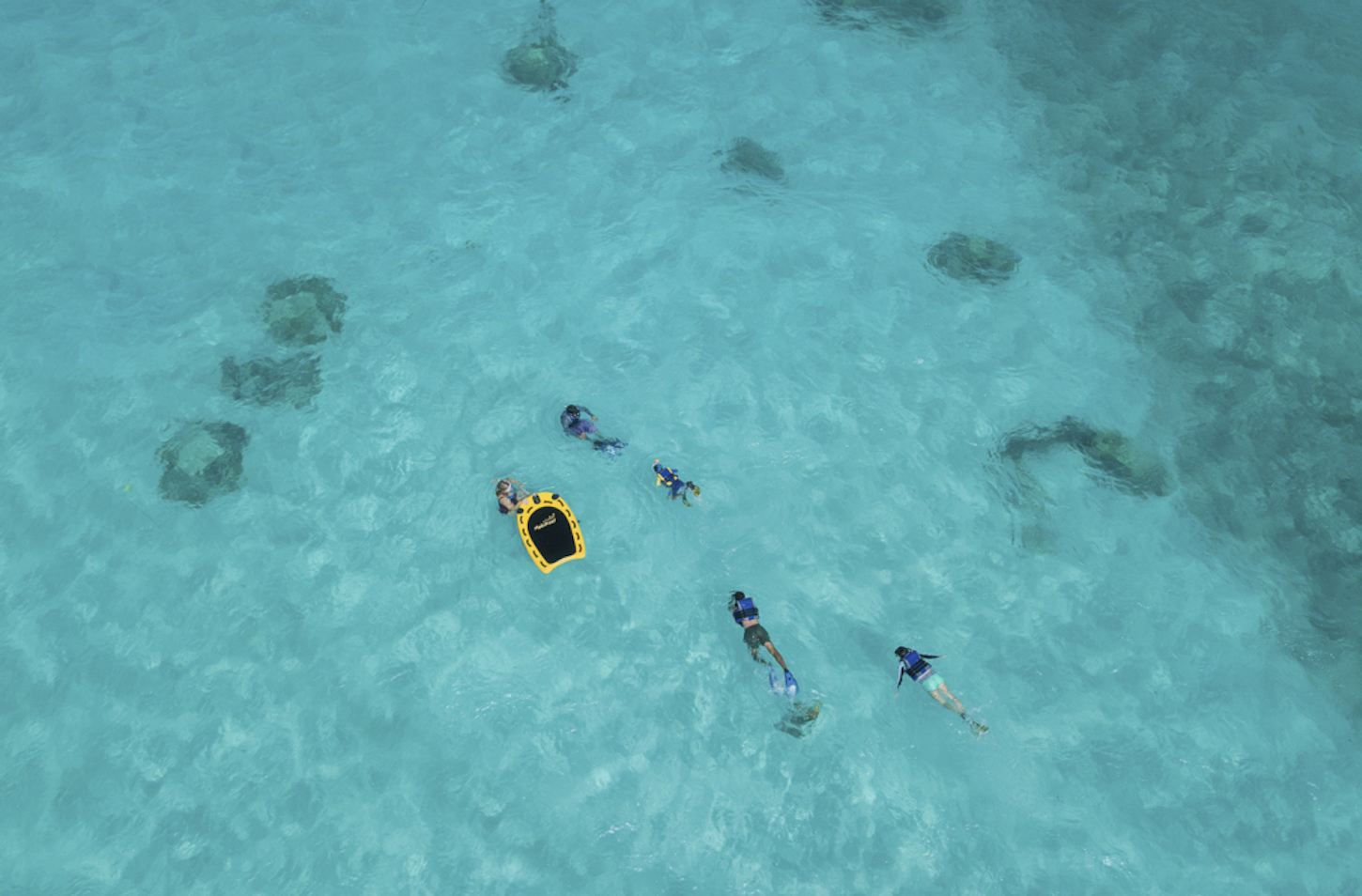 Turtley awesome safari
Later in the afternoon, we booked ourselves for a turtle safari experience, a perfect opportunity to swim with the turtles in between a boat ride 45 minutes each way. We snorkeled alongside these curious creatures that included Hawksbill sea turtles and green turtles. Some were grazing at the coral bed, while others would swim by. A cheeky Hawksbill even came up close to us.
The whole encounter was breathtaking. There were lots of fish, including a clown fish that swam amongst the corals (according to Club Med's guest officer Jessie, clown fish are very rare nowadays). At all times, we felt safe as there were at least three attendants to a small group and the boat was never too far off.
Upon returning from our trip we had dinner with Jessie and she mentioned that, sadly, many of the corals are white due to coral bleaching caused by rising sea water temperatures. Many resorts including Club Med Kani support coral reef preservation. Led by their marine biologist, you get to create your own coral habitat with a web like pattered metal frame where you attach the coral of your choosing and place it in the sea to begin a new reef where fish will come to explore.
Magical 'epic' adventure
To sum up, even after a 12 hour flight back to Melbourne my daughter said "I had an epic week!"
For me, I concur with Club Med's founder Gérard Blitz who once said: "The goal in life is to be happy; the time to be happy is now, and the place to be happy is here!".
Club Med Kani certainly is a happy place and we will return.