Food and travel continues to forge an inseparable bond, and TDL tracks down a daring chef brought in to feed the mob at Novotel Melbourne Central. Corporate travellers visiting the western fringe of Melbourne's CBD are seeing and tasting something entirely different. The result is a fresh, exciting and irresistible three-pronged venue approach that's attracting local food lovers off the street as much as business travellers staying at the hotel in the heart of Victoria's capital, discovers Scott Podmore.
A tasty new concept
BEWARE mobsters staring menacingly in the lifts. But they won't harm you, I promise, as you prepare to tuck into a juicy char-grilled rib-eye steak at hot new food venue, Pretty Boy Italian Steakhouse, located on level 1 of the Novotel Melbourne Central hotel in Little Lonsdale Sreet.
Business travellers staying at the hotel are … ahem… free to go about their business in safety but with some killer food experiences guaranteed during their stay. But more about the gangster thing later.
After checking in to one of the Novotel on Melbourne Central hotel's swish new Superior King rooms, I was escorted behind the scenes to meet with "the don", Michael Smith, former Head Chef of revered Melbourne institutions Tonka and Mamasita. A good-looking thirty-something chef carving his path in the industry and with energy to burn, Smith is the first to admit there's a big difference between a traditional restaurant chef and a traditional hotel chef. But he's something in between and attacking the hotel's fresh and ambitious food concept gangster style.
Hotel food with meaning
"Travel and food, they just go together," Smith says, saddling up to Pretty Boy's bar for a quick chat before dinner preparations. "I love Accor's new approach to food and beverage and I was attracted to their mission to break that kind of stigma attached to traditional hotel food. We're lifting their food and beverage offering."
Smith says his move from a more traditional restaurant scene into the hotel game is an educated punt and it's an exciting one at that.
"Through a friend of a friend who knew the general manager, and who I knew as a foodie I'd fed in the past, we had that connection and she approached me," Smith says. "She said she may have a position for me in something new that the hotel was doing. She knew I wasn't a hotel chef but asked if I would like to have a look at what they were proposing."
So what's all this talk of mob mentality and gangsters all about? Smith, decked out in white Tee-shirt and chef's apron, flashes a cheeky smile and begins to explain.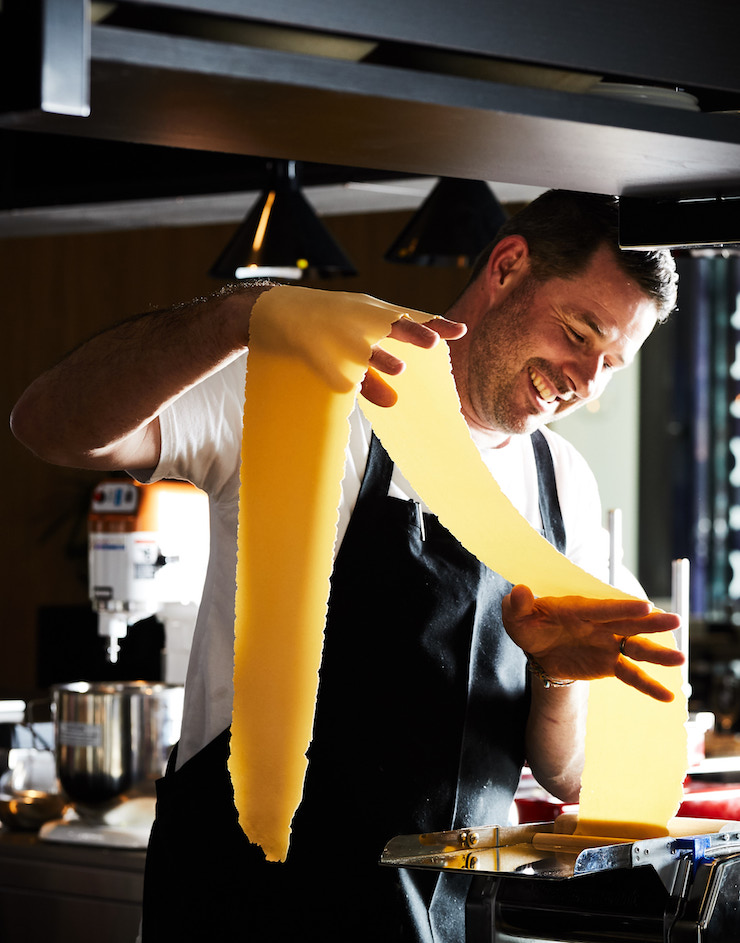 "I love Accor's new approach to food and beverage and I was attracted to their mission to break that kind of stigma attached to traditional hotel food. We're lifting their food and beverage offering." ~ Chef Michael Smith.
Robin Hood-like gangster
"Pretty Boy Floyd was a gangster in America in the 1930s-40s – and we're not pinning our business on a gangster who was 100% no good – but he was actually a bit of a Robin Hood," Smith says.
"The reason why he got the nickname Pretty Boy was because he always had a white shirt on, even when he was doing farming, which is why we wear white shirts in the kitchen as well. But he was a bit of a Robin Hood in that he would rob banks but he also stole the deeds to people's property loans so that the people no longer owed the bank money. So he was quite a character and we've based the theme around that in line with our position here on Little Lonsdale Street which had a little bit of a shady past in the 30s and 40s as well, and with our really close location to the Victoria Market which was also notorious for it's mob-like management in earlier years."
The restaurant and bar celebrate the American influence on Italian food in New York City, with menus including premium cured meats and thoughtful pickle pairings, handcrafted pasta made on-site daily, prime Australian cuts of meat aged in-house, and an eclectic spritz menu.
More than just a Pretty Boy
Pretty Boy Italian Steakhouse is the star of the show as the premier dining hub, but it also doubles as a stylish breakfast buffet venue at sunrise. There are two more venues within the hotel complex offering entirely different food experiences again. Chef Smith oversees all three venues for its food direction and delivery.
Starting with the ground floor there is Goldie Canteen, which is a "really approachable canteen style" with Asian food and brews offering, including – wait for it – alcoholic bubble tea.
"We're brewing all of our own bubble tea, but we obviously have beer and great coffee down there as well being a street level café. And what we're doing with the food is really approachable dim sum yum cha-style with a few tweaks to a lunch style sandwich in which we've infused Asian ingredients into a toasted sandwich. We've got a Peking Duck and noodle toasted sandwich with a Hoisin glaze and it's awesome and very popular.
But bubble tea in a 4 and a half star hotel?
"I was quite surprised with the bubble tea trend that's taken hold and we knew there were bubble tea shops popping up everywhere in Melbourne. But we've thrown into the mix a little add on with alcoholic beverages in the bubble teas as well," Smith says. "And people really go for it."
Upstairs to stylish Floyd's
"Upstairs it's a little more classy where we have a cocktail lounge or Aperitivo bar called Floyd's Bar where we offer some lovely charcuterie with locally sourced cured meats as well as imported and local cheeses and a few little things like pizzas and crumbed olives to go with all the bar offerings," Smith says.
Floyd's is another area hotel guests can relax, work or have a meeting in a well-lit area featuring big tables, tasty snacks (incredible pizzas) and beautiful wine glasses from which to enjoy a great selection of wine.
Razzled & Dazzled
Taking inspiration from New York's Little Italy, Pretty Boy, on level 1 of the dual hotel (Novotel & Ibis), has an emphasis on quality meat, beautifully char-grilled and the light and tasty hand-made pastas. Think flame-grilled Cape Grim Rib-Eye on the bone, a vegetarian gnocchi to die for and heavenly house-made fluffy foccacia and salty prosciutto butter.
"We make pretty much everything in-house right down to our own sauces," Smith says. "Pretty Boy is casual dining and you can expect to be razzled and dazzled by the front end staff who have a bit of Pretty Boy 'cheekiness' to them. It's an amazing open kitchen, so get a seat at the bar and heckle the chefs … we have a bit of fun with the customers as well."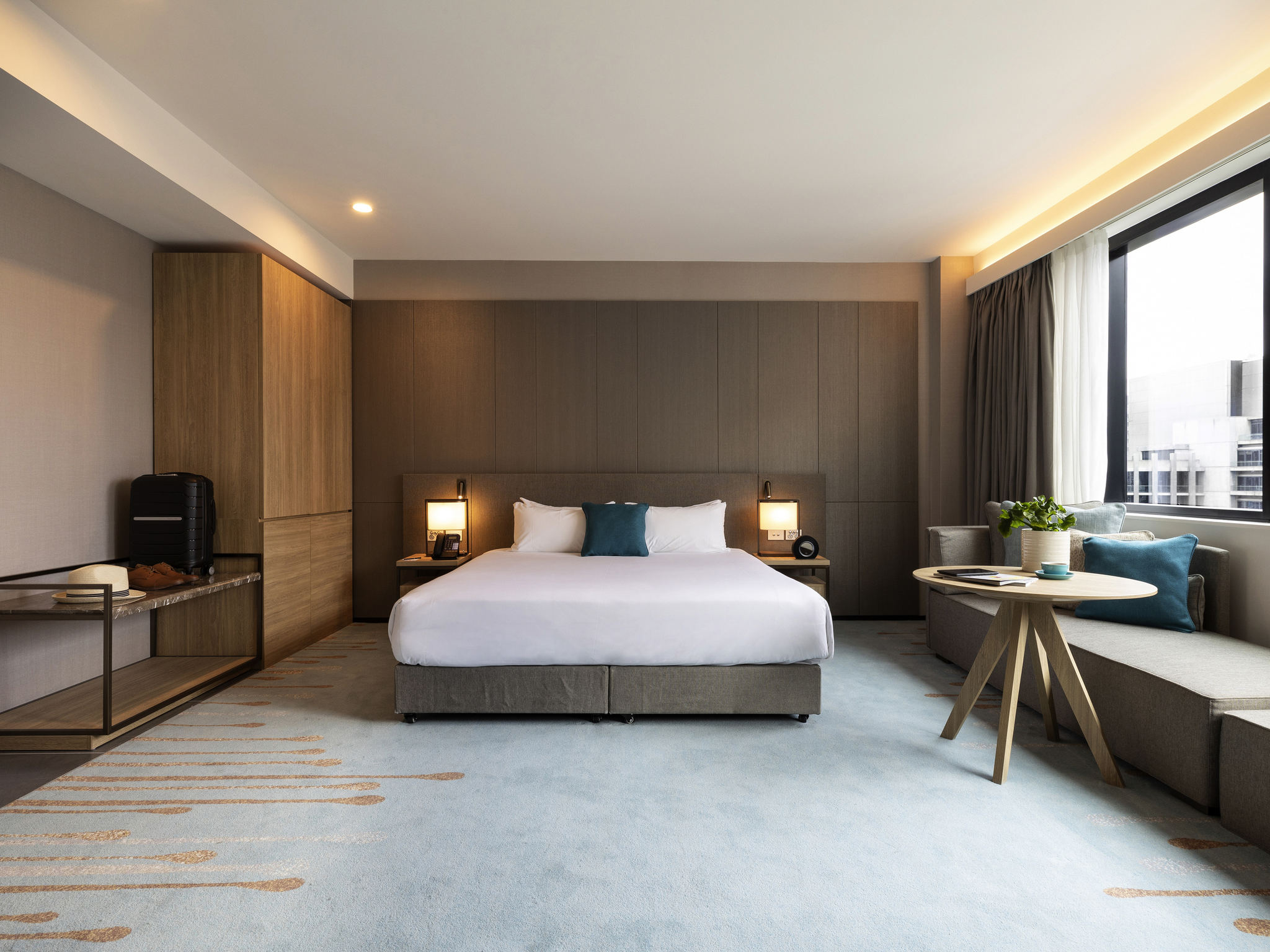 Room service reinvented
With three food drawcards at the Novotel, room service has some serious pizzazz and real points of difference to any other room service in the world.
"The general room service at most hotels includes your hamburgers, your pizza and your fish'n'chips," Smith says. "Don't get me wrong, we still have them on the menu because there's a percentage of the public who want that in their hotel, but I give them hand-made Wagyu burger, we get flathead that we get in and tempura ourselves – hotel guests are getting a different approach.
"But what we offer for room service is three internal restaurants which are like an Uber eats offering. We have a modern tablet in the rooms so you can order what you want – as long as the restaurant is open – and you can have your Rib-Eye with a side of Radicchio salad otherwise you can order anything off the menu at Goldie which is open from sun up to sun down.
"If you feel like a bubble tea just before 7pm? You can order it to your room as well."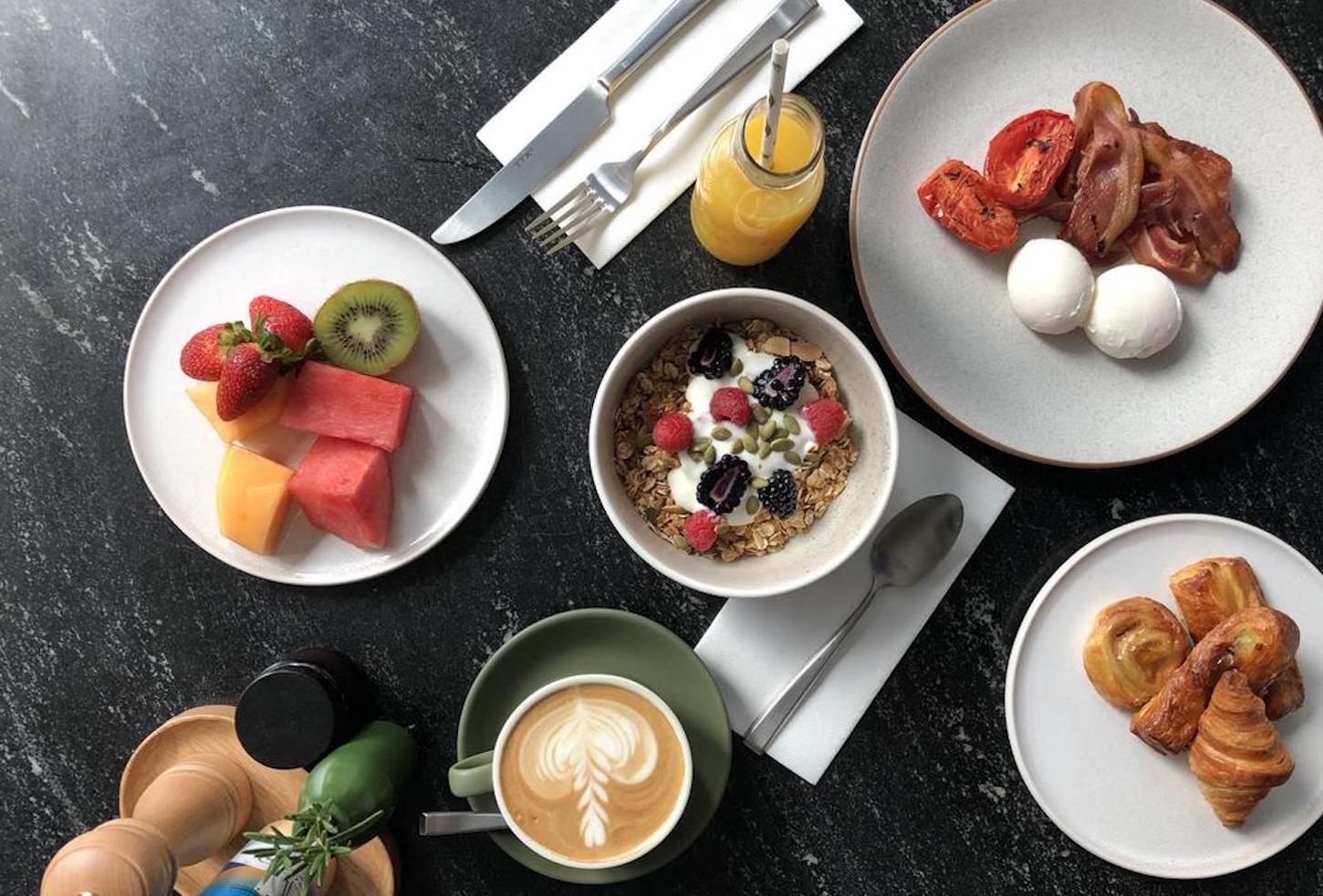 Raising the breakfast bar
"Our approach to the whole food concept throughout the entire business is that we want to capture the customer at every point and make them aware that we're making really good quality food," Smith points out. "So when they come down for the breakfast buffet we don't just do those slow roasted tomatoes that lack seasoning; ours have extra Virgin olive oil, extra sea salt, fresh oregano and parsley on there with a bit of garlic – they're really nice roasted tomatoes. It's one of those things that they'll pick it up and go, 'Wow, they've thought about that'.
"We've got our bacon but we're using really good quality streaky bacon, it's always moist. We're scrambling our eggs where we do a cream reduction with an oregano in the base so you can taste a little bit of Italy in what we're doing and it all ties back to bringing people back into Pretty Boy."
Six months later, what's his verdict?
"I'm loving it and so are the hotel guests and locals. Working with Accor and having such a large team of experts with a drive for perfection and good quality product has been fantastic."
Pretty Boy Italian Steakhouse, Goldie Canteen and Floyd's Bar are housed at the Novotel Melbourne Central, 399 Little Lonsdale St, Melbourne.