All year-round Queenstown is an excellent choice to power up your next business trip, according to Totem Group conference and group travel expert Adam March. With stunning natural landscapes and so many outstanding experiences, bespoke hotels and now-famous Kiwi hospitality, he says Queenstown is a destination where it's "easy to deliver a great conference, incentive trip or event at any time of the year". Going beyond the array of stunning wineries, he pinpoints 8 great ways to help organising a group adventure in the south-west of New Zealand's South Island in Queenstown.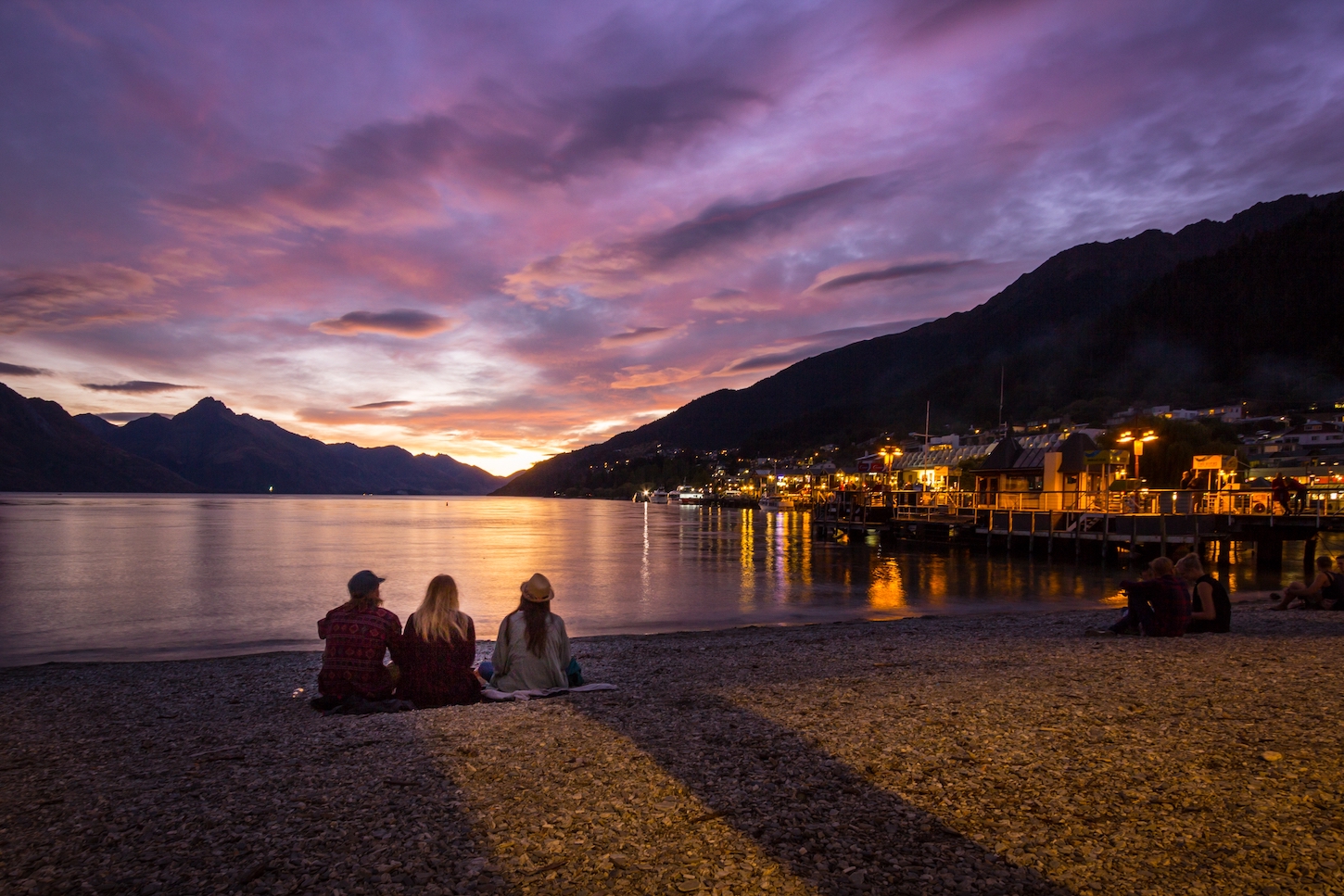 Queenstown is a conveniently accessible destination
Queenstown is so accessible from Australia with direct flights only three hours away, and the experience begins the minute you arrive at Melbourne Airport. Air New Zealand now uses self-serve check-in kiosks located at Area J in the Departures Hall, but obviously still have the more traditional check in available. After passing through security and immigration, the Koru lounge is a wonderful way to start your journey – a very modern lounge with heaps of space and natural light and views of the planes as they land. The flights between Melbourne and Queenstown are four times weekly with Air New Zealand during the summer months, then daily throughout the winter months. We had the 'works' fare which included entertainment and a hot meal during the 2 hour and 50-minute flight. 
During the filming of The Lord of the Rings, more than 500 people a day lined up at the casting rooms in Queenstown hoping for a part.
Great places to stay in town
If you're looking for two quality hotels with location in mind, you can't go past St Moritz MGallery, an Accor property, and Crowne Plaza only five minutes down the street. We were extremely lucky to land in one of the suites at St Moritz MGallery which overlooks beautiful Lake Wakatipu and The Remarkables. The room itself is well designed and spacious, while the welcoming committee get it right serving up a Pinot Noir and a cheese board which was gratefully consumed on our balcony offering incredible views. Over at Crowne Plaza, an upmarket hotel in a contemporary building, shops and restaurants are only minutes away. Milford Galleries is also close by and a 10-minute walk gets you to the Skyline Queenstown gondola. Queenstown is such a compact destination with so much to experience nearby and these two hotels provide the perfect launchpad to explore.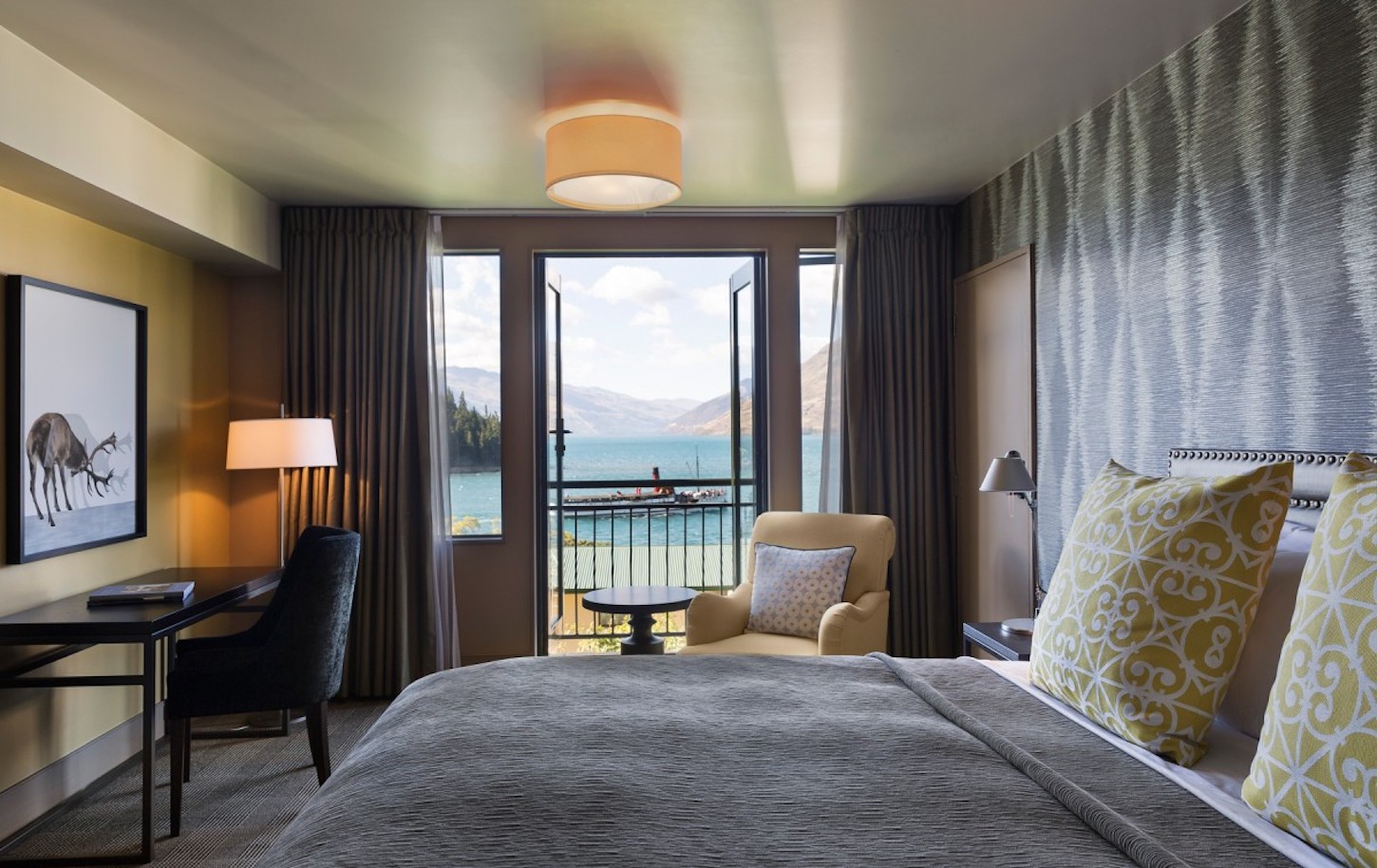 St Moritz MGallery offers the most beautiful views of The Remarkables and Lake Wakatipu.

Penthouse "pre-dinners" and The Grille
Not far from St Moritz MGallery is Eichardt's Penthouse, a sophisticated and stylish venue perfect for pre-dinner drinks. The Penthouse itself is probably one of the best rooms I've ever seen. With two bedrooms, a fire place, a kitchen the size of a bedroom, an outside hot tub and fantastic views, it's easy to see why it costs NZD$10,000 a night. After our fabulous Penthhouse drinks courtesy of Eichardt's Bar, we enjoyed an amazing dinner at The Grille by Eichardt's just below the Penthouse which is a premium dining destination with a laidback feel dishing up fantastic food with flavours unique to the region.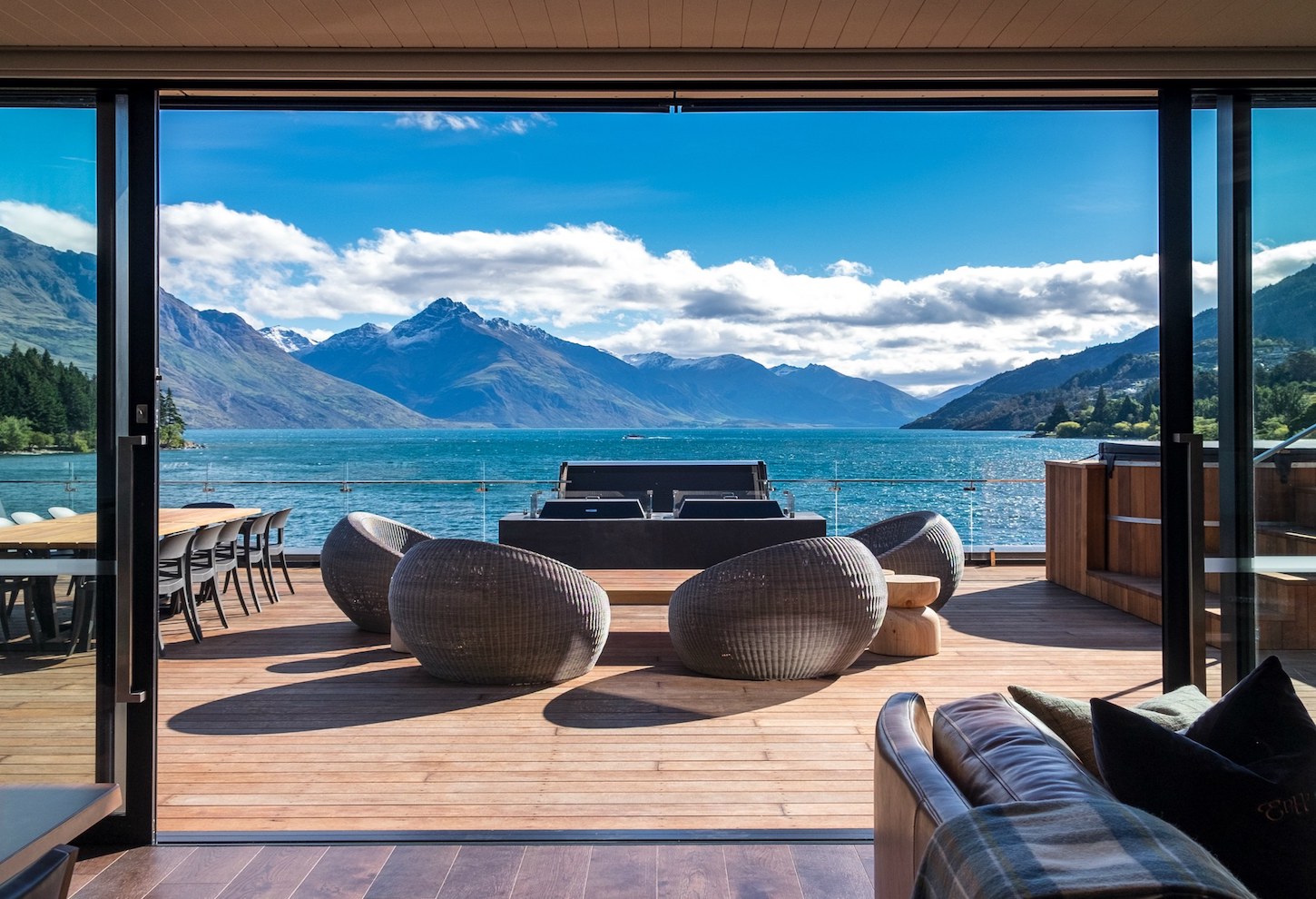 Eichardt's Penthouse: Sophistication and style, and an amazing place for pre-dinner drinks.

In tune with nature at Camp Glenorchy
The drive to Glenorchy is a long and winding road but the destination is worth the wait. And an environmentally friendly option at that. Upon arrival to Camp Glenorchy we enjoyed a lovely lunch followed by a tour of the grounds. Camp Glenorchy is a green machine – a 100% sustainability camp ground with compost toilets and solar panels. The rooms range from bunk bed rooms to little cottages. Across from the grounds is an RV area and three glamping tents.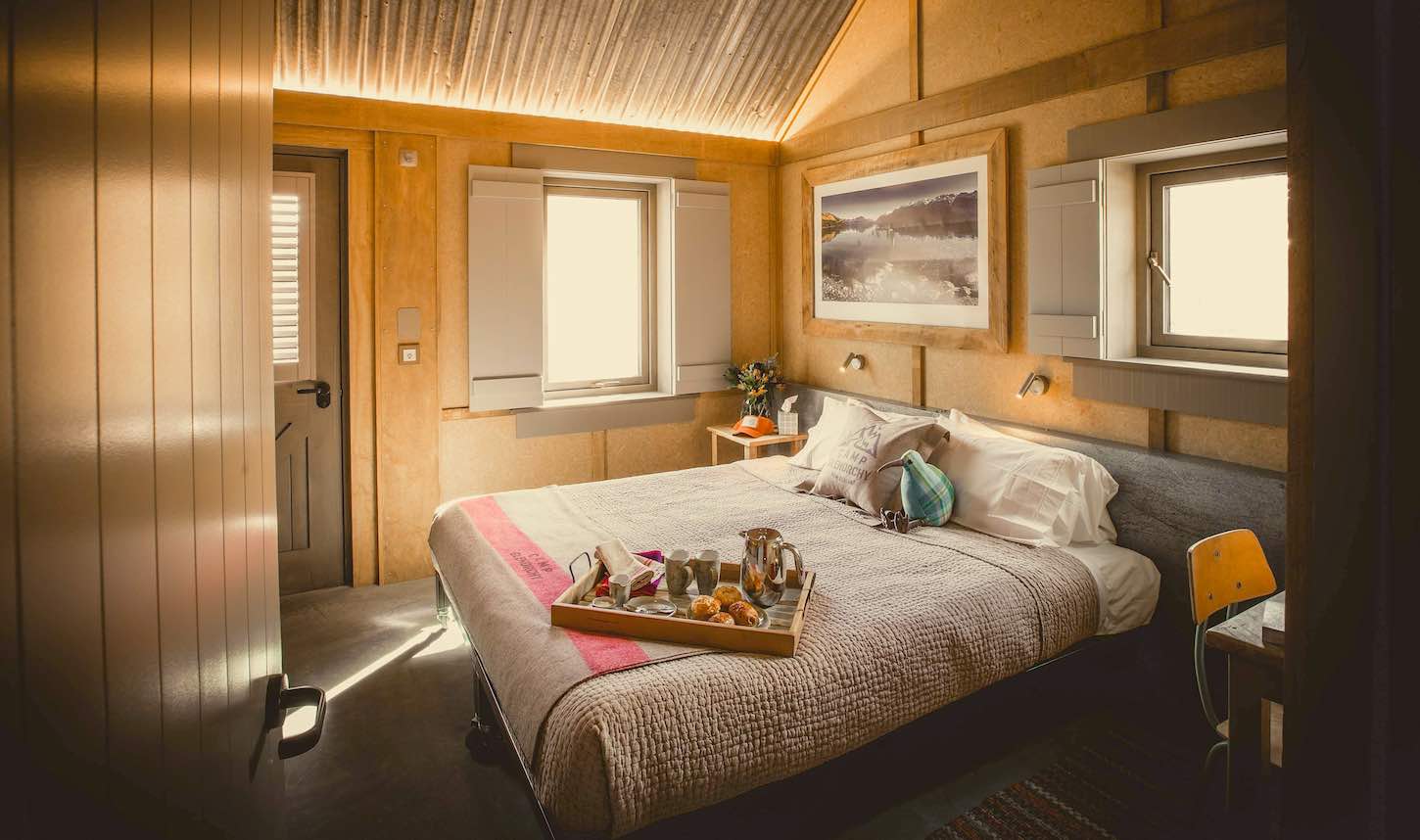 A bird's eye view of beauty
What better way to experience New Zealand's famous city than with a bird's eye view? After a quick walk uphill we arrived at a field where three helicopters from The Helicopter Line were waiting before setting off on a scenic flight back to Queenstown. This is a very exciting aerial adventure for incredible views of what is a naturally beautiful city. Little did we know that during our flight we were going to be landing on top of the mountain and served some Vueve soon after. After spending 20-25 minutes up the mountain admiring the views, enjoying a tipple and playing in the snow it was time to hop back in the helicopter and fly to our next adventure.
Queenstown's need for speed
One can't visit Queenstown and purposely avoid the thrills of a the Shotover Jet, arguably the world's most thrilling jet boat ride. The Shotover Jet company has about 10 of these water weapons which cost about NZD$500,000 each and reach speeds of 85km/h. Strap in and prepare for a heart-pumping ride that comes within centimentres of land as well as throwing in some 360-degree spins to make sure you really known you're alive. (Be warned: You will get 'very' wet if you're sitting up the front).
CHECK OUT OUR STORY ON A SPECIAL NEW ZEALAND TREE – A SOCIAL MEDIA SMASH HIT!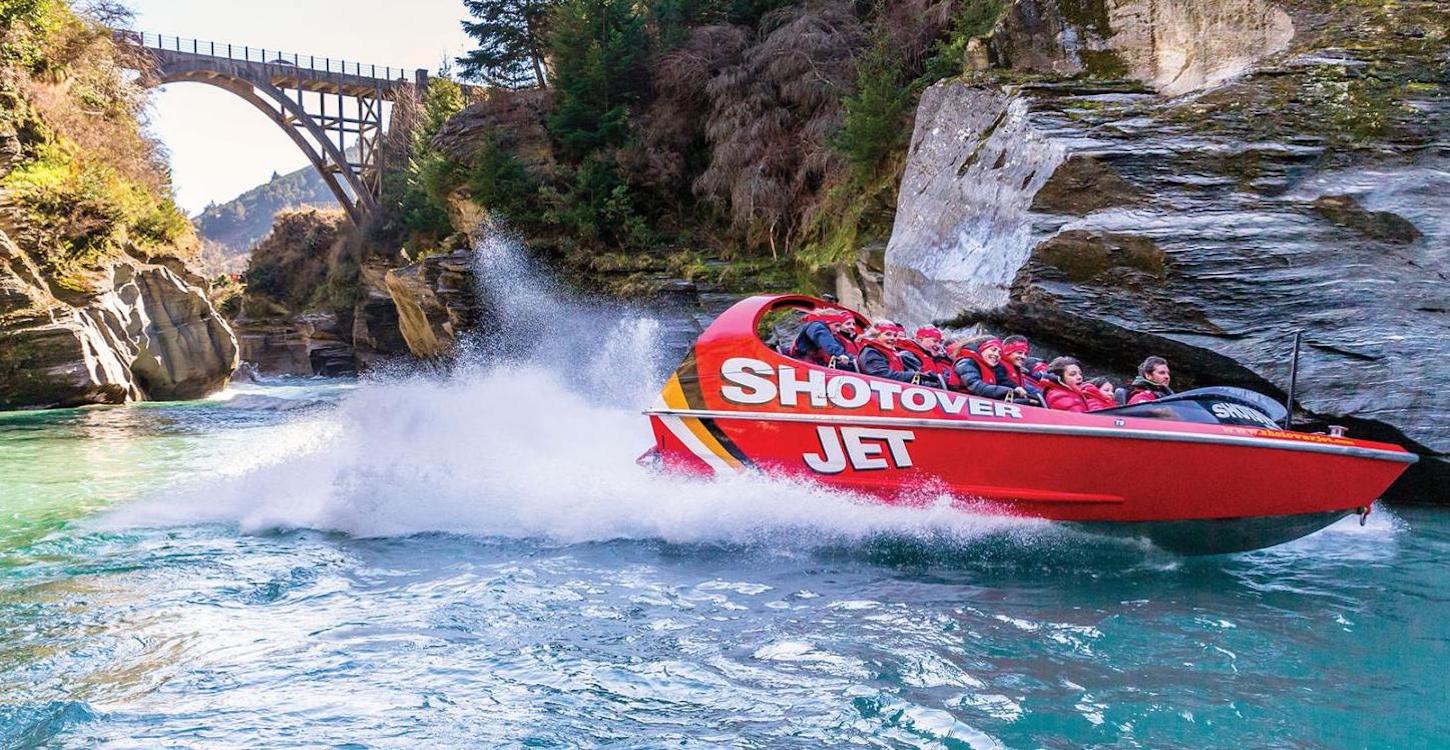 Team building fun at The Playground
Brace yourself for loads of fun at The Playground, only 15 minutes from Queenstown, and the ultimate team building concept for groups or business teams. So, what can you "play" in The Playground? There's Human Futsal, Vertical Bungee, Human Whack a Mole, a form of Archery in which you can shoot at each other with soft arrows, and Bubble Zorbs, my personal favourite. The owners of The Playground provided some insight as to what works best for groups: 20 minutes for one activity at a time before a 10-minute break so the group can "have a chat and laugh about the activity together".
Floating on air at iFly
iFly is Queenstown's adrenaline-charged indoor sky diving centre, a great choice for groups and an opportunity to try before you fly, so to speak, for anyone considering sky diving. For groups, a champagne breakfast champagne upon arrival is a special touch before the instructors perform tricks in the wind tunnel and show you how it's done. There are small conference facilities available (a board room that comfortably fits 15 to 20 people). After suiting up, you then get the opportunity to catch some "serious air". We were given two turns of about 90 seconds for some exhilarating experiences floating on air with the instructors providing guidance. Four turns are recommended but bigger groups may have to settle for two or three. From boutique group flight packages to large scale custom functions with a range of catering options, iFly is a worthy consideration.
For your Incentive, Conference, Event and Group Travel specialists contact Totem Group- delivering motivation, engagement, inspiration and rewards.