On a business trip to Sydney for a few days? Why not change the pace, jump on a ferry rather than a taxi, and escape to nearby Cockatoo Island rather than a hotel. This is a getaway steeped in history with quality accommodation and great harbour views.
The lowdown on Cockatoo Island
Cockatoo Island adds a whole lot of history, killer views of Sydney Harbour and a nice distance between the hustle and bustle of Sydney central. When one thinks of Sydney for a business trip, it usually means a traditional hotel in the CBD. Not for me this time around; I wanted a homely apartment on a remote island with a stack of character and charm.
The Aboriginal people of the Sydney region called Cockatoo Island "Waremah" and as the harbour's largest island, way back when, it would have made a substantial fishing base. Cockatoo Island's first boats were made of sturdy bark, some probably carved from the island's own bushland. The hilltop forest of red gums was a sanctuary for birdlife, including the white cockatoos. It's also said the ledge of the sandstone around the shore was rich with shellfish.
Fast forward and it's gone through several incarnations: as a penal establishment where convicts were put to work in the early 1800s; a reformatory for girls and industrial school for wayward boys; major shipbuilding and dockyard facility for the South West Pacific in WWII following the fall of Singapore; then after laying dormant for a decade Cockatoo Island was opened to the public in 2007 after a refurb; and Cockatoo Island, together with 10 other historic convict sites in Australia, was inscribed on the UNESCO World Heritage List in 2010.
Since then?
Lots happening, including fully self-contained Harbour View and Garden apartments, holiday homes, glamping and camping options, self-guided audio tours, cafes, and more.
facebook.com/cockatooislandsydneyharbour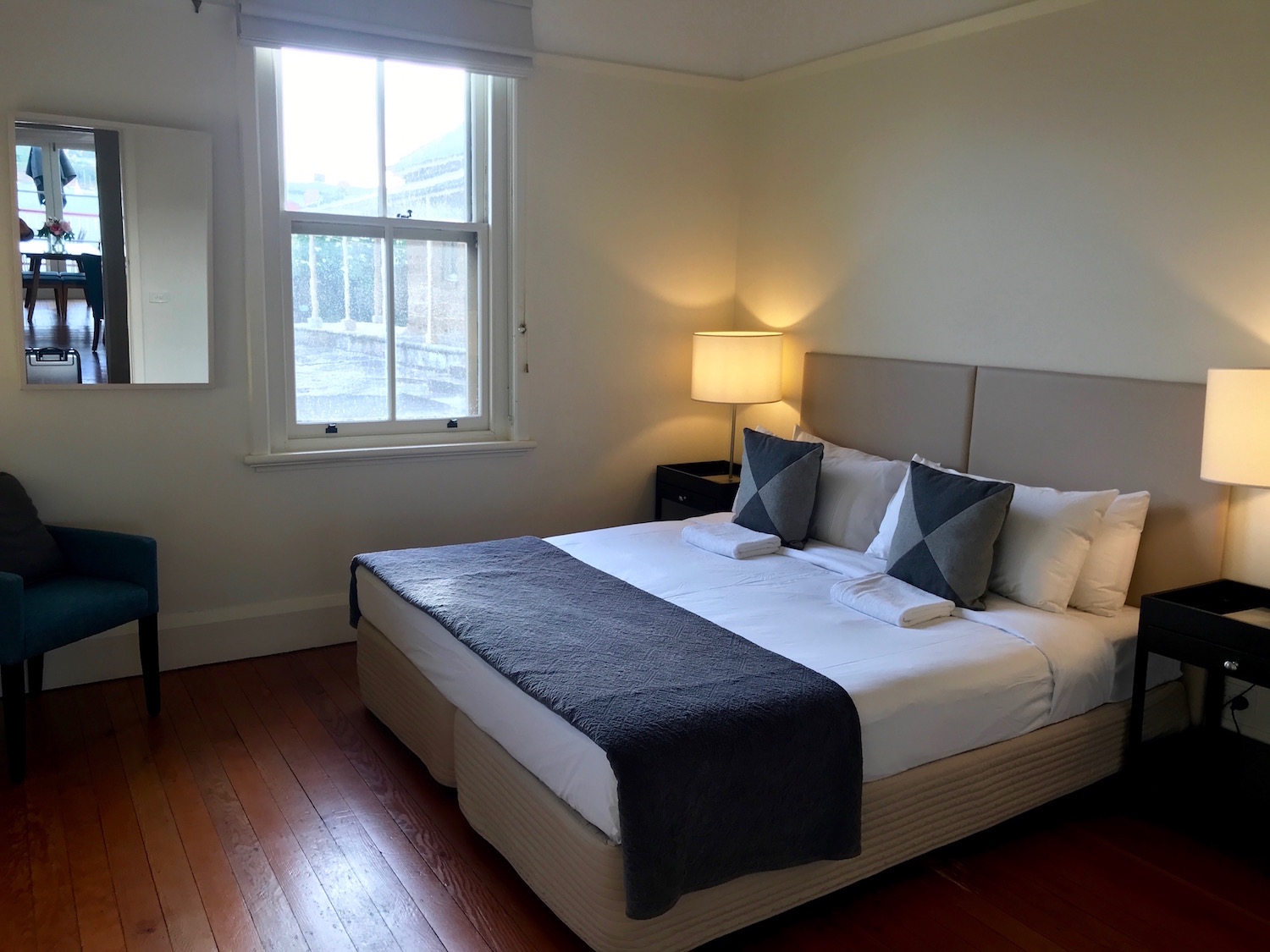 Not a cockatoo in sight!
A little fear at first that the cockies may keep me up at night was soon put to rest upon arrival at the island 25 minutes or so after boarding the ferry at Circular Quay. That short trip itself is a chance to pause, switch off properly in what is a cruisy way to reach your accommodation (pardon the pun).
Despite the name, there wasn't a squawking cockatoo in sight. After collecting my BBQ breakfast pack it was off to my Harbour View Apartment on the back of a golf buggy.
Cockatoo Island, at before the junction of the Paramatta and Lane Cove rivers, has a distinctive peace and calm with a little dose of eeriness thrown in given the convict past and industrial landscape. But it's beautiful and refreshingly quiet: gone is the sound of traffic, smell of smog in the air and busy-ness of the day. The ferry trip allows you to take a deep breath and unwind properly in knowing your room with a view of one of the world's best harbours is only minutes away.
My Harbour View Apartment was exceptionally easy on the eye, comfy, impeccably restored to yesteryear with all the mod cons including kitchen, washing machine/dryer, spacious room and adjoining deck opening up that promised view.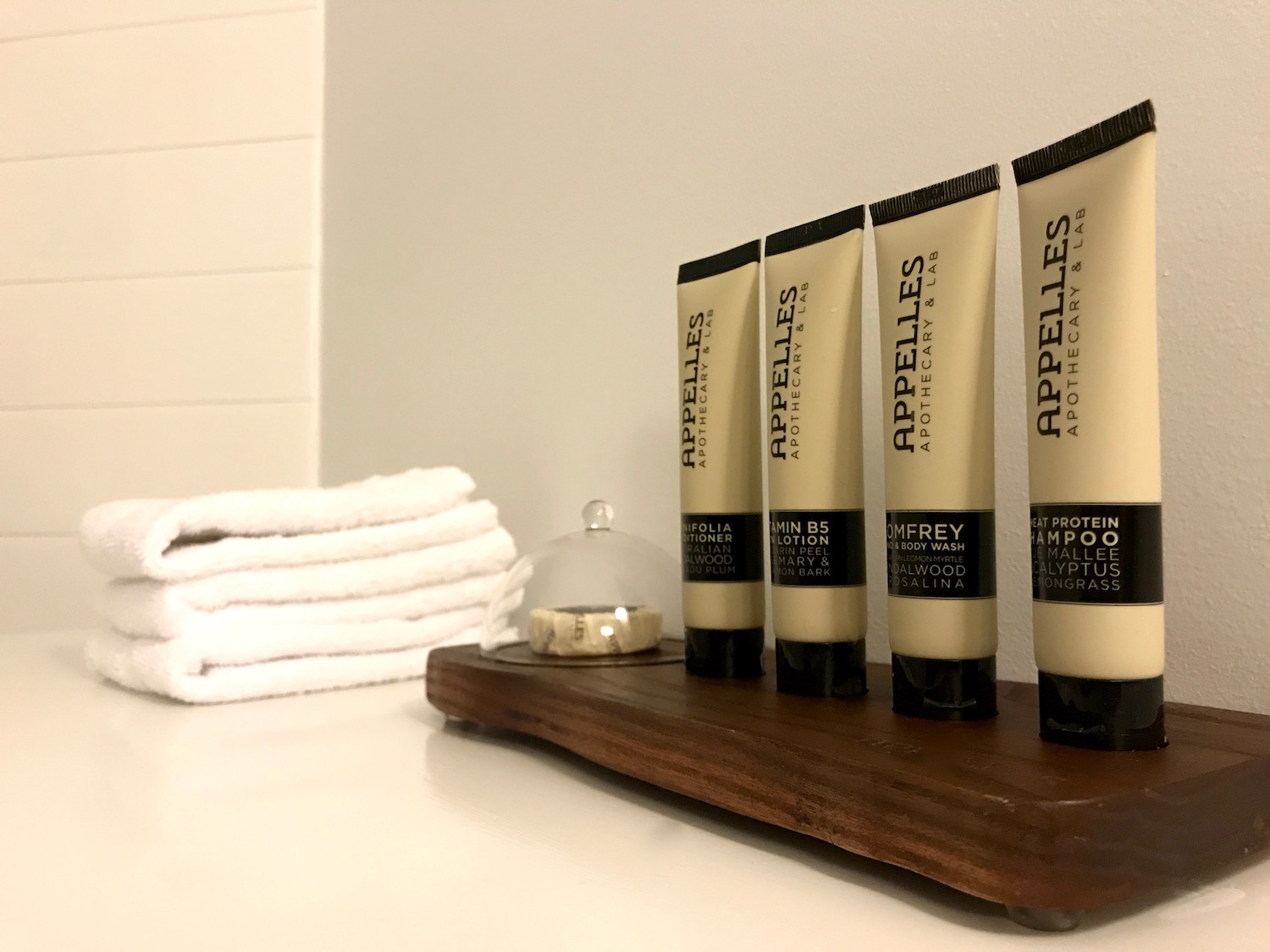 Special touches
The Harbour View Apartment option is seriously homely, spacious enough in a semi-detached kind of way (prices from $285 a night, extending upward and beyond for two-bedroom and holiday house alternatives).
Original designs are complemented by art deco light fittings, classic architraves, picture rails and casement windows to give history buffs a taste of its original feel while the interior has been made over with mod cons and shiny new floorboards.
Simple touches like a set of checkers and coits in the lounge room and a couple of Cockatoo Island history books simplify things as a reminder you're not in a hotel room but rather a home away from home. Adding to that are beautiful flowers on the dining table when you walk in, an impeccable kitchen with top notch appliances including Delonghi four slice toaster, Espresso pod machine, Chef oven and LG  no frost fridge and microwave tucked away in the cabinetry, as well as a stainless steel Dishlex dishwasher.
All cooking and wash up supplies are provided, including a high performance cockroach spray which made sense later when a cockroach bulleted onto the top of my bald head at one point while reading in bed… hey, we're talking a natural island setting here, so it's only natural to expect the occasional local bug or two!
The room itself is a charmer with high ceilings, super comfy king bed, and an inviting white bathroom featuring claw foot bath in a setting with splashes of silver and blacks, along with stylish and yum Appelles Apothecary and Lab products.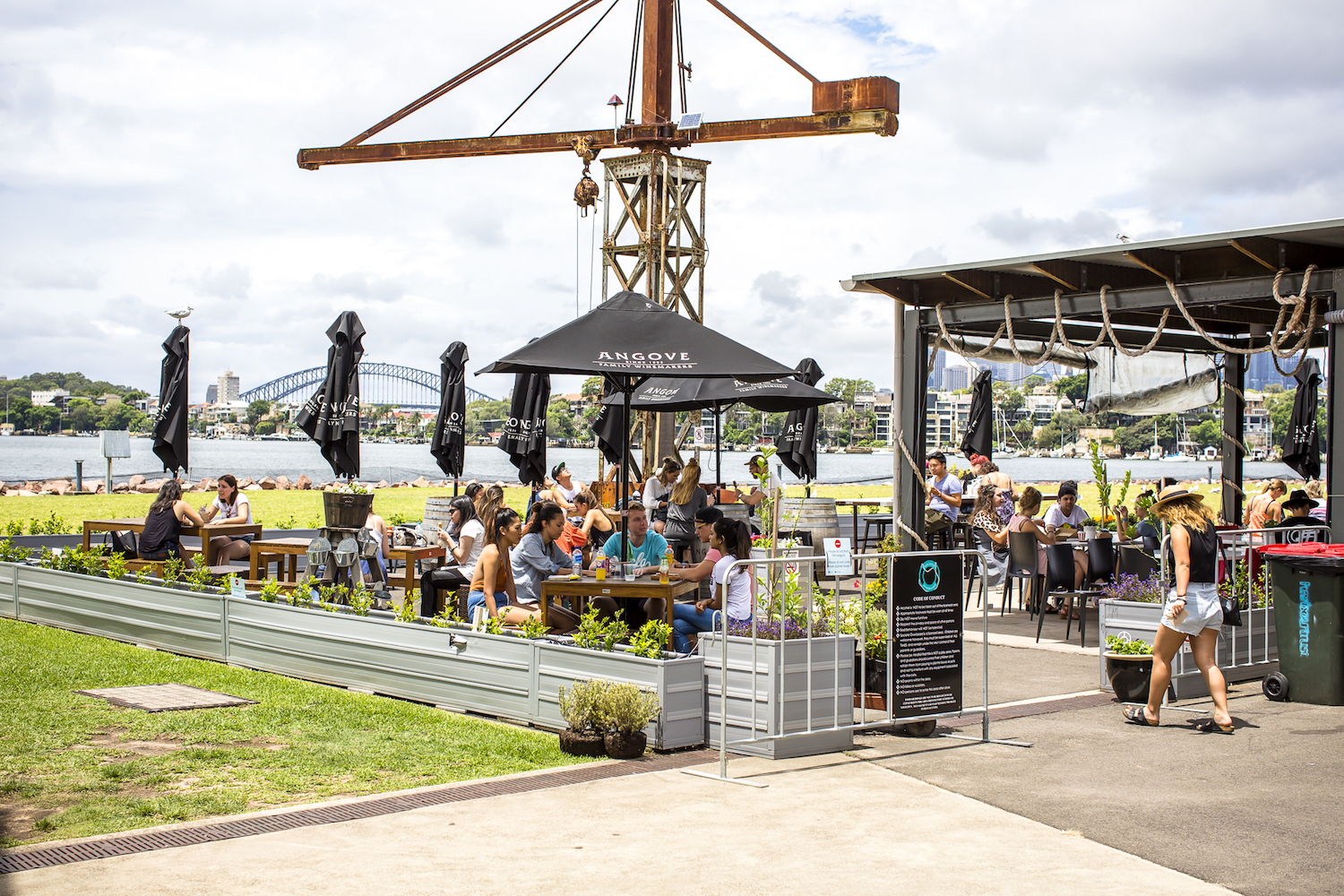 Cockatoo Island food
Simple, really. Stop for a shop before boarding the ferry back at Circular Quay, otherwise order a BBQ breakfast pack and collect on arrival, which I strongly recommend: breakfast on the deck with amazing views is a must as all the catamaran ferries start setting out for the daily back and forths. Breakfast BBQ packs are beaut: sausages, four eggs and two brioche buns with butter, salt and pepper, and a container of olive oil.
Elsewhere, Societe Overboard offers breakfast and lunch options including burritos, BLTs, burgers and fish and chips, accompanied with a selection of hot and cold drinks including beer and wine. Just remember you can only drink alcohol back at your accommodation. Marina Café & Bar is another option, just a short stroll through the Dogleg Tunnel from the main ferry wharf or through the Main Tunnel from the campground.
Point of difference
Here your accommodation comes with on a unique island with a fascinating past. Cockatoo Island is a UNESCO World Heritage-listed site with an important place in Australia's maritime and defence history.
There's more than 80 colonial and industrial assets, including artefacts, across the site and a self-guided audio tour is a great way to explore the island if you have some downtime.
Furthermore, ghost hunters will have struck their nirvana. They say Cockatoo Island has its fair share of secrets, scandals and skeletons with the one-time convict penal establishment still haunted by its history. From coffin-like prisoner cells and mysterious disappearances through to rumoured sightings of 'George'… a centuries-old military apparition said to be caught in a limbo on the Upper Island… there is an opportunity to do a Haunted Histories ghost tour or download the Ghosts of Biloela geolocative app and discover the history of the Bilolea Reform School for Girls.
10 Words Or Less …
Island escape steeped in history with views of Sydney Harbour.
The leaders in corporate travel management for flights, accommodation and car rental