Channeling James Bond in a 007 movie, covertly ascend the staircase to the mezzanine level of The Landmark Mandarin Oriental Hong Kong's MO Bar, enter a faux phone booth and wait for a call. Startled by a ring, a secret door opens into one of the world's latest hot spots.  Shhh… please don't tell. Yes, that's right. The name is PDT, short for 'please don't tell', a new cocktail bar concept at the hotel in collaboration with the legendary New York speakeasy PDT.
World's best bar
As a throwback to the years of Prohibition in the United States, the original East Village PDT in Manhattan was PDT Hong Kong's inspiration.
Only accessible through a vintage phone booth within the famous and beloved Crif Dogs restaurant, you receive a call and once accepted enter the hugely popular dark, groovy and very authentic speakeasy with a twist. Along with its high quality inventive cocktails developed by master mixologists, you can also order from the Crif Dogs hot dog food menu, which is delivered to the club via a small pass. NYC's PDT has earned major acclaim since opening in 2007, gracing the World's Best Bars list.
Today the PDT represents an intimate ambiance in a place for well connected individuals looking for sophisticated vintage design and exceptionally made creative cocktails.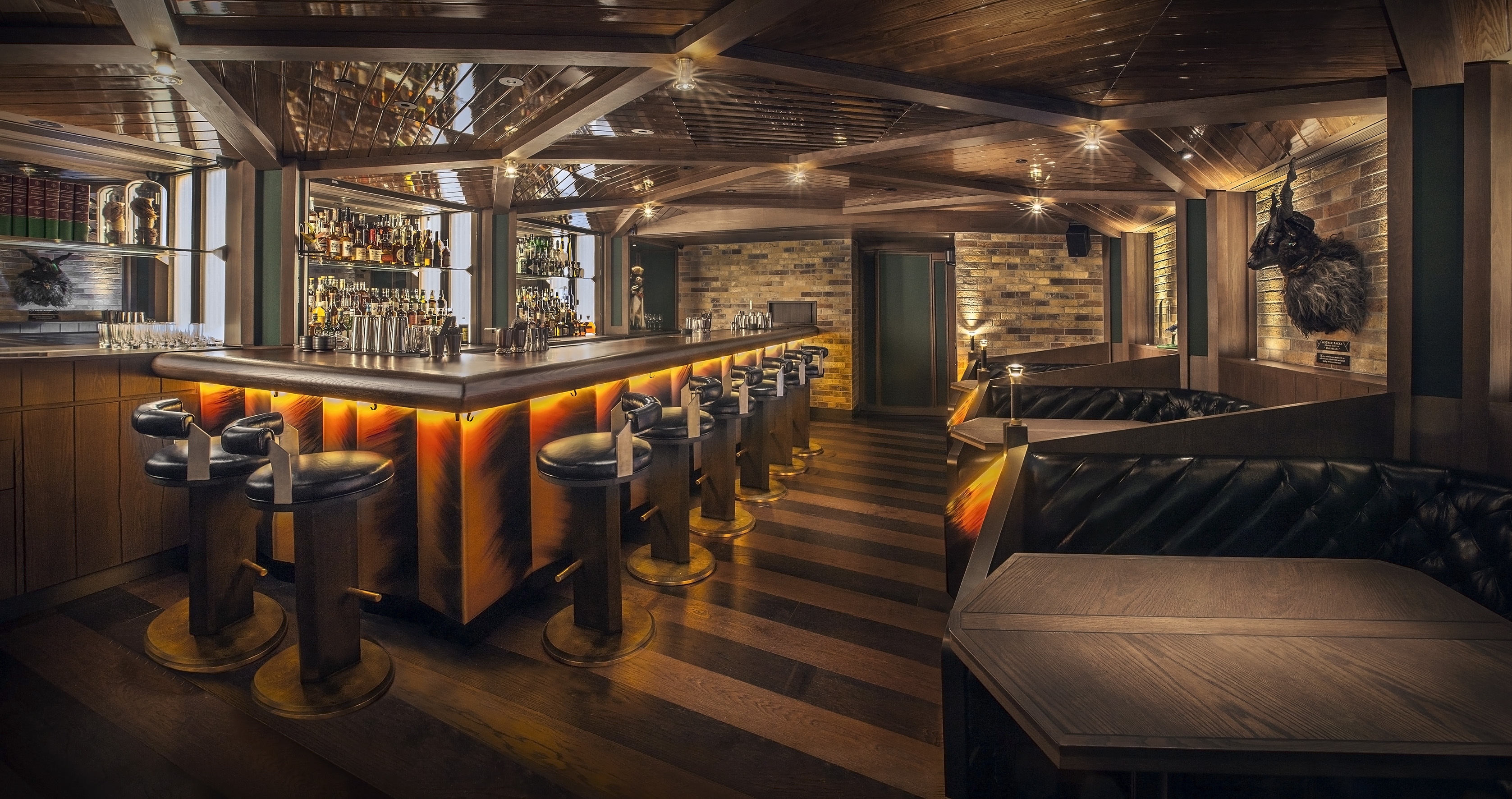 PDT Hong Kong
Launched in 2018, The Landmark Mandarin Oriental, Hong Kong, opened a replication of its iconic New York PDT counterpart.
As the first and only international outpost of PDT outside New York, PDT Hong Kong pays homage to its Manhattan roots with the notable signature style of PDT NYC including playful spins on the taxidermy, herringbone pattern wood on the ceiling, leather booths and the copper topped bar, all designed by Nelson Chow.
Chow added new details including resin panels under the bar, torch-inspired lights between each banquette, a green felt wall and a colourful interpretation of the New York bar's "family" portrait. But, of course, the real draw is the innovative cocktails combined with a clever interpretation of American comfort food.
In creating their own PDT, The Landmark Mandarin Oriental, Hong Kong collaborated with PDT New York Founder Jim Meehan and Jeff Bell to ensure authenticity.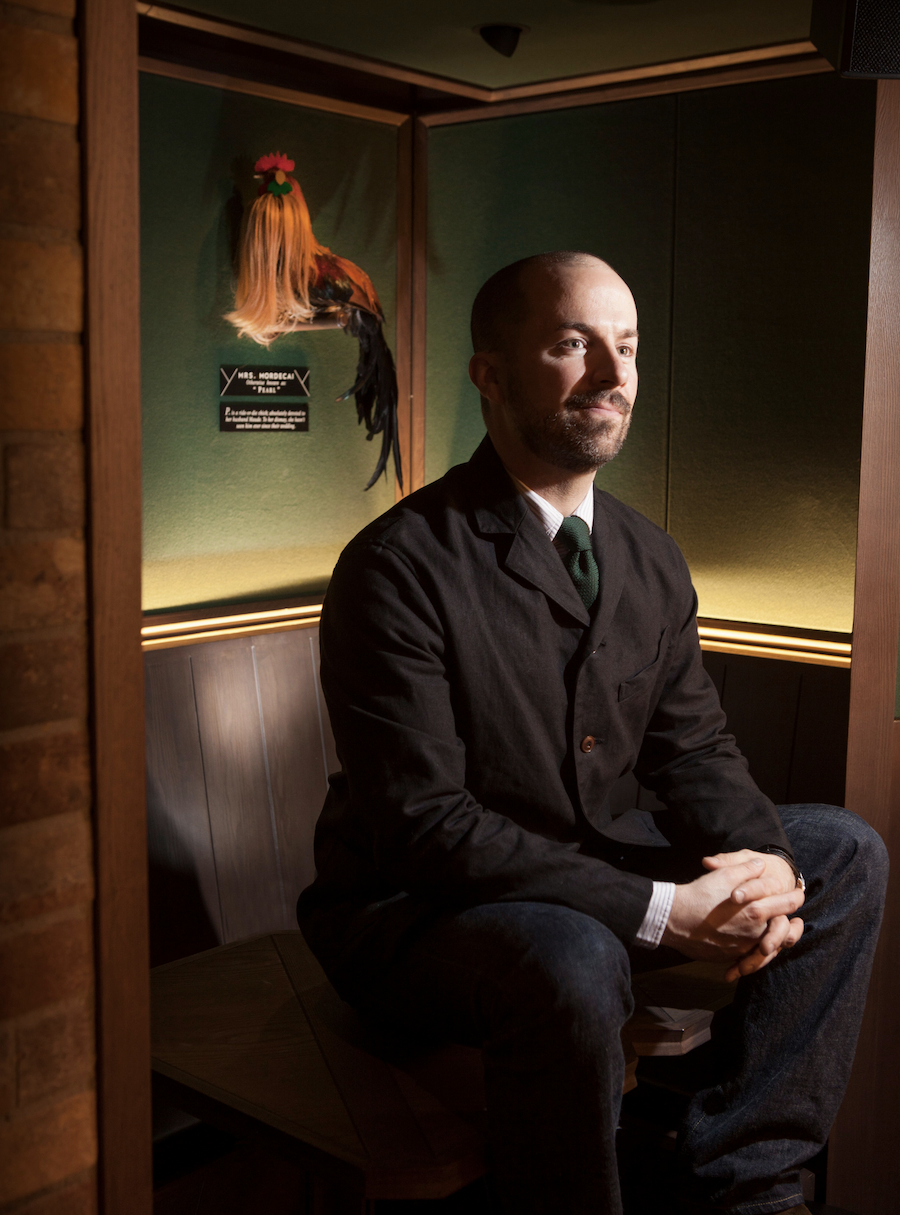 In the mix: PDT co-founder Jim Meehan says PDT Hong Kong is a moveable feast by design.
"From a conceptual standpoint, PDT is a moveable feast by design. The biggest difference between PDT New York and Hong Kong is our location and clientele – New York's bohemian East Village vs Hong Kong's posh Central District.  PDT's concept is Ying and Yang-like in both locations." ~ Jim Meehan.
Founder PDT NYC secrets revealed
I caught up with Jim Meehan (pictured) to learn about the evolution of PDT NYC and get the inside scoop on his first venture outside the US at The Landmark Mandarin Oriental, Hong Kong.
Jim assured me Hong Kong's cocktail aficionados would receive the same creative cocktail experiences as the original PDT.
Q: Opening the first permanent speakeasy outlet outside New York, how did you capitalise on the Asian culture in adapting PDT NYC to Hong Kong?
A: "From a conceptual standpoint, PDT is a moveable feast by design. The biggest difference between PDT New York and Hong Kong is our location and clientele – New York's bohemian East Village vs Hong Kong's posh Central District.  PDT's concept is Ying and Yang-like in both locations.  On St Marks Place in the East Village, the bar is a diamond in the rough, while in Hong Kong, it's a hip oasis nestled above a bustling five-star hotel lobby bar. The creative hot dogs and tater tots (served in both locations) are another high/low juxtaposition that champion comfort with quality; reinforcing that we take what we do seriously, but we don't take ourselves too seriously."
I understand that The Landmark Mandarin Oriental, Hong Kong's PDT food menu with Michelin-starred Chef Richard Ekkebus at the helm was inspired by PDT New York's Crif Dogs hotdog stand. True?
"Richard has taken the food menu to another level at PDT Hong Kong. For continuity, we've brought over the John John Deragon (an everything bagel influenced hot dog), a riff on the Chang Dog (from Momofuku's chef David Chang) called the Kimchi Dog, and both our classic cheese & jalapeno tater tots and ritzy caviar tots (served with crème fraiche), but everything else has been rejiggered and refined by Richard.  He's worked with a meat purveyor in Holland to create the perfect hot dogs and is serving them on fresh brioche buns and we're one of the first venues in Hong Kong to feature the vegetarian Impossible Burger.  We serve everything on gorgeous ceramics with linen napkins and silverware in Hong Kong vs recyclable wood plates, flatware and tin foil in New York.  Richard elevated the food menu considerably at PDT Hong Kong."
For the first time PDT visitor at The Landmark Mandarin Oriental, Hong Kong, what would you recommend to try as a combo cocktail and food pairing?
"If you want a taste of PDT New York City, order a Benton's Old Fashioned with a John John Deragon and the Cheese & Jalapeño Tots. For a taste of PDT Hong Kong, order the Safari with a Nippon Dog and the Takoyaki Tots."
Any chance you'll share with me one of your secret cocktail recipes from PDT Hong Kong?
"Sure, try this…"
Bad Hunter
1.5 oz / 45 ml Chivas Regal 12 Year Old Scotch Whisky
1 oz / 30 ml Fernet Hunter
.5  oz / 15 ml Lemon Juice
.25 oz / 7.5 ml Dragon Eye Syrup*
Shake with ice, then add 1 oz / 30 ml Moet & Chandon Brut Imperial Champagne to the shaker
Fine strain into a chilled old fashioned glass filled with one large ice cube
Garnish with a Nasturtium leaf
Dragon Eye Syrup*
32 oz Simple syrup
8 oz Dried Dragon Eye (Longan)
Simmer over medium heat (approx. 160 F / 71 C) for 5 minutes.
Fine strain, cool, and bottle
The Landmark Mandarin Oriental Hong Kong redesigned
Mandarin Oriental guests are typically global travellers, so it's likely a New York visitor who has experienced PDT in New York will also seek out PDT in Hong Kong.
In addition to launching PDT Hong Kong in conjunction with its famous namesake in New York, The Landmark Mandarin Oriental, Hong Kong, has recently had a full room and suite refurbishment by interior designer Joyce Wang (who also just completed the sensational refurbishment of Mandarin Oriental Hyde Park, London). Given creative freedom to rethink the modern hotel experience, the talented Wang envisioned all 111 rooms and suites with a cosy yet sophisticated residential ambience with all the aspirational technical bells and whistles.
This high-style urban cocoon in the heart of Central Hong Kong houses guest rooms featuring state-of-the-art technology, spacious walk-in closets and pantries, and deep sunken 7-foot round tubs in most of the rooms and suites. Even the lighting has a luxurious residential feel with bedside tables illuminated by retro-style glass-rod sconces.
Wang also designed two brand new suites with her exceptional eye for detail. The 1800 square foot Entertainment Suite defines the ultimate in luxury, comfort and cutting-edge technology befitting its name including a 13ft x 11.5ft cinema screen with VR headsets, PS4 PlayStation and a plethora of movies. Its 'Entertainment Wall' showcases wines on tap, a mixology booth and even a popcorn machine.
At the vortex of Hong Kong's financial district and designer shopping districts, The Landmark Mandarin Oriental, Hong Kong, is a tranquil retreat for business and leisure travellers alike who expect the pinnacle of personal service. This eco-friendly hotel has also taken the lead with a first in Hong Kong.  The hotel has partnered with leading Swedish fresh water specialist, Nordaq FRESH, to introduce in-house, filtered and purified premium bottled water for all the rooms, bars, restaurants and spa. Exercising environmental responsibility, guests are encouraged to fill their bottles in the lobby's complimentary 'Central Oasis' water dispenser.
For its many innovations and firsts, travellers are flocking to The Landmark Mandarin Oriental, Hong Kong.
Shhh….please don't tell?  Too late, the secret is out.
PDT Hong Kong Reservations
Can be placed one week in advance for parties of 4 to 6 people by telephone at +852 2132 0110 or email to lmhkg-pdt@mohg.com
Executive Edge Travel is a globally renowned leader for booking luxury travel experiences/properties.
To book contact your Executive Edge Travel Designer on 03 9519 7777 or email leisure@executiveedge.com.au