With the modern energy and hustle of Tokyo city life set in the old part of town means you get the best of both worlds. John Andrews says a stay at The MOXY is an adventure like no other in Japan. Pop on your party hat on and get ready for an assault on the senses.
The lowdown on The MOXY
Set in the historic old town, The MOXY hotel itself embodies the coming together of old and new with it's edo-pop aesthetic fusing together with the traditional elements of art with the pop culture.
Take your time to soak it all up while sipping a cocktail concocted from fine Japanese ingredients, a great way to whet the appetite for more of the bustling energy of the lounge before unleashing it on the city. With one of Tokyo's busiest train stations just steps away outside your door, all of the city is within reach.
Ready for a good time? It all actually starts with a Premium Economy flight on Cathay Pacific before Moxy Hotels makes it easy by having the heart of a boutique hotel and an appetite for adventure. There's a drink waiting for you with your room key and someone at the bar who wants your number. MOXY is for play… Jenga, karaoke, maybe a little game of spin the bottle? Here, you can get away with it all.
3-4-2 Kotobashi, Sumida-ku Tokyo
The room
Minimalism comes to mind but The Moxy rooms are exactly what they are… rooms. They serve their purpose with more than comfortable bedding due to the fact that their beds are the real deal. Parent brand the Marriott's foam mattresses are of supreme quality, high-density soy-based comfort foam that you'll find in all of  their properties worldwide.
Dining tables and chairs are waiting for you in every room, but the difference being they are just hanging on the walls ready to be used. But the big question is: why would you sit in your room when you could be out exploring this amazing city or mingling with the other patrons?
Hotel facilities
You are immediately welcomed with a big kiss from the giant set of lips on the double door and a huge pink bear before you follow the sign to check-in. Here you are warmly greeted by some-one who looks like a bar manager. Wait a minute! She is a bar manager, because she's just served you a house specialty cocktail made from local spirits as she asks for your name and checks you in. Simply brilliant!
After knocking back your welcome cocktail in your room, you may wish to head down to the well equipped basement gym set in ample space to run off the vodka. In the gym you'll be greeted by funky flamingos and an assortment of Japanese pop culture figures. This is the same level where the conference rooms are as well.
Laundry and ironing facilities are available and easily identified by some very interesting signage and murals. A library, games rooms, eating area and bar are all there too, but be sure to take your mobile or tablet with you as live posts through social media are not only encouraged but almost demanded by the staff. Load up your selfie, type #atthemoxy and check the global website for your post.
The MOXY Tokyo Kinshicho certainly has more than you'd expect when you first walk through those sliding doors – it's the kiss of life!
Dining in…
The MOXY continental breakfast, starting from a very reasonable $16 AUD, is great value.
Moxy Bar & Lounge is the social hub of the hotel, while the Lobby Bar & Lounge is part bar, part lounge and part office space. Join colleagues in the communal seating area for a working lunch, meet with clients or simply relax and enjoy light fare and cocktails. Open for breakfast, lunch and dinner.
Noodle Station and the Deli allows you to "pimp" your noodles 24/7 with a broad selection of noodles and a condiment station to create your own flavours. Grab-and-go food and drinks are available around the clock for early risers and all-night party goers. Open for breakfast, lunch and dinner. Dress code is casual.
Dining out…
There are plenty of interesting restaurants in the area, but if you aren't exactly right in the middle of things in which Tokyo's shopping or tourist attractions are concerned. JR Kinshicho station is about a 5 minute walk from the hotel, so getting around is easy if you want to reach the heart of the action for a world of food offerings.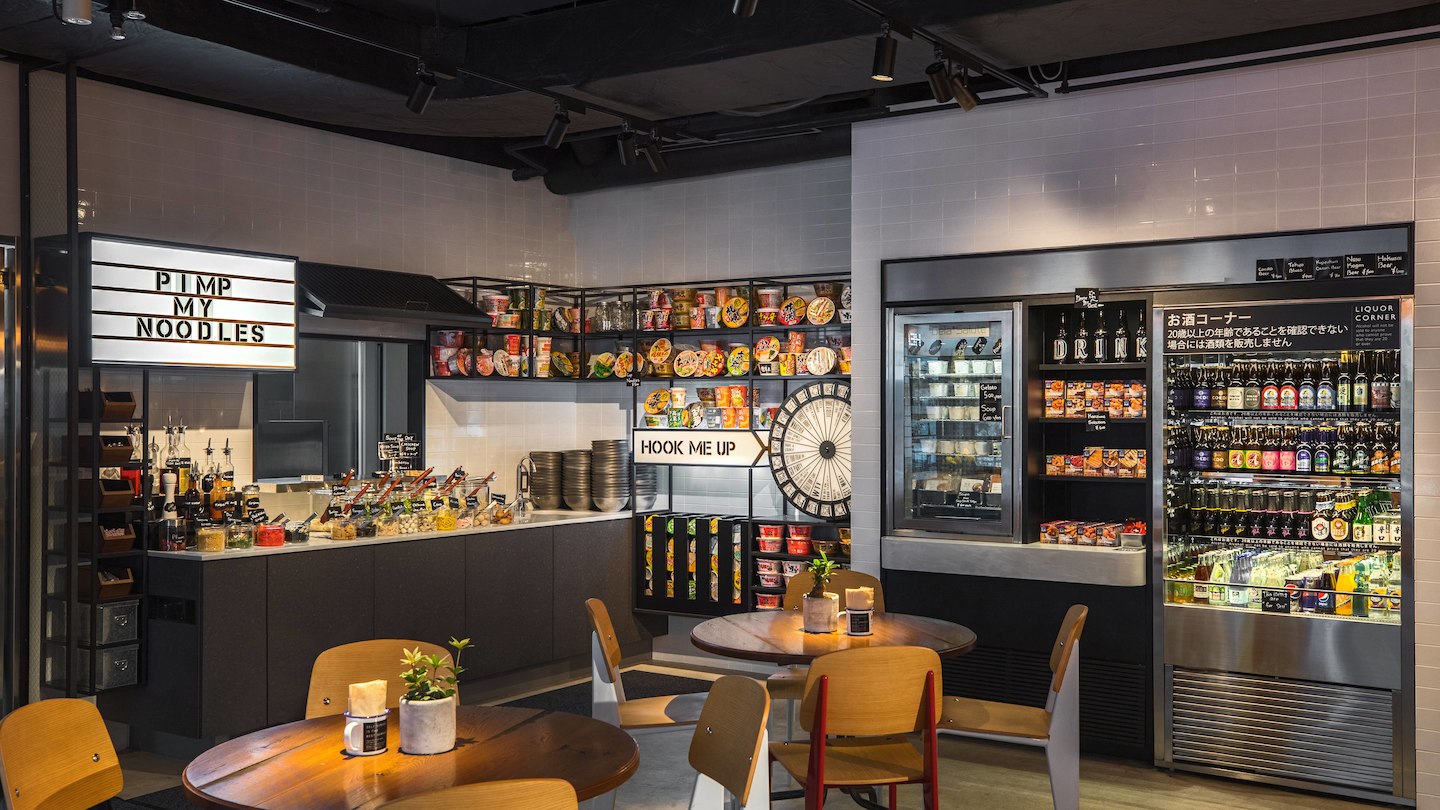 The location
Located in Kinshicho means that in terms of atmosphere, it's more relaxed and – in some places – has a rough-around-the-edges vibe. Kinshicho, together with neighbouring Kameido – one stop east on the Chuo-Sobo line – forms one of Tokyo's seven official sub-metropolitan centres, or fukutoshin.
The area surrounding Kinshicho station is divided into a largely shopping-oriented north and a largely gambling and "love-hotel-oriented" south. North and south are divided by Keiyo-doro Street onto which the south side of the station faces.
Getting around
A taxi from the Narita Airport is 62km and 55 minutes but it's very expensive costing approximately $200 AUD. Due to the amazing rail system within Japan, that's your best option.  It will take about and 1hr 15mins door to door at a cost of about $20.
Once settled in I recommend you study up on the rail network and make an effort to explore all the incredible sights, sounds and tastes in this amazing city.
10 Words Or Less …
Marriott's marvellous minimalist masterpiece – The Moxy Tokyo Kinshicho
The leaders in corporate travel management for flights, accommodation and car rental