Sophistication and space is the first impression upon walking into Melbourne airport's shiny and new Qantas Business Lounge. The more you explore, the more you discover, including everything from stylish minimal design touches to practical conveniences and tasty treats that make it near impossible to move on and board your next flight.
The lowdown on Qantas Business Lounge
Business Class flyers and elite status holders can enjoy the spoils of a revamped and beautiful lounge that is perched on Level 1 at Melbourne Airport right in front of the large windows in the lounge precinct. Elegant, spacious and simple with a lot of attention to detail, particularly with the business traveller in mind.
The heroes of this lounge are the hydration focused Quench Station and extremely popular Spice Bar which operates in high rotation, yet with minimal waiting periods. But more about those two later.
Qantas Group CEO Alan Joyce officially opened the new lounges recently saying the multi-million dollar investment was a vote of confidence in Melbourne's future.
"Melbourne is one of the busiest ports in our network, and with the demand for premium travel on the rise, it's the right time to be investing in bigger and better lounges," Mr Joyce said. "Our Frequent Flyers tell us that starting their journey in a comfortable and premium lounge is important to them, which is why they were front of mind when we embarked on this redesign. Given it's Melbourne, serving quality local food, wine and barista coffee is obviously a priority."
Qantas Business Lounge Melbourne
Departure Drive, Melbourne Airport, Vic 3045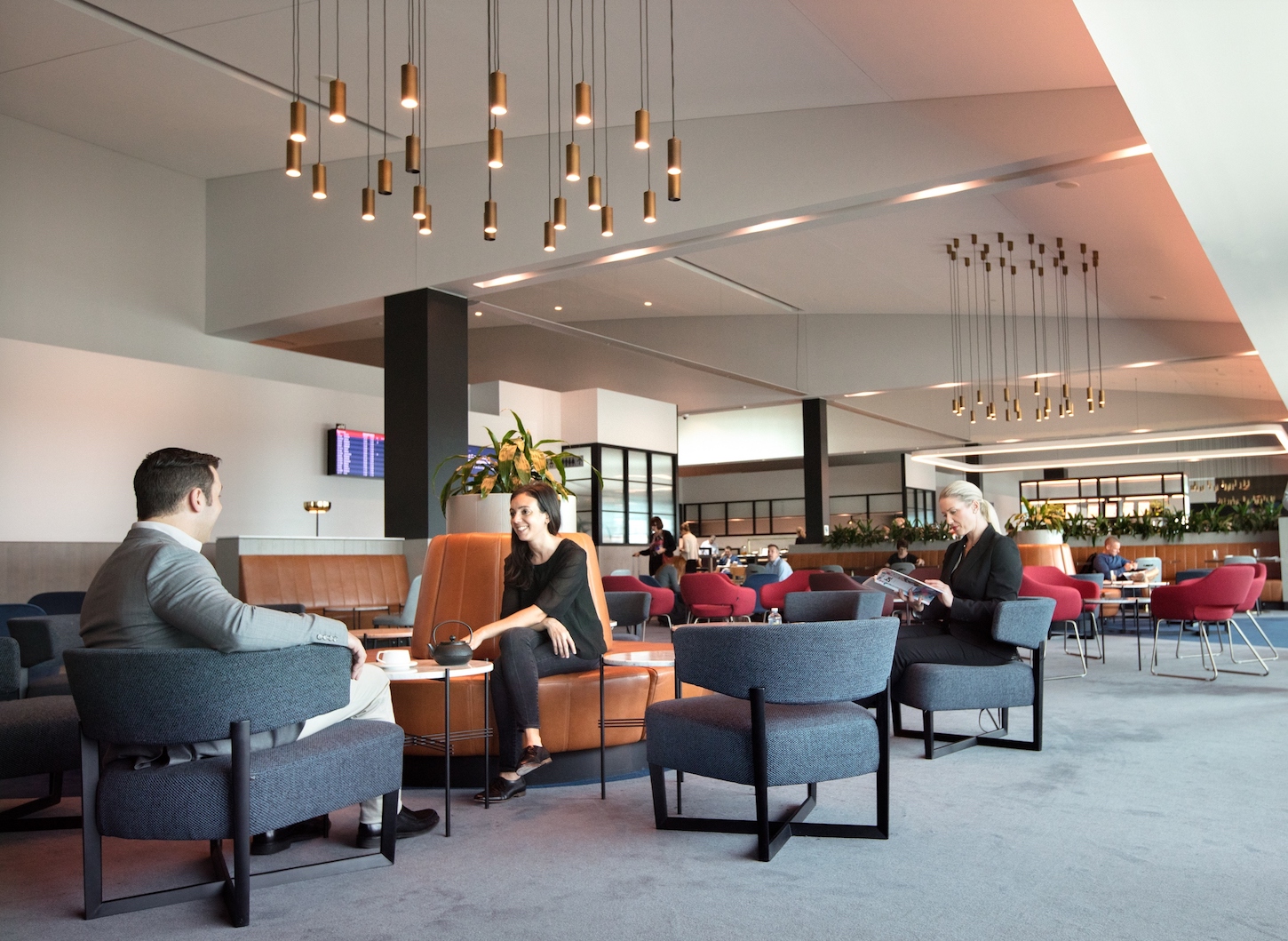 The look and feel
Renovated in November, the Business Lounge ticks all the boxes with a brand new look and feel. Big windows open up views to the tarmac, everything is accessible throughout from various styles of workstations suiting solo travellers or groups (circular bench seating), the island bar is a winner, bathroom/shower facilities are tucked away from the action and exceptional, while a less-is-more minimalist approach works for the overall ambience – space, light and premium designs including dark tones and sophisticated finishes reflecting Melbourne's dining scene and supper clubs.
Designed by Woods Bagot, finishes include dark Nero Marquina marble from Northern Spain, natural timber on the floors, fluted glass, brass and black metal fittings and custom brass lighting from Volker Haug & Aglo. In short, it's elegant and spacious.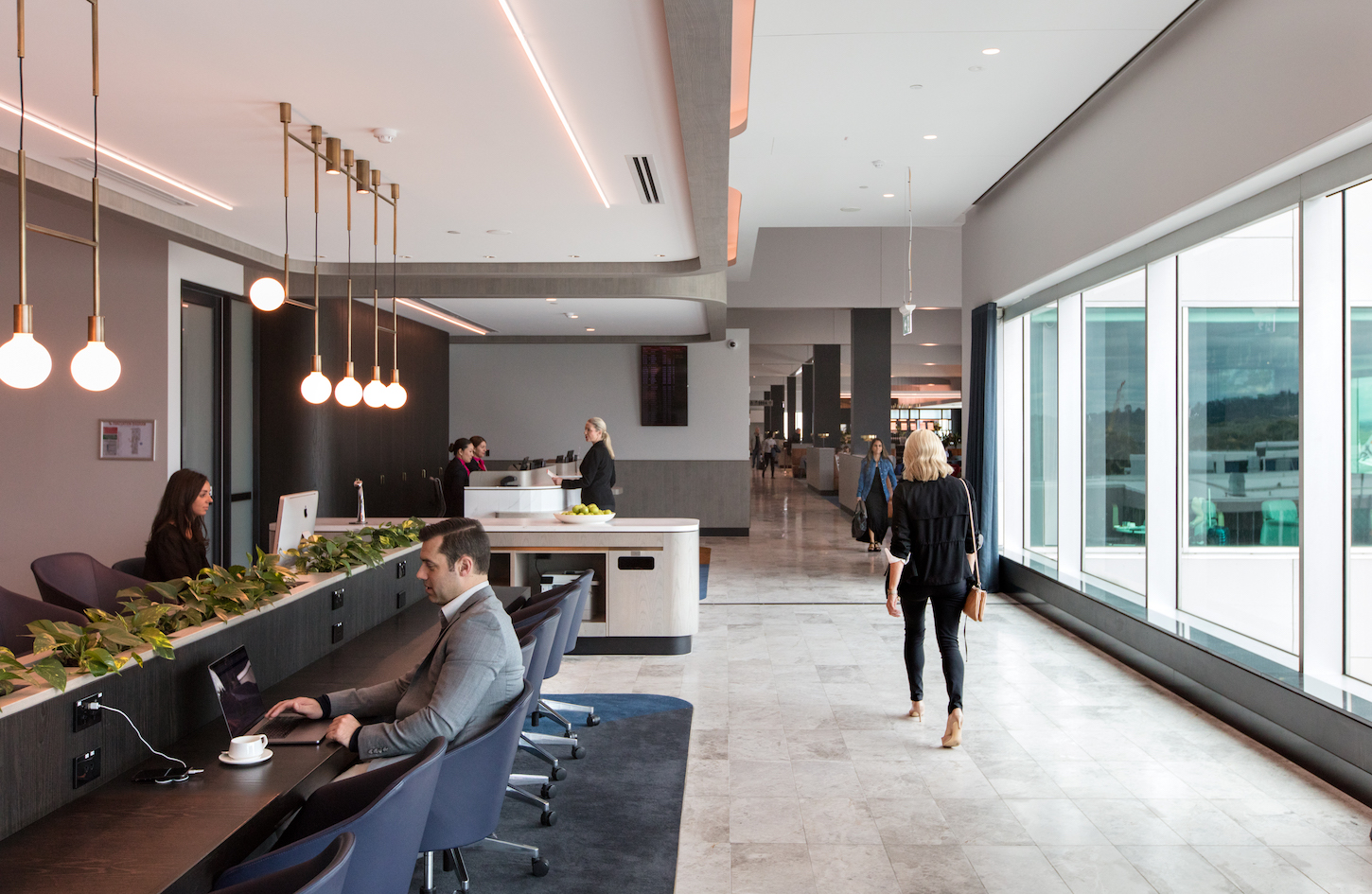 Beaut for business
I've heard there are some regular business class flyers who have used the Business Lounge as an office from time to time and it's easy to understand why. The lounge offers all-day barista coffee – served with friendly smiles and superb customer service the day I checked in – as well as an island bar serving Australian wine, beer, spirits, an open supply of roasted nuts, seasonal dining, business facilities including Wi-Fi and printing, and an increased number of device-charging access points.
An ample supply of magazines and newspapers are at the ready and there always seems to be somewhere you can go to make a call, no matter how busy it gets.
Food & Drink
This is the area where the lounge really flexes its muscle, especially the action-packed Spice Bar which operates in high rotation, but with precision and minimal wait periods during busy moments. No doubt Qantas consulting top gun chef Neil Perry pulled the strings with this one in capturing the essence of Melbourne's Asian inspired street food culture. The food really is delicious.
On this particular lunch session the Singapore Noodles were flying thick and fast, and incredibly tasty (chicken or vegetarian options). The hilarious Asian chef engaged in some jovial banter with lounge guests and clearly loves his job. The all-day dining buffet areas were dishing up treats such as Asian spiced corn and noodle soup, Korean pork with steamed rice, a stir fry veg and noodles number, and good old-fashioned toasted sandwiches for more traditional types. Sweet toothed among us couldn't resist the triple choc brownies and bush plum crumble sweets. Fresh fruits were at hand for those with more healthy inclinations. There's also great variety with a cold food area.
The bar nuts are worth mentioning here, with big tubs full of roasted mixed nuts, and the Quench station is one to write home about for its "signature concept supporting hydration and wellness while travelling". Simply add a scoop of Rockpool Signature Tisane (a herbal tea without caffeine) into a cast iron pot and prepare for a hydration hit.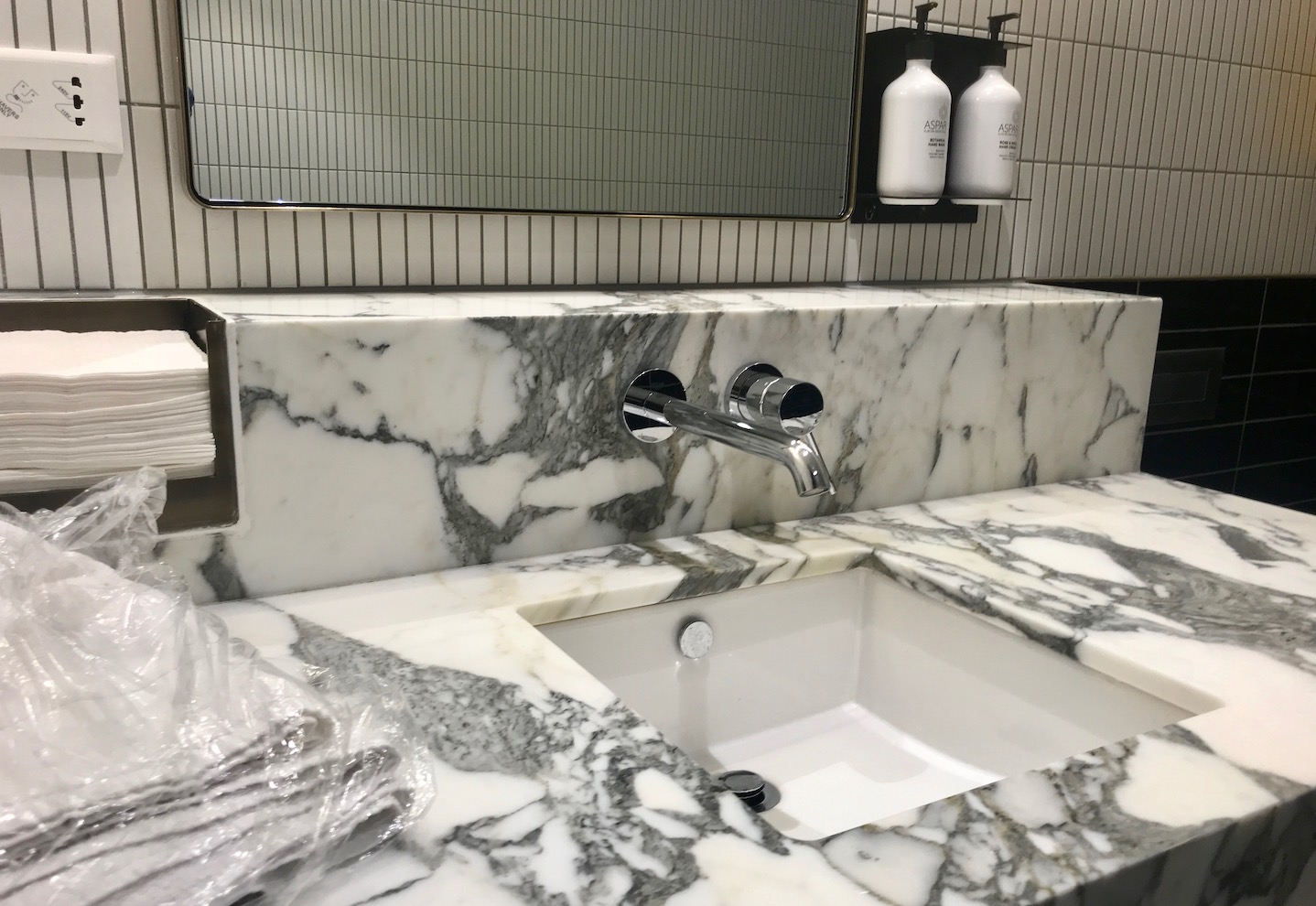 Bathrooms
Qantas has taken it to another level with their bathrooms.
The rainshower showerheads, beautiful marble benchtops and brass designs, and ASPAR (Aurora Spa Rituals) products make it easy and refreshing.
10 Words Or Less …
Qantas unleashes a stunner Business Lounge with all the trimmings