In a sliding doors moment, The Departure Lounge was lucky enough to have two of our team experience the magic of Rio De Janeiro… but not once did they cross paths. From sunshine to torrential rain, celebrities to shady characters in the slums, Kimberly Rosbe and Scott Podmore "go to Rio"  and delve deep within the culture and heartbeat of Brazil. Here's a look at their different perspectives.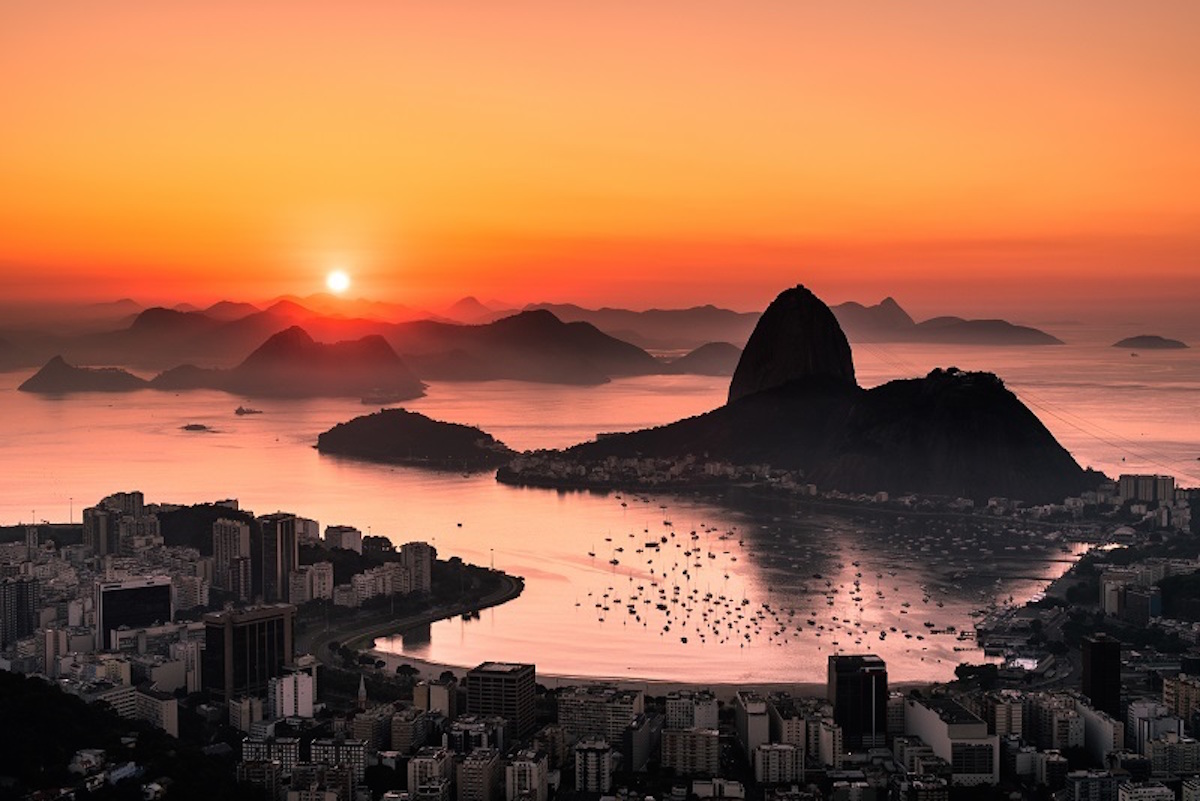 Stars in our collective Rio eyes
She says… Tom Cruise was checking out the day we checked in. He had rented all six of the entire 7th floor penthouses for their entourage for the week. I mean where else would you stay if you were promoting a new film in Rio and you were the biggest movie star in the world? Clearly the Copacabana Palace.
After all, this hotel is the stuff of legends. Since the 1920s, the rich and powerful of the world have come here to play, be glamourous and immerse themselves in Rio high society Copacabana-style. Galas and concerts were hosted by the likes of Tony Bennett and Ella Fitzgerald in the grand ballrooms. Prince Charles and Lady Diana would linger by the pool. Visiting dignitaries and Hollywood legends like Fred Astaire and Ginger Rogers would walk the halls dressed to kill and now eternally grace the ballroom walls in rows of classic black and white autographed photographs.
Today if you are, say, Robert De Niro, Sting or Princess Caroline of Monaco, Copacabana is where you debut your most fashionable gown or tuxedo and come to enjoy the Brazilian tropics. Try to keep up – be elegant and glamourous here or go home.
Just ask Carlos – Rio rocks!
He says… No hotel lobbies for my celebrity encounters, nor any fleeting glances – quite the contrary. I landed a face-to-face filmed interview on Copacabana Beach with Rio de Janeiro-born director Carlos Saldanha as Sugarloaf Mountain provided the stunning backdrop.
The man responsible for recreating Brazil's famous city in the animated film, Rio, was kind enough to walk and talk while near-naked oiled up beach volleyballers provided ample distraction on the sand.
"I love Rio," he says of his hometown. "It was a big responsibility for me to create the vibe of Rio."
It was his team of animators who created the city on the computer, but that wasn't enough for him. "I wanted to make sure people felt like they were in Rio, to capture a little of the energy and feeling of being there."
From my own tour around town, the essence and vibrancy transposed into animation was certainly captured: the samba dance and rhythms of Brazilian music, the breathtaking views from Cocovado and Sugarloaf mountains, the rock-climbing, the hang-gliders, the beach life, the vibe surrounding the biggest mardi gras in the world (Carnivale) and the food.
So just what ticks the boxes of his old hometown for this famous former native? "When I come to Rio I like to enjoy what the city offers best, and that is nature. So I try to combine coming to the beautiful beach and also going to the mountains, like hiking up there and checking out the sights from above," he explains.
There are some great things to see like the Corcovado, the Statue of Christ on top of the mountain, you've got a 360-degree view of the city and on a beautiful day it's just amazing – you get a real sense of how the city sits and where it goes. And also we have Sugarloaf and you can take the gondola up and there you can catch yet another angle of the city. And then there's great restaurants and nightlife so you can have a good time at night as well."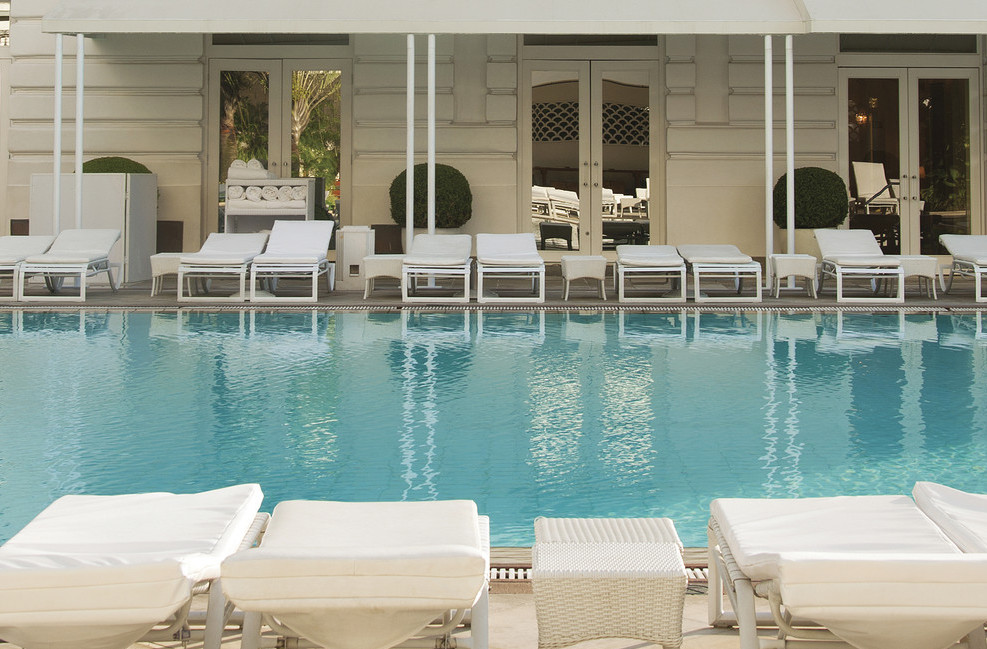 From Copacabana Palace to the top of the world
She says… Next morning I left the grand lobby of Copacabana Palace, an area of the hotel steeped in gold, marble and history, and set out for the iconic Christo Redentor (Christ Redeemer). Perched on the zenith of Corcovado, and seemingly on top of the world for our purposes, the journey upwards was substantial.
A winding taxi ride up the base of the mountain to a shaky tram ride up the next steep incline, to a van ride up the the last drivable leg, and finally to an elevator ride through the mountain to the several hundred step climb to the viewing deck at the statue's base hovering in the sky above Rio.
But as if cued by a movie director, the moment the elevator doors opened, a loud crash thundered overhead and the heavens opened to dump a torrential downpour like only a rainforest can. After such a monumental effort getting there, we were not leaving without experiencing the view from the top. So we made a run for it, white pants and all, and dearly paid the price with total saturation of our clothes, skin and hair as the rain unrelentingly fell in buckets.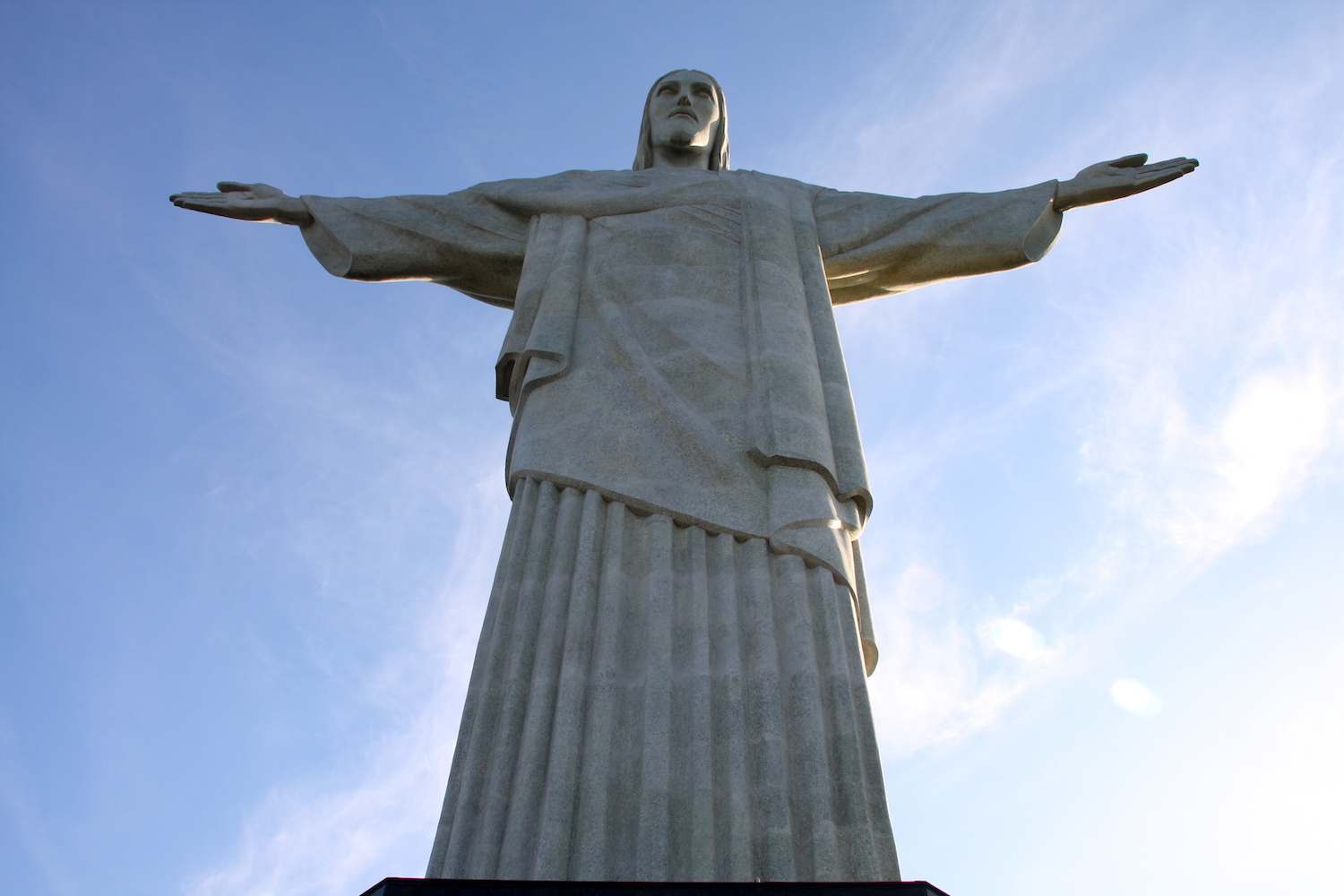 Jump on a jeep tour opportunity
He says… One definitely must head up to the mighty Christ Redeemer (luckily for my experience it was draped in sunshine) but I also packed a little more into my day with a Jeep Tour. There is no better way to experience Rio's lush rainforests, natural attractions and the city's famous hotspots for travelers: this tour takes in Sugar Loaf, the Botanical Gardens, Tijuca National Park, the Chinese Lookout, waterfalls, the beaches and Santa Teresa, just to name a few.
It's a one-stop shop for the traveller, as you move about in large custom-built jeeps with tour guides as vibrant as the city itself.
It's certainly a fun way to explore Rio.
"Ultimately, Rio oscillates between what it once was and what it has become. A 'carioca' is defined as the synthesis of the mixtures of Brazil. And the essence of a 'carioca' is savouring life in all its complications, distractions and beauty."
Understanding this glorious city
She says… So onto understanding this glorious city. When you attempt to look beyond the visual spectacular and visceral beach scene, interpreting Rio de Janeiro is not as simple as it seems.
In fact, the city itself is a world of paradox. The ostentatious wealth gleaming along Avenida Atlantica and Vieira Souto contrasts sharply with slums and impoverished ghettos which lie just beyond the perimeter. Modernist architecture of Oscar Niemeyer stands beside decaying 1970s development disasters.
The simple beach attitude of Ipanema and Leblon flies in the face of the chaotic centre of Lapa, Santa Teresa and Flamengo. Enthusiastic hedonists of Carnaval march alongside devout religious processions. Driving around the city, there is no congruity. Rio's hey-day was definitely during the jet-set beach booms of the 1930s and 1960s.
But since then, not much has changed. Ultimately, Rio oscillates between what it once was and what it has become. A 'carioca' is defined as the synthesis of the mixtures of Brazil. And the essence of a 'carioca' is savouring life in all its complications, distractions and beauty. Come here to find yourself or lose yourself – it doesn't matter, the Rio people are extraordinarily tolerant of individuality and champion an open-minded spirit.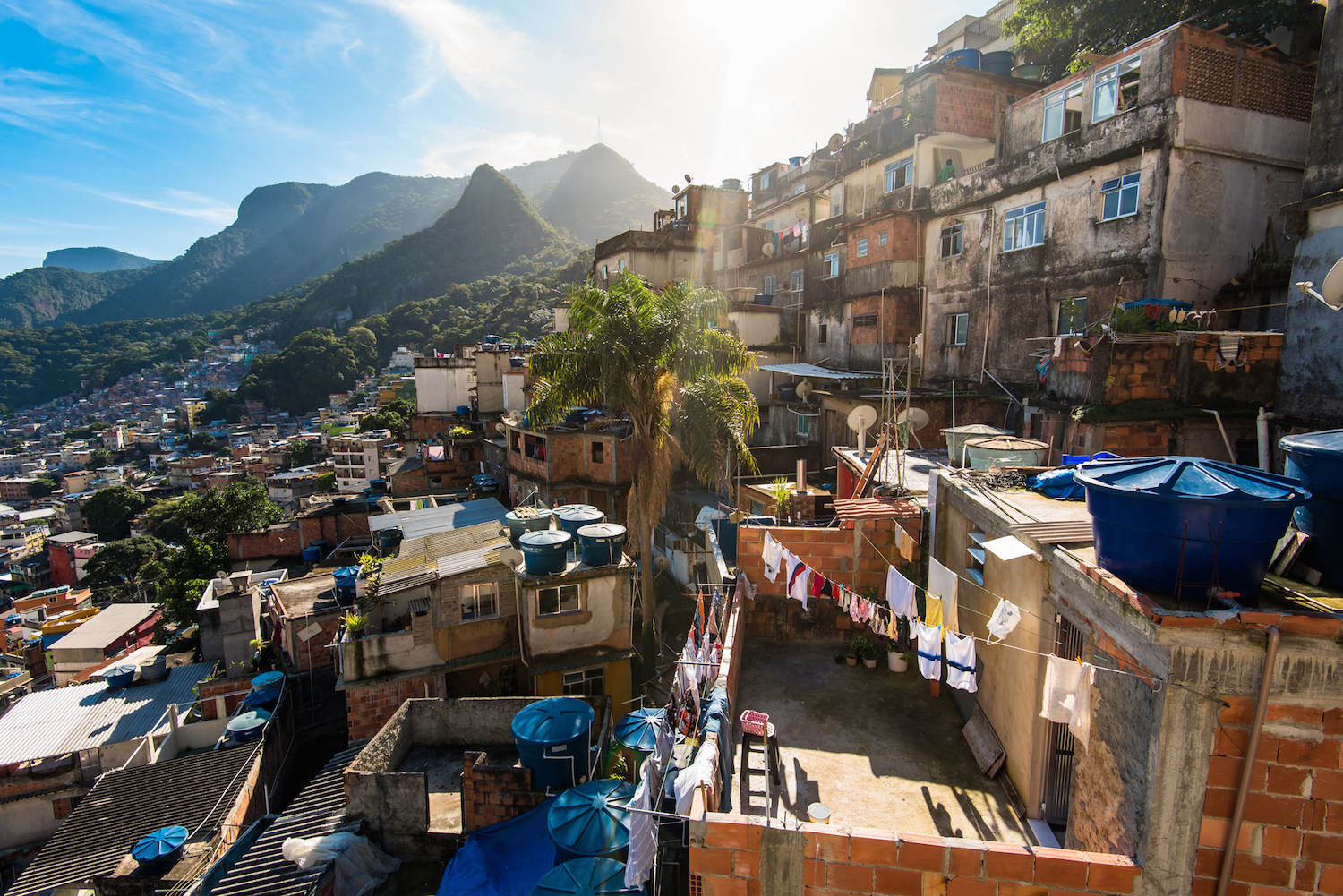 There's a time and a place…
He says… Rio can bewitch you with its vibrancy and razzle dazzle, but it always keeps you on its toes. While it's generally safe, I wasn't spared from experiencing a stark reality check in the confronting world of favelas (slums).
My burly security guard friend, who escorted me on to a rougher side of town, leant over at one point to gently inform me: "Sir, the drug dealers have kindly asked if you would stop taking photographs of them."
That explained a few angry looks . But I'm ever grateful they made the decision to be polite about it all. "Well, it's a big city, and it carries the good and the bad of all big cities," director Saldanha explains later during our beach interview. "It's a very vibrant place and offers a lot of choices for entertainment, but, like Brazil as a country, it offers a lot of contrasts socially as well. No doubt it's getting a lot safer, but it's still a city where you have to be careful and aware that you're not just in a tropical paradise.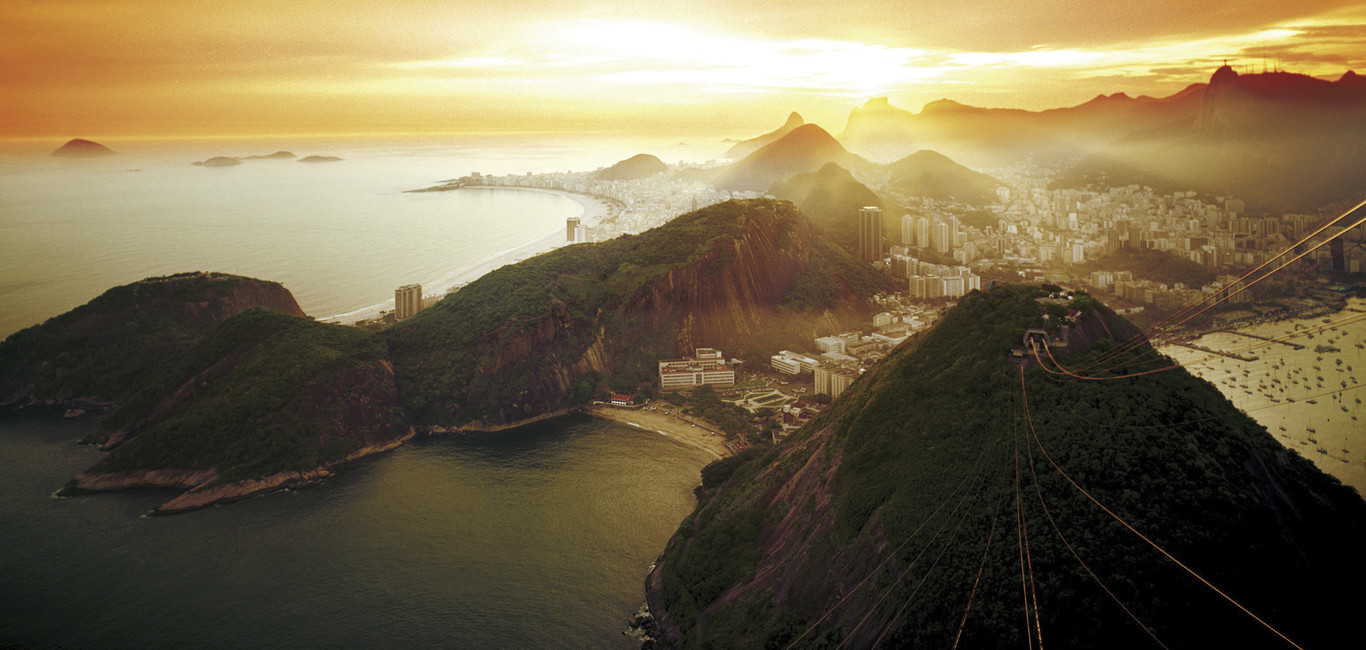 A city of natural beauty
She says… Despite being a sprawling city mass, Rio dedicates itself to focusing on its natural beauty – the golden beaches, the jungle-clad mountains, the glittering blue waters. Lying at the edge of the sea and framed by massive dense mountains boasting the largest metropolitan forest in the world, Tijuca National Park, Rio is truly a feast for the eyes.
In 1930, the people of Rio built a three-story statue of Christ at the tip of a mountain focusing our sights back to the majestic geography – not that the city needed further visual cues. Already Rio housed the lush bulbs of Sugar Loaf and the twin peaks of Morro Dois Irmaos.
Here it's all a show – from Carnivale to the awesome geographic landmarks to the everyday pageant along the beaches. And above all else, the beaches are integral to any Rio experience as all life migrates toward the beach and exists on the beach.
Modesty is unnecessary here. Rest assured, all the women do not look like Brazilian supermodel Gisele. Every imaginable body type parades the boardwalks and hangs out in the sand with no shame and complete acceptance by all. On New Year's Day millions of Brazilians go to the beach to pay homage to Lemanja, the sea goddess. Regardless of the time of year, I suggest you do the same.
From Chile to Brazil with LATAM
He says… With direct flights from Melbourne to Santiago, my advice is to explore two unique cultures in South America on one trip… at least. Brazil has never been closer with only 17 flying hours required now from Melbourne to Santiago, and Santiago to Rio.
Chile offers another world of sights, experiences and culture again and is a great lead-in to scooting across to Brazil on a LATAM flight.
LATAM Airlines offers three direct flights per week between Melbourne and Santiago, and one-stop daily flights from Sydney to Santiago, via Auckland.
Check out Jumping off the yellow brick road in South America
As my luxury travel designer friend Amy says – I would say it's important for people to spend enough time in one country to explore it properly. People often want to do two or three days here or there and move on quickly. I think it's really worth spending enough time at one destination and exploring it properly." That certainly applies to Rio.
Rio is a city for all the senses, particularly impressive for the beauty of its beaches and peaks, ridges, and hills all partly covered by tropical forests. In the heart of the city, it heaves with excitement, different worlds of cultural experiences, and the chance to party, relax and explore great food.
Executive Edge Travel is a globally renowned leader for booking luxury travel experiences/properties.
To book contact your Executive Edge Travel Designer on 03 9519 7777 or email leisure@executiveedge.com.au