Vietnam Airlines flies the flag with V-shaped configuration Business Class beauties between Vietnam and Australia with a Vietnamese magic touch on the service front. There's a good reason the airline has scored a 4 star rating with Skytrax four years in a row.
Bird in the Sky
Vietnam Airlines VN781, an Airbus 350 with 29 business seats, 45 premium economy and 231 economy. Part of the Lotusmiles program and SkyTeam airline partner network.
Where to?
Ho Chi Minh City (Saigon) to Melbourne in 8 hours. The flight left right on 9.05pm and arrived in Melbourne just after 9am (allow the four-hour time difference).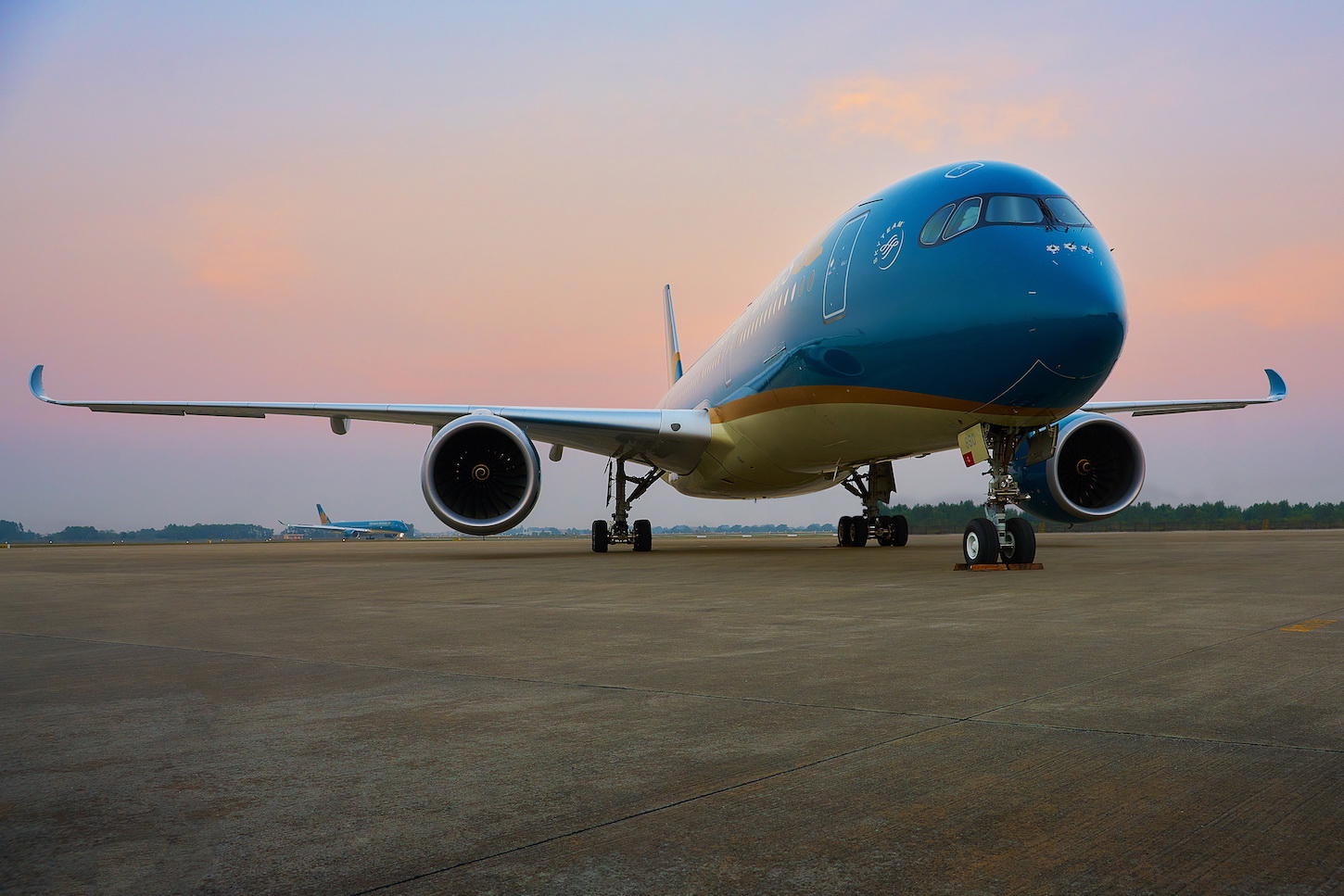 Check-in
Ho Chi Minh international airport is a clean, organised affair but you may want to ensure you allow at least an hour to reach it from downtown Saigon central in the hotel precinct where the likes of Park Hyatt and the Intercontinental call home, but be warned: traffic becomes somewhat a game of human frogger as a gazillion motorbikes, cars and buses hustle for position.
Once in the airport, the check-in counters open three hours before flight time with meticulous precision before a greeting bow by the Vietnam Airlines staff at the counter gets the ball rolling. With a Business Class ticket in hand, slide into the fast lane and generally you'll be kicking back in the Lotus Lounge within about 15 minutes, a comfortable place to catch up on some emails and work on the laptop. Terminal 2 is generally clean, easy to navigate, but it isn't the most exciting airport terminal and with limited seating, but the Lotus Lounge is a soft place to fall, relax and freshen up for the flight home.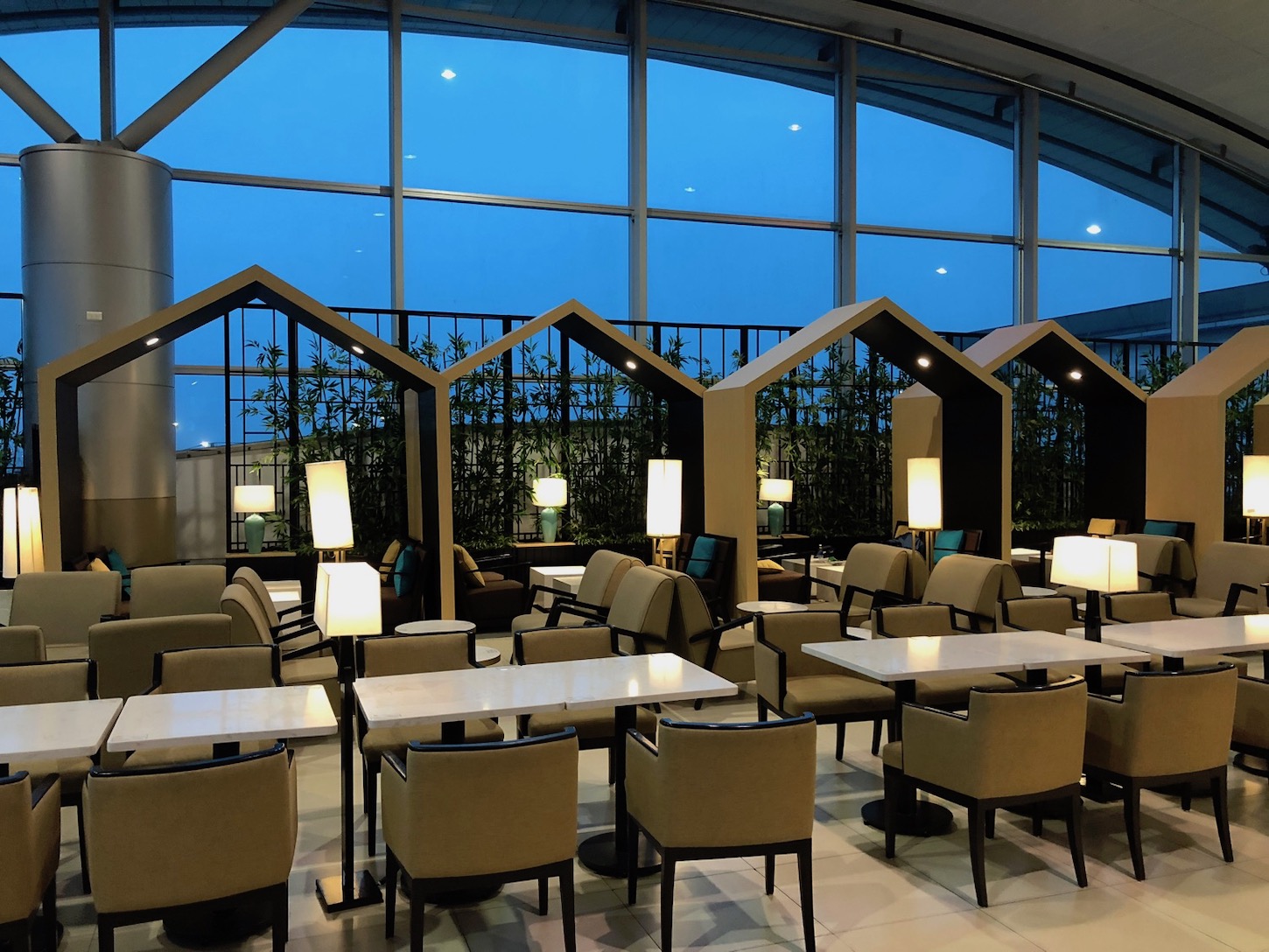 The Lounge
If you're taking off for a Business Class flight from Melbourne, you have access to the impressive Qantas International Business Lounge, whereas returning from Ho Chi Minh you can enjoy the smallish but spacious enough Lotus Lounge. This one is ticks the boxes for a smorgasbord of Vietnamese snacks, meals and desserts in a buffet hugging the wall. Think spring rolls, Pho and self serve ingredients, fried rice, Congee (rice porridge), and Vietnamese desserts like Che Ba Mau (three colour cake). A small selection of beers, soft drinks, juices, wines and spirits is available.
Shower facilities are sufficient but small and toilets are clean. If you're looking to catch up on some work before the flight takes off, the high speed Wi-Fi works a treat and the cabana style huts and arm chairs overlooking the runway are comfortable work spaces. Elsewhere there's a tiny "business" area with two desktops which will likely be taken but it seems this concept has become obsolete and there are better areas to do some work or relax. Get the full picture of the lounge with this 360-degree tour at the official website.
The seat
Business Class has a staggered 1-2-1 arrangement which means you're an easy step away from the aisle and not getting in anyone's way when stepping out to the bathroom or for a stretch. I lobbed in 4G, one of two seats in the middle of a V-shaped config in the 1-2-1 layout. The pitch is a roomy 42 inches (106 centimetres) and a 21-inch (53cm) width. I settle into my comfy seat with a refreshing lemongrass cool towel and passionfruit juice before settling on a scrumptious signature cocktail later on called The Southern Land.
The A350 has ample ceiling height offering a sense of spaciousness, plenty of legroom (generous length, though a little narrow in the feet area) and the full flatbed is heavenly of course. There's a reading light, USB and power points for charging your gadgets. Great storage is offered, headphones are reasonable quality, though not noise cancelling, and the Charriol amenity kits aren't as bold as some but still effective with the regulars: toothbrush and paste, moisturising lotion, lip balm, comb, socks, ear plugs and eye mask.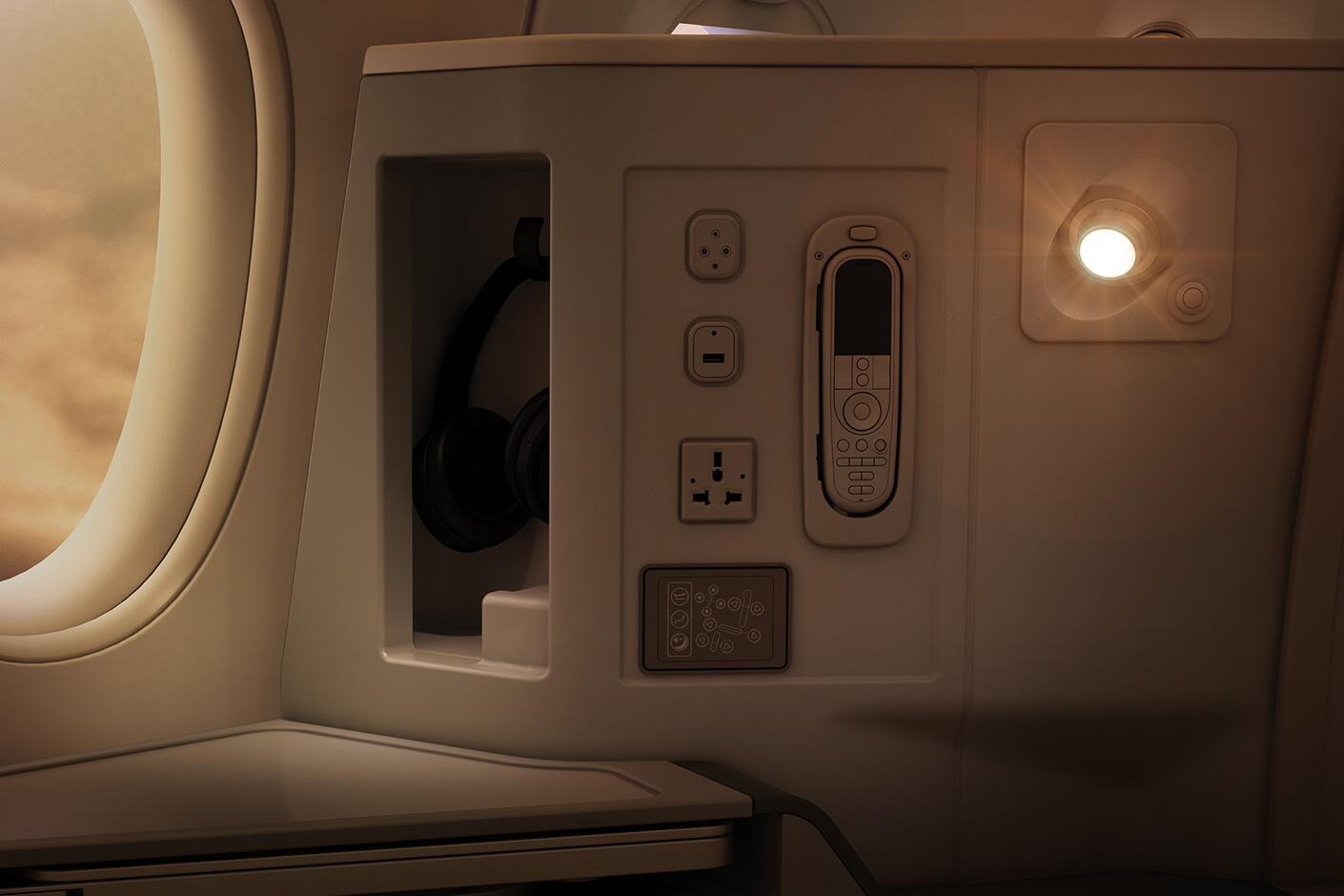 The A350 has ample ceiling height offering a great sense of spaciousness, plenty of legroom (generous length, though a little narrow in the feet area) and the full flatbed is heavenly of course. There's a reading light, USB and power points for charging your gadgets.
Service
Asian airlines do it so well, especially in the pointy end of the plane. Lovely cabin crew are dressed in their pristine aqua or yellow uniforms, relentless with their attention to detail, impeccable manners and in ensuring everything is in order and all needs are met. There's a distinctively noticeable consistency in service from one flight attendant to another, male or female, that's precise in method and personal touch. There are no big personalities here, but rather a more subtle approach: they're suddenly there when you need them, and disappear into the background when you don't.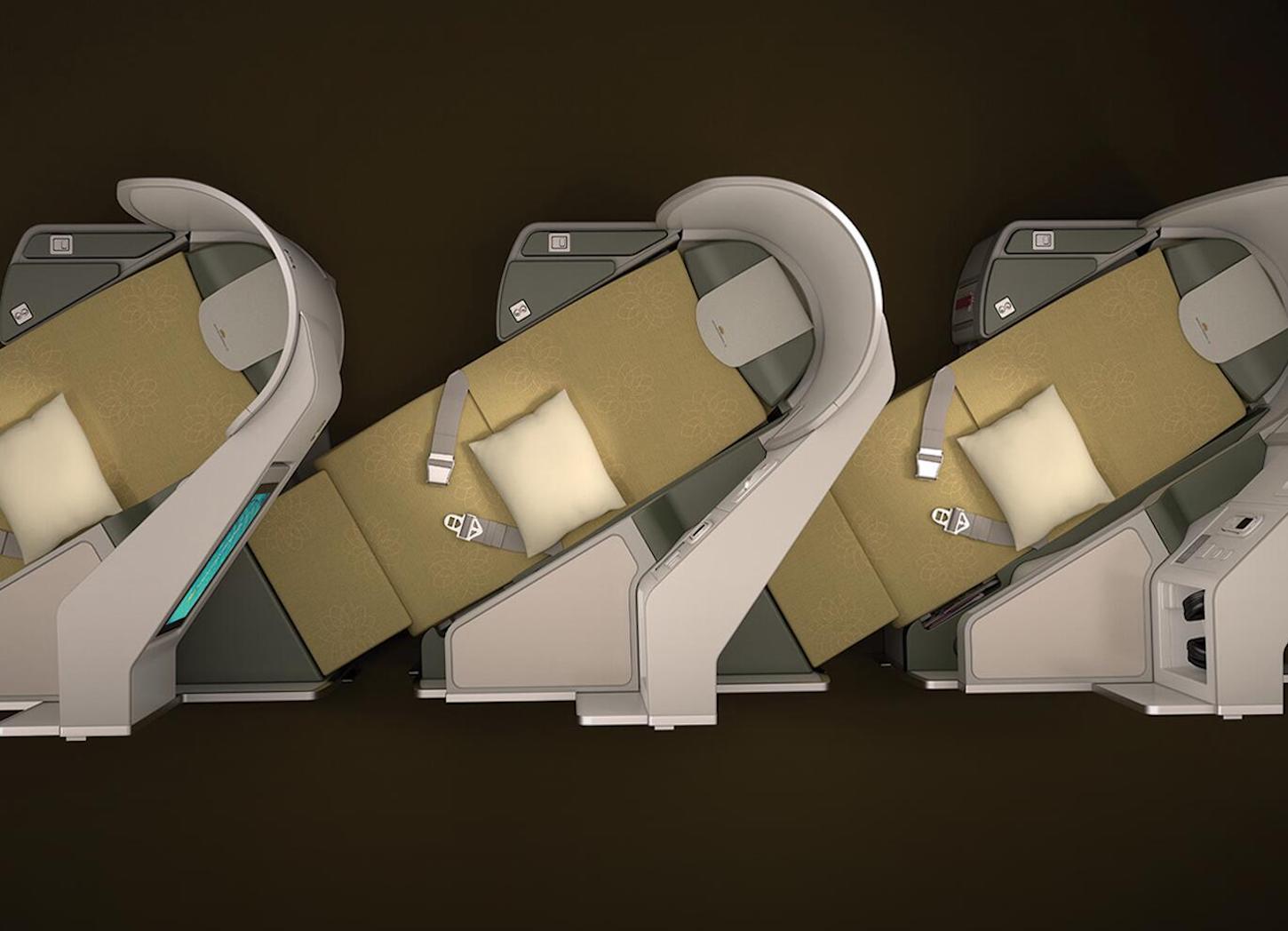 Baggage
A generous 40kg for checked luggage, two carry-on cabin bags with a maximum combined weight of 12kg. One personal item with a maximum weight of 5kg. For example, a handbag, a laptop bag or Duty Free purchase.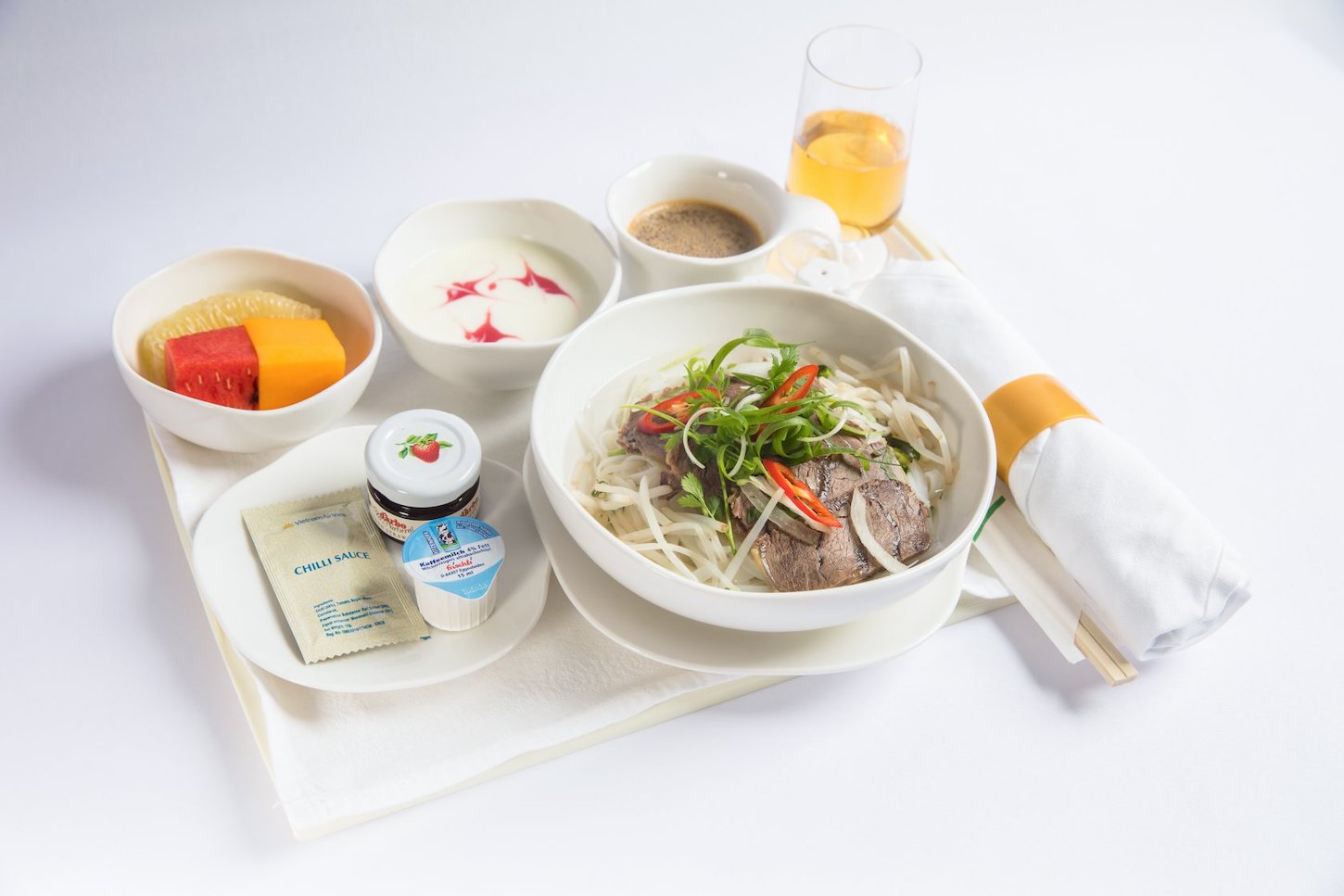 Food & Beverages
First thing's first, the red wine, a Croze-Hermitage from the Rhone Valley, is a seriously lovely drop! The VA team has crafted a great drinks offering with French and Spanish varietals in bubbles, whites and reds, while an emphasis is placed on its cocktails including the High Mountain, Beloved Hue and The Southern Land.
Vietnam Airlines has signed on Australian celebrity chef Luke Nguyen to revamp its business class meals on all flights to and from Australia to Vietnam. Originally from Vietnam, the TV show host and masterchef has advised on 50 dishes the airline serves on its global routes and the Business Class offerings are certainly up to scratch for "plane food", as they say.  On the way over the meals I experienced included a Peking Duck and Salami appetiser, a rack of lamb with couscous which was quite filling and tasty, while a refreshment later on included an Seafood Sui Mai, beef, prawn and vegetable dumpling. On the flight home form Ho Chi Minh admittedly I was a little too excited by the offerings in the Lotus Lounge, but the the Pho Bo (Vietnamese beef noodle soup) was a no-brainer and scored a big tick of approval.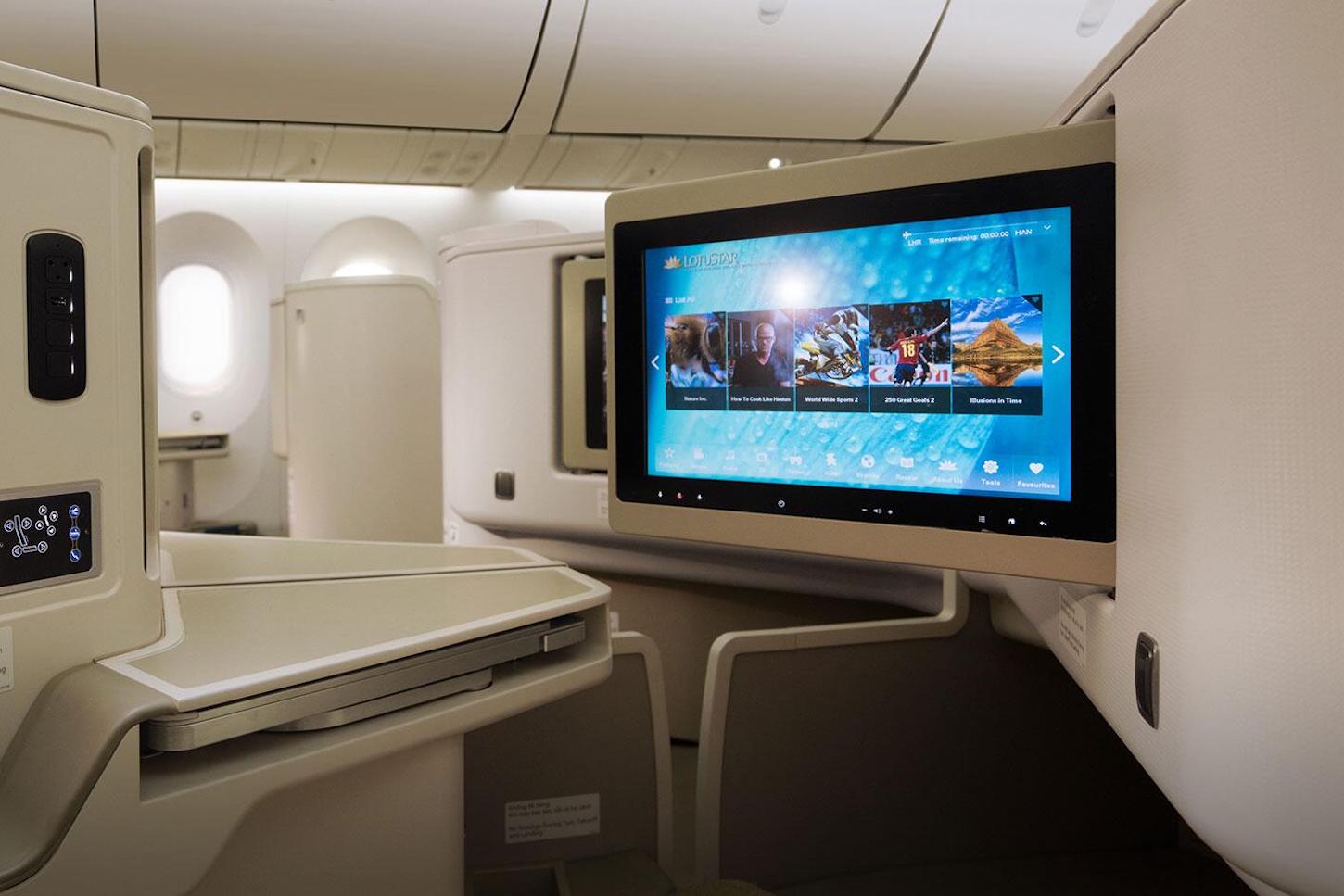 In-flight entertainment
Both western world and Vietnamese movies, music and hit TV shows, as well as interactive games and popular magazines are to be expected and Vietnam Airlines delivers but admittedly there's a fairly limited range on offer. The Lotustar inflight mag has a sound selection of good reads in both Vietnamese and English.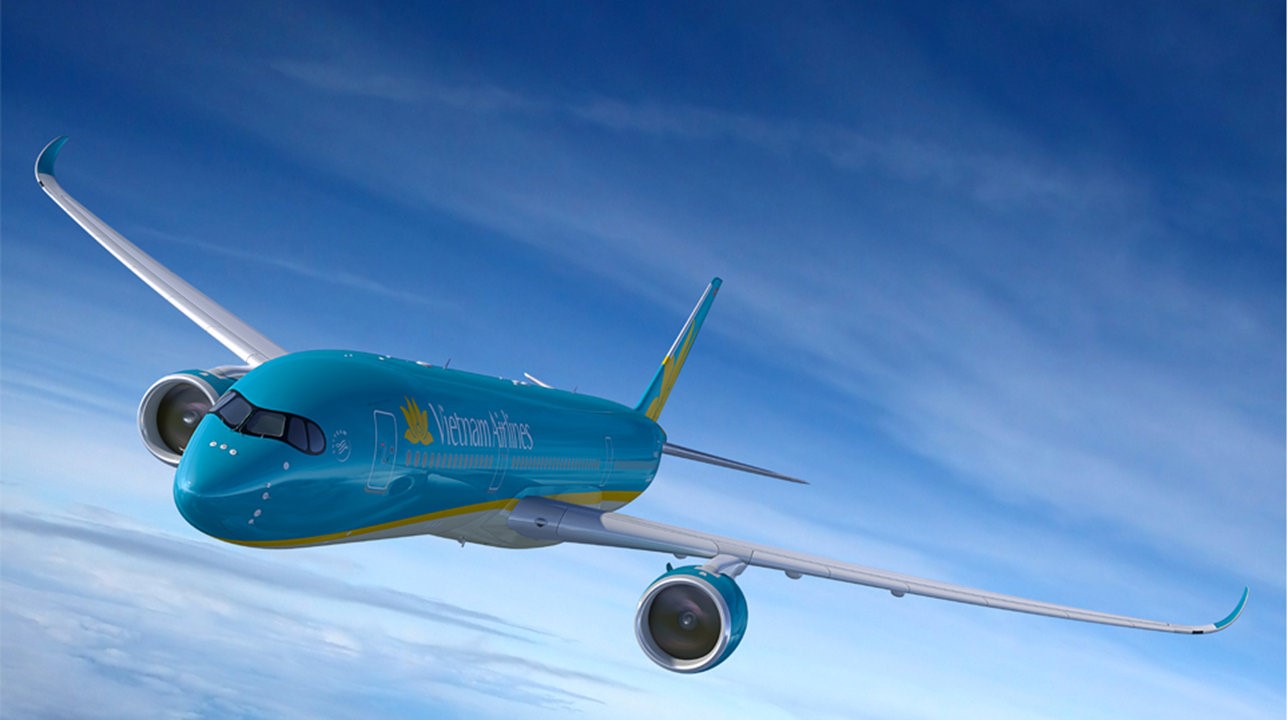 Point of Difference

The V-config for couples or business partners is a nice touch and Vietnam Airlines offer great value for flight costs. Also consider Premium Economy which is a notch below and a great option if you're on a tighter budget. Vietnam Airlines flies under the radar, so to speak, but should always be considered for flights to South East Asia.
How Often
Every day from Melbourne to Ho Chi Minh City and return.
Call your CT Connections travel advisor today for all your travel arrangements.