Luxury river cruising has a new benchmark. From observing floating homes on the mighty Mekong River to paying respects at Buddhist temples, gentle cycling adventures around villages along the way and surrendering to the gorgeous nature of the Cambodians and Vietnamese provides plenty of reasons to step aboard the Aqua Mekong for a river cruise you'll never forget. But then there's the five star factor. Exquisite luxury hotel-style rooms, delicious Asian food inspired by a masterchef, morning meditations, an onboard spa and more extraordinary highlights means this is luxury river journey to be reckoned with.
The lowdown on Aqua Mekong
There are river cruises that provide lifetime memories and the ultimate way to relax, delve into a little gentle adventure and lap up the luxury of onboard hospitality. Then there's an Aqua Expeditions cruise. This is an experience that shakes your conscience, hits you in the heart, and demands your pledge a return for more.
The small luxury cruise company's two options include an adventure on the Amazon in South America and a selection of 3, 5 and 7-day itineraries on the mighty Mekong River connecting Cambodia and Vietnam life.
Ours was a 3-day cruise starting from Phnom Penh and winding through the Mekong and Vietnam river life all the way to Ho Chi Minh City. As sparkling cruise director Jhuliana says: "No one Aqua expedition is the same. You can do the same itinerary and have a very different experience but with the same Aqua touch."
While some guests were greeted at the airport the day before and escorted to the Park Hyatt for the night, we'd just spent a few days in Siem Reap exploring the temples including Angkor Wat as well as brand new Shinta Mani Wild, a Bensley Collection private nature sanctuary and new tented camp hotel sensation. It was the perfect segue to stepping onboard the Aqua Mekong for luxury of a different kind… take me to the river.
Various itineraries taking in Cambodia and Vietnam along the Mekong River
Cruise snapshot
One of the true joys of this experience was the blend of cultures and personalities with the Cambodian and Vietnames crew from the food and beverage staff and cooking team to the ships captains, spa team and incredibly informed and engaging tour guides. Their endless smiles and ever-accommodating attention to service and detail is infectious.
The mix is right here for sheer luxury, cultural discovery and gentle adventure. Onboard history sessions, cocktail events/barbecues (ever eaten a tarantula? I now have) and land excursions means there's never a dull moment. But, of course, if it's a staying back for a session in the Aqua spa.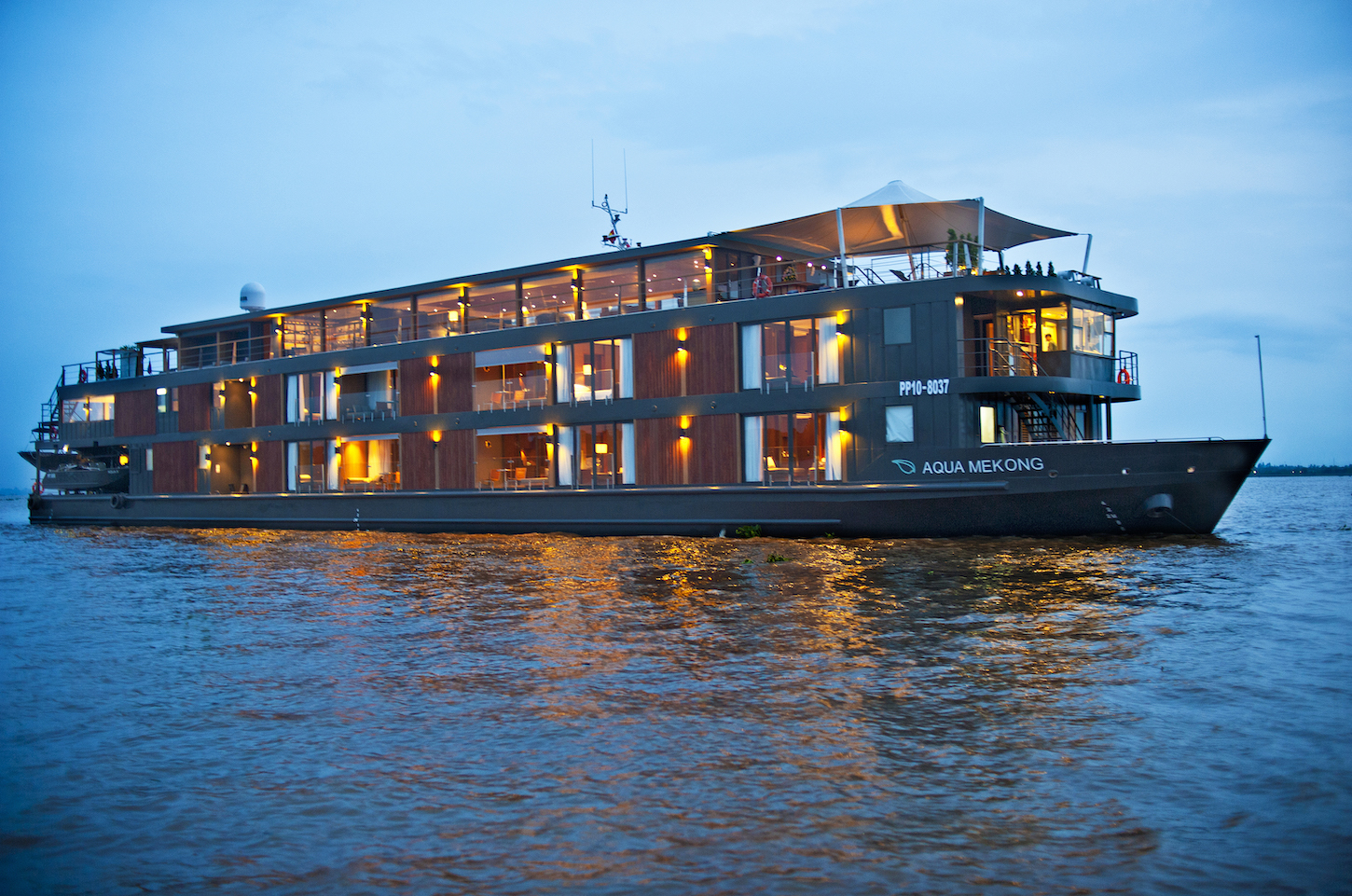 The ship
The 62.4 metre (205 feet) Aqua Mekong was designed by Saigon-based architects who were given the mission of embodying "the aesthetic of a sophisticated five star hotel".  Local sustainable materials and artisanal touches of the Mekong's multifaceted cultures complement the spacious interior areas.
Spacious and indulgent, yet enough intimacy to make it feel exclusive – tuck away in a seated nook around the walkway on the second level to catch a sunset or river breeze or escape to the mini theatre or library –  the Aqua Mekong has relaxed, refined lounging and dining areas, and accommodates a maximum of 40 guests plus crew.
Our room
Ours was room 109, on the lower deck without the balcony (they're on the second level) but instead panoramic floor to ceiling window views of the Mekong and its daily activities. It really is designed as if you're staying in a 5 star hotel with a spacious feel, deep dark woods, a luxurious California king sized bed  that can be converted upon request into two full twin beds if you're travelling with a friend, sibling or parent or kids.
An inviting roomy daybed is placed by the window wall while a meticulous and stylish bathroom features the latest eco-sensitive technology and an additional Mekong River facing picture window, plus double basins, a large walk in shower with rainforest showerhead and bench, professional hairdryer and natural bath amenities with the most refreshing scents.
A safe can be coded to keep your valuables tucked away and the fact you don't have to lock your door makes you instantly feel at home and relaxed within the environment shared by a small number of other guest compared with bigger cruises.
Aqua Mekong facilities
The Aqua isn't big, but therein lies its charm and the it's bursting with quality facilities.
Upstairs on the observation deck relax in contemporary chairs designed with southeast Asian colonial planters in mind, in a beautiful air conditioned lounge and bar area. Couches are comfy and angled to "optimize the engrossing, ever-changing Vietnamese or Cambodian landscapes" drifting by the the floor to ceiling wall of windows. A fully stocked cocktail bar becomes a popular haunt for mingling guests or take your pick from an Angkor beer or fine European wine. Back sliding doors lead out to the Outdoor Lounge with its plunge pool offering even betters but with all the fresh air, noises and smells of river life in 3D.
There's a compact but well stocked gym for those wanting to burn off the extra calories thanks to the extraordinary Asian fusion feasts designed in collaboration with masterchef David Thompson and dished up seemingly on a never- ending basis. Also try the private screening room (up to 10 guests) with chocolate brown leather and wood panel recliners while there is a library and games room, lobby area for those wanting to tap into the ship's courtesy Wi-Fi, and a shop.
Providing you allocate some time, it's worth considering the Aqua Mekong's enticing spa rooms for some time out for heavenly Southeast Asian massage. Enjoy a touch of traditional healing, be it the gentle stretching and deep knead of a Khmer massage, or Vietnamese aromatherapy incorporating local ingredients like energizing highland coffee or relaxing organic lemongrass.
Spa treatments are available throughout the day and evening by appointment. In these two specially designed spa rooms, one single and one double
Food
One of the outstanding features of the Aqua Mekong is the food and especially the service.
Noticeably, the Cambodians make up a big part of the F&B staff and it doesn't take long to fall in love with them. The smiling faces will stay with you long after the cruise has finished.
As for the food, it's clearly a focus and the Aqua powers that be have gone all out by collaborating with top gun chef David Thompson, winner of Diners Club Lifetime Achievement Award Asia in 2016, and who has imparted his wisdom in a deeply committed fashion as Consulting Chef of the Aqua Mekong (see video above, he can explain it in a much more informed manner than I).
Onboard chefs case the local riverside markets, with guests on one excursion during the journey, for the day's freshest ingredients, from fish to river prawns and organic local produce. Coconut, lemongrass, coriander, turmeric are just a few of the most recognizable flavors that stay with you and signature flavours in Thompson's ever changing, inventive menus that always remain authentic to the fertile surroundings.
There's also a great selection of wines, cocktails, mocktails, beers and more.
Point of difference
The educational aspect is powerful. Learn, relax, wine, dine and absorb the journey with all the trimmings of a luxury ship and exceptional service. If you explore the history of both the Vietnamese and Cambodians regarding where they've come from, it all has so much more meaning. You come away barracking for the people.
The Mekong is a trans-boundary river in Southeast Asia and is the world's twelfth longest river and the seventh longest in Asia with more than 60 million people living in the Lower Mekong Basic … From the Tibetan Plateau, the river runs through China's Yunnan Province, Myanmar, Laos, Thailand, Cambodia and Vietnam. It has its own heartbeat.
Getting there
Vietnam Airlines flies direct from Melbourne to Ho Chi Minh City with a connecting flight to Siem Reap. Business Class flyers gain access to the Qantas International Business Lounge in Melbourne and the Lotus Lounge at Ho Chi Minh City.
10 Words Or Less …
Luxury meets the Mekong for a life-changing cruise adventure.