Understandably Bali could be overlooked as a 'luxury' family holiday destination, but there are plenty of ways to experience the Indonesian hot spot in style. With two teenagers in tow, Scott Podmore proves a 5-star paradise can be discovered beyond the Bintang, hustle and haggle. Starting with a colourful and style-savvy Hotel Indigo Bali Seminyak Beach before moving down the coast to the majestic InterContinental Bali Resort in Jimbaran Bay and continuing on to enjoystunning rock bar sunsets, a water park wonderland, and outstanding food dining experiences.
Bali with unexpected luxuries
IT was my first time in Bali, not just theirs. Two late-teen boys hungry for a holiday in a not-so-faraway land of which they'd only heard wild stories from friends of scooter mania and big brand rip-offs. But that Bali wasn't the one we were planning to visit.
Our mission was to experience the Island of the Gods like gods in the lap of luxury. Bali is a thrumming tourist mecca when it comes to attractive cheap flights and bargain online hotel deals. Scratch the surface and you will quickly realise Bali is overflowing with luxury options only five and a half hours away from home.
Luxury travel designer and expert, Sally Bird, of Executive Edge Travel ('Best Luxury Travel Agency' at the recent Luxury Travel magazine Gold List Awards) says there's no doubt you can experience something truly special in Bali.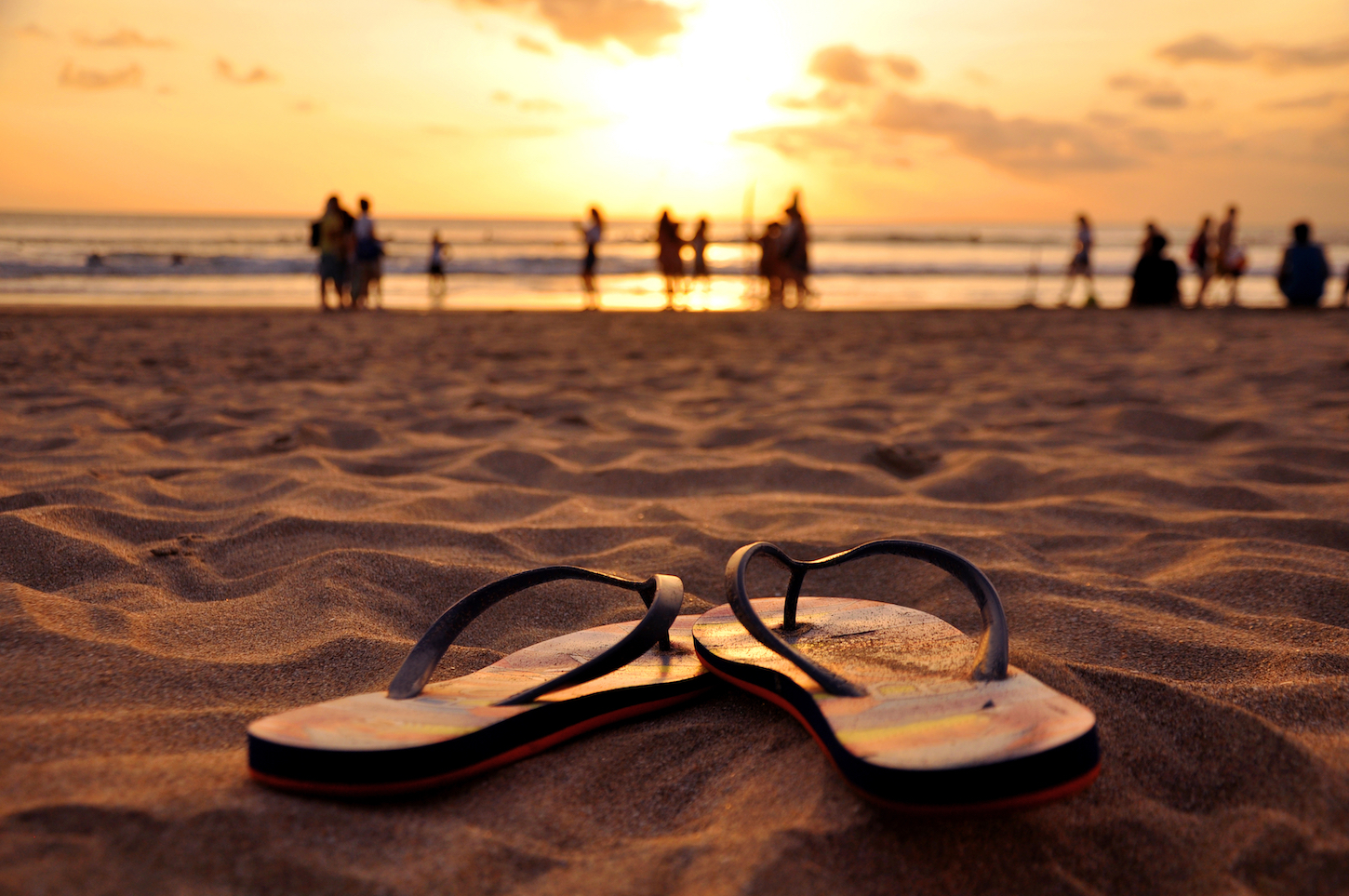 Cost-effective luxury holiday
"I think sometimes when people think of Bali, it can conjure up 'cheap package holiday'," Sally explains. "For me, Bali is much more than that."
"In fact, Bali has some of the most beautiful hotels in the world in very unique locations – you can certainly have a very high end luxurious holiday in Bali and, comparatively speaking, it's generally much less expensive than having a luxurious holiday in other parts of the world."
"It's also super close, suits all budgets, is full of activities for young teens and older teens, has a great climate, super food, good beaches and some great culture. And planning a Bali holiday can be something very quick and painless; it doesn't need months of planning or budgeting."
BOOK YOUR HOLIDAY WITH THE EXECUTIVE EDGE TRAVEL TEAM
So let's jump in.
Armed with Sally's advice, I upped the ante immediately in bypassing a bargain Jetstar flight and booking Qantas return airfares to get the luxury Bali vibe well and truly into the swing of things…
First stop: Hotel Indigo Seminyak Beach
Eye-popping. That's the best way to describe this IHG property upon entry at the "Instagrammable" lobby (pictured above). Eye-popping to best explain the look on my teenage boys' faces, who were equally impressed by the cool lemongrass towel and refreshing mocktail welcome.
After arriving at the airport and efficiently collected by our ever-reliable driver and local-in-the-know Robbie (search for Robby Bali on WhatsApp or call/text him on +62 857-3919-9926),  we couldn't have landed at a more spectacular, colourful and impressive resort than Hotel Indigo Seminyak Beach. IHG has designed the Hotel Indigo brand with its sights set on getting a big slice of the millennial pie, but this one set on the sands of Seminyak Beach is much broader than that and can tick the boxes for just about any traveller type; not just one generation.
You need only watch the cool neighbourhood themed video above to get a sense of the fun and appeal of this one. Hotel Indigo Bali Seminyak Beach offers a more private stay than most of the other nearby resorts and hotels, set right on the Mesari Beach, which is also known as Double Six Beach, where shopping and dining spots are all within reach outside the property.
Inspired by local lives
There's a youthful, modern vibe that's ever-present in a resort that features 289 rooms, suites and pool villas, each one beautifully-crafted and inspired by the colourful lives of the locals while fitted with Hotel Indigo signature spa-inspired bathrooms, plush bedding, and balcony or patio with daybeds. There are five dining and bar options, three pools, a fitness centre and spa. Up the spend, and your family can indulge in pool villas complete with 24/7 bespoke Neighbourhood Patih concierge service.
The staff are young and energetic and the rooms are trendy and fresh – ours came with a glam bathroom, mosaic tiled rain shower, and gold wash basin with ladle for cultural impact. The bedrooms opened out onto the balcony, with suspended daybed overlooking the lagoon pool surrounded by palms and cave-like gazebos with sun lounges.
Hotel Indigo Seminyak Beach is a great base to explore the region. And a great place to lose yourself within the resort's confines.
Interact with the animals at Bali Zoo
The word zoo sends a bit of a shiver up my spine as a general rule and the two boys didn't quite know how to fake their excitement about the prospect of heading up to Ubud for a half day trip at Bali Zoo, especially with an early morning pick up at Hotel Indigo Bali. As it turns out, the privately owned zoo has lots of heart: saving orphaned orangutans and elephants from Sumatran poachers being one mission accomplished, and it has conservation programs in place.
The experience ended up being possibly the highlight of the trip. But why so early? We needed to get there in time for a delicious smorgasbord breakfast with the Orangutans before wandering off for a new intimate Elephant Mud Fun half-day experience where you get down and dirty with the beautiful Sumatran elephants while learning about their behavior and lifestyle from the mahout. To finish up, we included a bit of post animal encounter pampering in the impressive Sanctoo Villa & Spa – it's a great way to wash off the mud and enjoy a Balinese massage on a deck fronting beautiful trees and a 20-metre powerful waterfall.
The connection we had with these beautiful elephants was something we'll never forget. It's certainly an unmissable experience to share with your children.
Waterbom wonderland
First thing's first. While on any kind of luxury holiday in Bali there's no question the food intake hits overdrive, and a lot of it the naughtier, salty, creamy, buttery and fattening kind. So one needs to burn it off. Say hello to Waterbom Bali where you're guaranteed a lot of fun – and exercise. Pre-trip, make sure you have signed up for updates from Waterbom Bali for the specials and updates. Secondly, block out an entire day for the mighty Waterbom where you can swim, play, eat, laugh and relax til your heart's content.
A day pass can be snapped up from about $25 Australia for entry and that gets access to all slides. But if you're sticking with the luxury theme you'd better go for the Total Package option (less than $80) and which includes VIP entry through the Waterbom Total Package entrance and all the rides as well as lunch, towel hire, digital copies of photos, plus one of either a 30 minute FloRider session, 60 minute massage or reflexology, Euro Bungy session, hair braiding or manicure or pedicure. Better still, you can hire your own private gazebo.
Great food, wild rides (that range from mellow to extreme) and your teens are going to thank you for life. If your timing is right, consider the Sol sessions events which take place on July 27, August 31, and September 28, 2019 for night slides, world-class DJs, photo booth, pool games and even sessions with clairvoyants.
InterContinental Bali Resort
There are 100 reasons I could begin with in explaining why leaving Seminyak after a few days to beautiful InterContinental Bali Resort in Jimbaran Bay more than half an hour south is well worth the effort, but any growing teenager will tell you it's all about the food – and one open plan breakfast buffet to rule them all at Taman Gita, where a world of cooking stations abound ("around the world in 80 steps" as one staff member told me). Taman Gita (above) has a breakfast buffet that is sheer heaven for teens each morning.
The accommodation switched from colourful, vibrant and youthful Hotel Indigo to the more elegant, timeless and majestic InterContinental Bali Resort down south, secluded within 14 hectares of tropical landscaped gardens, alongside a 500m prime stretch of white sand beach. "The InterCon" has a seemingly endless supply of recreation and leisure outlets and activities, including six pools, while culinary excellence abounds with a superb choice of restaurants, bars and dining experiences.
A spa menu for teenagers
As for the spectacular Uluwatu Spa? It's like a city in its own right that certainly aligns with the "Island of the Gods" Bali theme, and there's even a Teen Spa Sensations menu offering specifically designed for teenagers.
The resort embodies components of Balinese Hindu philosophy, imagery and symbolism embodied throughout its design. Think hand-painted batik prints and intricate wood carvings, but what also impresses the teens are the advanced technologies that come with recent renovations including High Definition Smart IPTV system, with a 43-inch wall-mounted screen, offering access to thousands of high quality digital TV and radio channels from around the world, as well as movies and TV series on demand, internet radio, YouTube channels and live streaming via a high-speed internet connection. That means Netflix and Spotify on the move and enjoyed in luxury during the minimal downtime outside all the activity!
"Let's start with Motel Mexicola in Seminyak, a rollicking assault on the senses for colours, shrines, Mexican food goodness and three levels of fascinating wall art that will have the kids mesmerised."
Food extravaganza
Where do you start? The above mentioned resorts nail the breakfast offerings as well as offering swim up pool bar snacks and fine dining restaurants, but go beyond their gates and there's a real smorgasbord of affordable 5 star quality food encounters all over Bali to be enjoyed.
Let's start with Motel Mexicola in Seminyak, a rollicking assault on the senses for colours, shrines, Mexican food goodness and three levels of fascinating wall art that will have the kids mesmerised. It doubles as a popular club at night but is also worshipped for its Mexican food that includes the best fish tacos on the planet before making an exit as the DJ gets the party started (watch your teenagers find a way to stay indoors for all this action!).
The very Melbourne-esque Sisterfields is another venue hard to top, especially for its Sticky Nam Jim Pork Belly and mouthwatering burgers.
Among a list too long to mention here, sure bets also include: Mama San for the best South East Asia as you step into colonial Britain in Shanghai during the 1920s, with marble top mah-jong tables and oversized tan leather chesterfields; Dumbo Bali in Ubud for incredible vegetarian/vegan (teens will turn up their nose on entry, but be smiling on the way out); and Sarong for a truly upscale, delicious and unforgettable dining experience.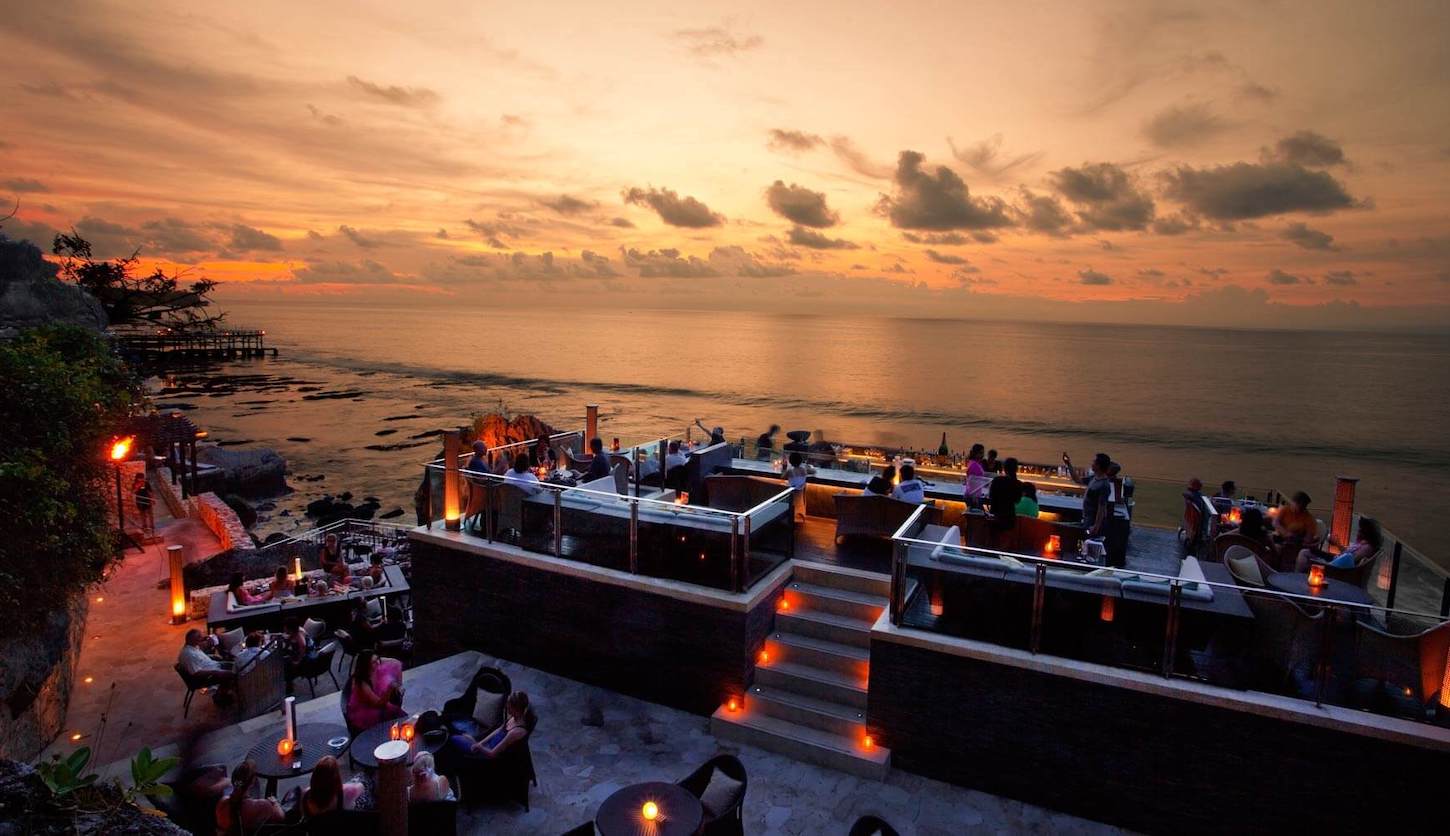 Sensational sunsets
"If you follow your heart, you'll wake up in Bali," says our waitress upon welcoming us to the iconic Rock Bar Bali.
An hour later as the sun set in the most magnificent manner, we started to believe her. Bali's No.1 bar, Rock Bar Bali, perched atop distinctive rock formations along Jimbaran's pristine sunset coast, is part of the spectacular AYANA Resort & Spa and is renowned for being arguable planet earth's most popular sunset, cocktail and entertainment venue. With views from 14 metres above the Indian Ocean, Rock Bar is accessible via AYANA's dramatic cliff side inclinator.
Featuring a glamorous sunset vibe, and a dreamy after-dark ambiance, kick back and enjoy the tunes of some of the hottest international DJs as they spin their tunes from a custom DJ booth carved directly into the cliff face. Mocktails for the teens, cocktails for your good self, of course, and the expression "soaking up the views" has never been more apt.
Our week was done. A luxury family holiday in Bali with your teenagers may push the purse strings a little harder than the regular Bali escape, but it's worth every cent and cheaper than most overseas 5-star adventures with kids.
The author was a guest of IHG