Mercedes-Benz has provided inspiration for a dazzling refurb of Emirates Boeing 777 fleet and it's blown the socks off Top Gear host Jeremy Clarkson… right down to his Emirates pyjamas! It's another win for consumers as Qantas, Etihad Airways and Qatar Airways also tempt passengers with spectacular improvements to classes across the board.
[vc_empty_space]
Luxury in the clouds
Emirates has joined the chorus of airlines stepping up their offering of "luxury in the clouds" by unveiling its fully enclosed First Class private suites with stunning new features, proving personal space is the ultimate luxury on the big birds of the sky.
And motoring journalist and TV host Jeremy Clarkson has suited up for the occasion before stripping right back to his Emirates PJ's again on camera to celebrate the occasion as he fronts a TV campaign for the airline.
Drawing on Clarkson's humour and close association with motoring, the ad spot begins with close ups of a leather seat, luxury detailing, soft lighting, a sophisticated flat screen and control buttons. Meanwhile, dressed uncharacteristically in a smart black tuxedo, Clarkson narrates the features in a way that leads the viewer to assume he is referring to a new car before delivinger the punchline as an Emirates aircraft zooms overhead, revealing that the vehicle he is talking about travels at a top speed of 700 miles per hour "and it even comes with pyjamas" – a product that Emirates provides to its First Class passengers.
CT Connections Travel Group's Gary Reichenberg says it's another win for air passengers, who are now being spoilt for choice with recent improvements across several airlines including Qantas, Emirates, Qatar Airways, and Etihad Airways among others.
"The new suites by Emirates are superb, offering space, privacy, and luxury. They tick all the boxes," Mr Reichenberg said.
"There's so much happening with the airlines. The new Qantas Dreamliner is another fantastic example in providing both a noticeable First Class experience along with the ancillary benefits of flying on such a cleverly designed new Boeing Dreamliner which offers larger windows creating a greater sense of space, better air quality and little bonuses like the ride dampening technology to cut down turbulence. It is also quieter, more fuel efficient which cuts back on greenhouse emissions.
"All these improvements in our premier airlines translates to a big win for consumers."
Emirates' Boeing 777 fleet's completely refreshed look, meticulous design details, new seats and materials feature in a multi-million dollar upgrade through all cabins has created a buzz, particular for business and first class flyers.
With floor to ceiling sliding doors and sleek design features inspired by the Mercedes-Benz S-Class, Emirates' new First Class cabins take luxury and privacy to the next level. Offering up to 40 square feet of personal space each, these spacious, fully enclosed private suites are laid out in a 1-1-1 configuration. They also includes "zero gravity" flat beds inspired by NASA.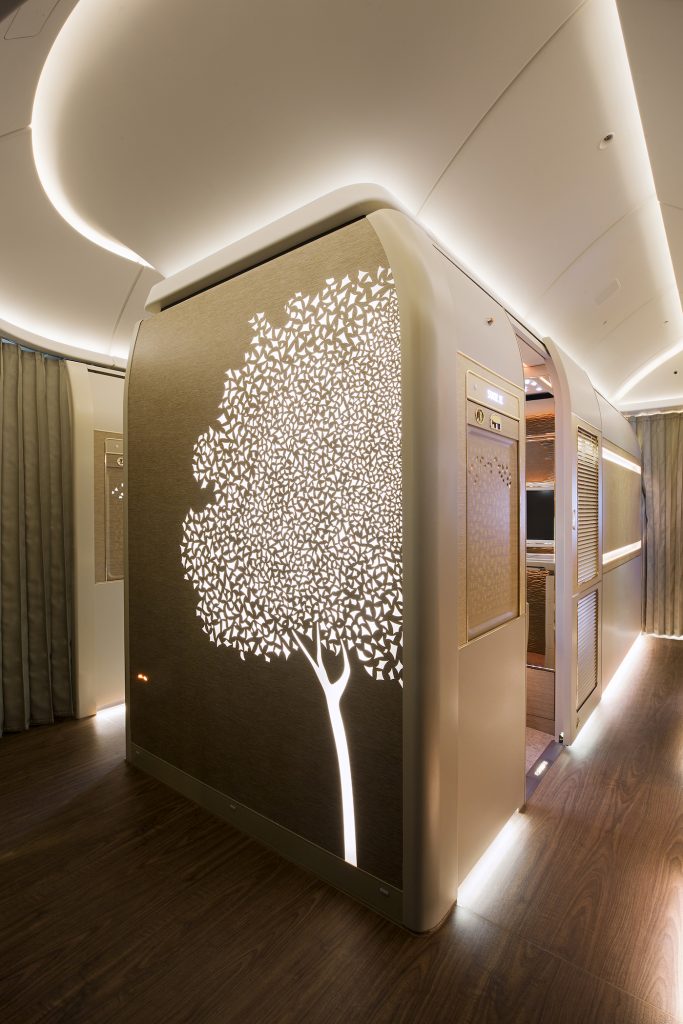 Multi-million dollar revamp
From First Class through to the Business and Economy Class cabins, all along the walkways, in the washrooms and galleys, the latest Emirates 777 aircraft boasts a multi-million dollar upgrade that includes newly designed seats and upgraded inflight entertainment systems.
Emirates President Tim Clark said the airline "pioneered the First Class private suite concept back in 2003", and believes today it's the industry benchmark when it comes to first class travel.
"Over the years we have continually improved on our private suites, adding thoughtful refinements and features," Mr Clark said.
"We are very excited about our new fully-enclosed suite which is a real game-changer in terms of privacy, comfort, and thoughtful luxury. This is the first time an Emirates product has been so influenced by another luxury brand, but it is a natural fit as both Emirates and Mercedes-Benz have the same unwavering commitment to fine detail, uncompromising quality, and a drive to push the boundaries."
A nod to Mercedes-Benz
Emirates' latest First Class product gives a nod to the design philosophy of the Mercedes-Benz S-Class, bringing together two global brands renowned for innovation, luxury and comfort. The collaboration inspired several design details in the private suite including the soft leather seating, high-tech control panels and mood lighting.
Extending that trademark inflight experience to exclusive on-ground services, Emirates and Mercedes-Benz have extended their partnership to provide a fleet of the S-Class cars as part of its complimentary Chauffeur-drive service. Emirates First Class passengers arriving or departing in the UAE will enjoy a seamless journey from aircraft to home, and vice versa, in a Mercedes-Benz S-Class car.
First Class features
The new Emirates 777 First Class cabin interior uses a new colour palette of soft greys, cream and champagne, conveying a contemporary, open and airy feel, with quiet and timeless luxury.
Created in collaboration with Boeing, Rockwell Collins interior systems, Panasonic, Jacques Pierre Jean Design studio and Seattle-based design firm Teague, each fully enclosed private suite has a floor to ceiling sliding door, and combines smart technologies and intelligent design to deliver function, as well as luxury and comfort.
The leaders in corporate travel management for flights, accommodation and car rental