"So when it came to doing my trip I really wanted to show some authenticity and some transparency in what goes on in big trips and a lot of it isn't pretty; a lot of it's ugly. Even the way I behaved as a human being, I wish I could have behaved better. That's how it was and that's how we wanted to portray it to people." ~ James Castrission, Australian explorer
WITH long black hair and a crooked smile, James Castrission is a jeans-and-sneakers kind of guy. He exudes an irresistible charm, the very reason he's easy to be around when he talks about his adventures. The very reason we engaged his services for the CT Connections Travel Group's annual conference.
"Cas", as he's affectionately known, is also a dedicated family man who wears his heart on his sleeve. An understated sense of humour and genuine tone helps him lock in your undivided attention as he delivers his amazing stories. But not for one second would you pick him as one of Australia's greatest explorers, who, with his best mate Justin "Jonesy" Jones, has conquered two of the greatest feats known to man.
Adventure travel is his game. Inspiration is his middle name. James Castrission eats extreme challenges for breakfast.
But first, why James?
When it came to organising this year's CT Connections Travel Group conference keynote speaker, he ended up being an obvious choice. Our team at Totem Group – Australia's No.1 experts for end to end conferencing and events management – know a good thing when they see it.
Karen O'Connor, Totem's Head of Operations & Partnerships, recalls how she witnessed James presenting at an earlier travel industry conference and was impressed.
"I was moved by his down-to-earth nature, determination and adventurous spirit," Karen said.
"I've seen and employed hundreds of speakers over the years covering variable topics, with various levels of notability and various cost. It always comes down to whether we feel the message, whether they have been authentic and move us. My job is to understand the audience receiving the keynote, what is the aim of the event, what is the desired outcome, what's the budget. I then work to find the right match and we go from there. A quick phone call to see if the chemistry is there always helps, too."
Karen assured me James's story would be well received by the wider audience in his keynote at our own conference, and for good reason.
"What I found to be the most successful part was how he was able to engage a tough Leadership audience and get them to ask questions and understand how planning was crucial and question how they worked together, but also how they made decisions. The feedback I received was outstanding for this session and I know it is actively being used in how we make decisions in the business or how we approach a big task. We just need to plan, plan and plan again."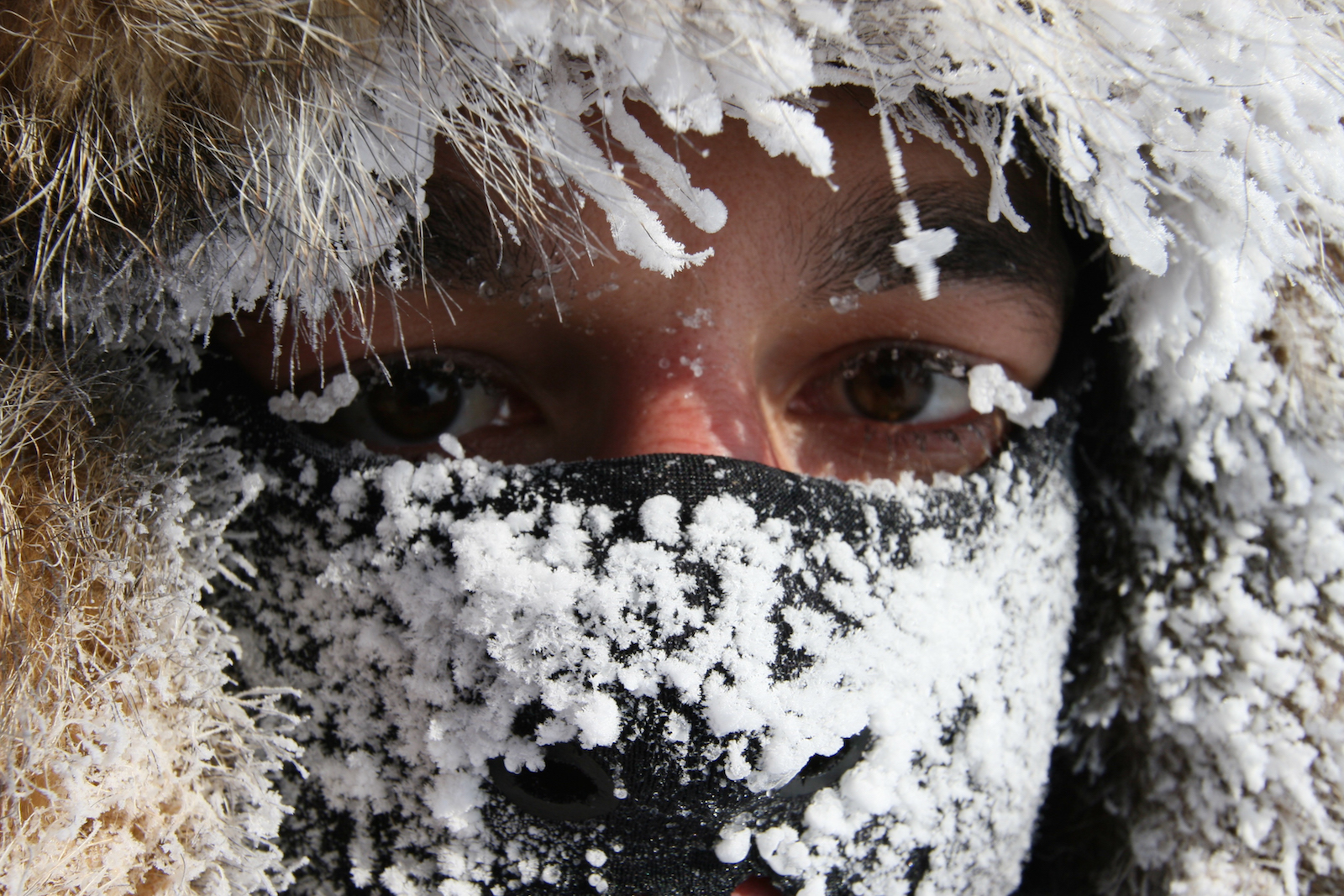 The Power of One philosophy
Castrission, 35, has a wisdom beyond his years and embodies the spirit of the expression 'the Power of One', the very theme of our  CT Connections Travel Group conference which was eventually held at the Sheraton Grand Mirage Resort in Surfer's Paradise.
He is an engaging keynote speaker who wows audiences with a presentation about paddling 3318km "crossing the ditch" without assistance across the Tasman Sea in 2008 before completing the longest unsupported polar expedition of all time four years later when he and best mate Jonesy walked from the edge of Antarctica to the South Pole and back unassisted.
The epic adventures have taught him a lot, none the least an understanding of the true essence of the power of one.
"Some of these big expeditions have taught me how much more you can achieve when a team is aligned and focused on the same objective," Castrission says after a keynote presentation sponsored by Sabre.
"You know, Jonesy and myself we're not polar explorers. We don't have a huge resume of life in those kind of environments, but what we were able to do was pull a team together across 17 different countries who were experts in different facets of our planning work.
"We then aligned them on a dream to pull off this first unsupported journey and by having them all around us and supporting one another, we were able to push so much further than we would have been able to on our own. It's just so important and I guess the power of one is so important to work as a team for the one objective."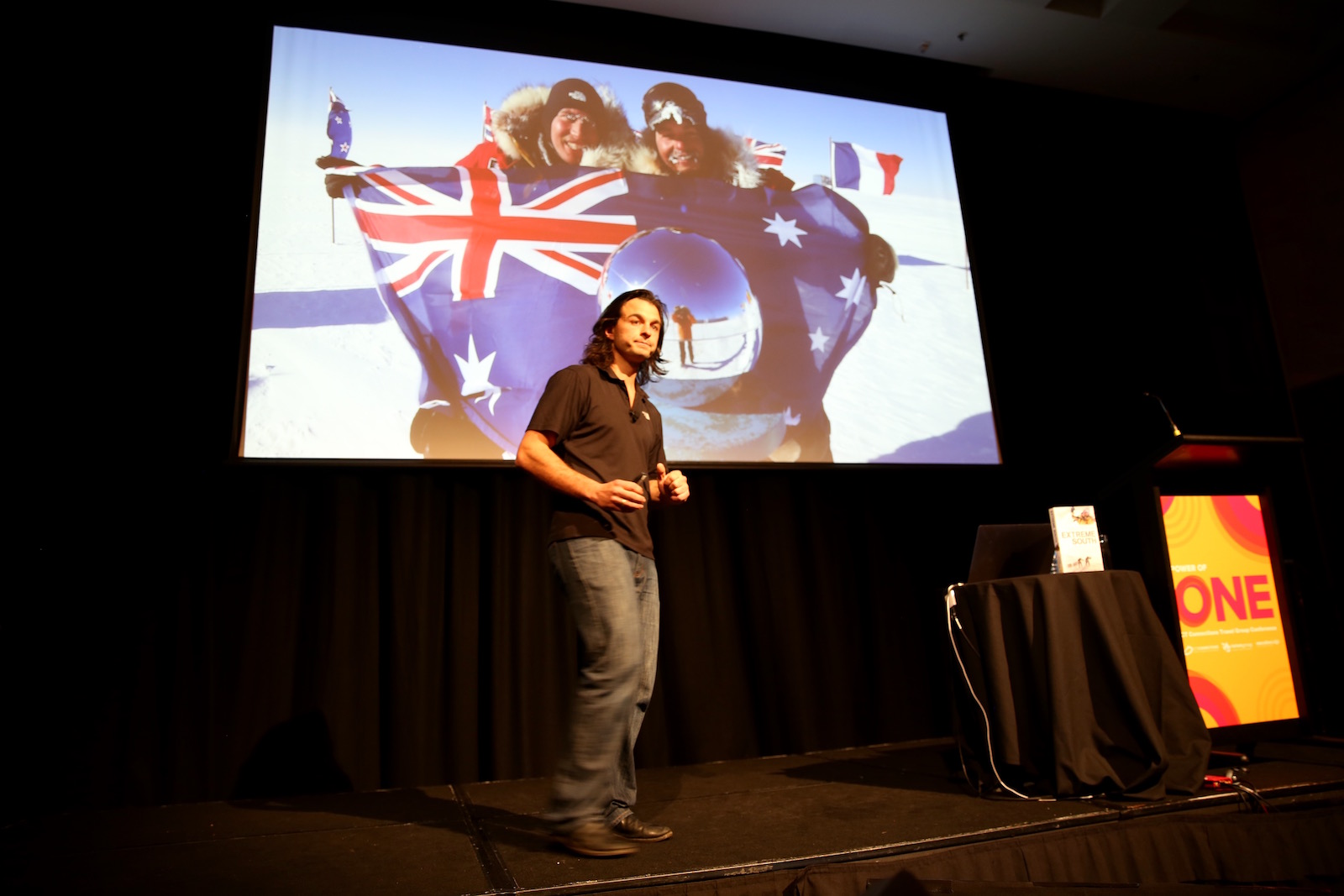 The chilling truth of Antarctica
These days, Cas and Jonesy are highly regarded as two of Australia's premier public speakers and have written and produced four award-winning books and documentaries about their expeditions.
Casstrission, who has completed several "massive expeditions" around the world, still remembers every single moment; right to the smallest detail. That includes extremely challenging situations. So what has been the toughest?
"I've got to say there's something about the intense cold and the absolute brutal nature of Antarctica," he says.
"On the Tasman Sea, even if you're in the middle of the ocean 1000km away from land, a beautiful day on the ocean is a beautiful day. Your shirts are off, you're splashing around and having good fun, and it gives you a bit of respite from the intensity of a big expedition.
"But down in Antarctica you just do not get that respite. It's constantly windy. Every time you stop your whole body freezes up and it just wears you down for the months you're down there."
Fortunately, there has never been any serious damage physically or mentally.
"I still think I'm pretty sane which is a good thing," he says, laughing, before quickly wiping the smile off my face with details of what the dynamic duo actually endured.
"With the Antarctica expedition, the two of us lost 56kg of weight between us. Jonesy lost 30kg, I lost 26kg. That's an enormous amount of weight to lose. When we got back to Australia, we put that weight on pretty quickly.
"But probably the biggest amount of time it took us to recover from was our mental aptitude. For about 12 months we were absolutely exhausted, constantly fatigued: our memory was shot. It took about a year for that to come back to normal."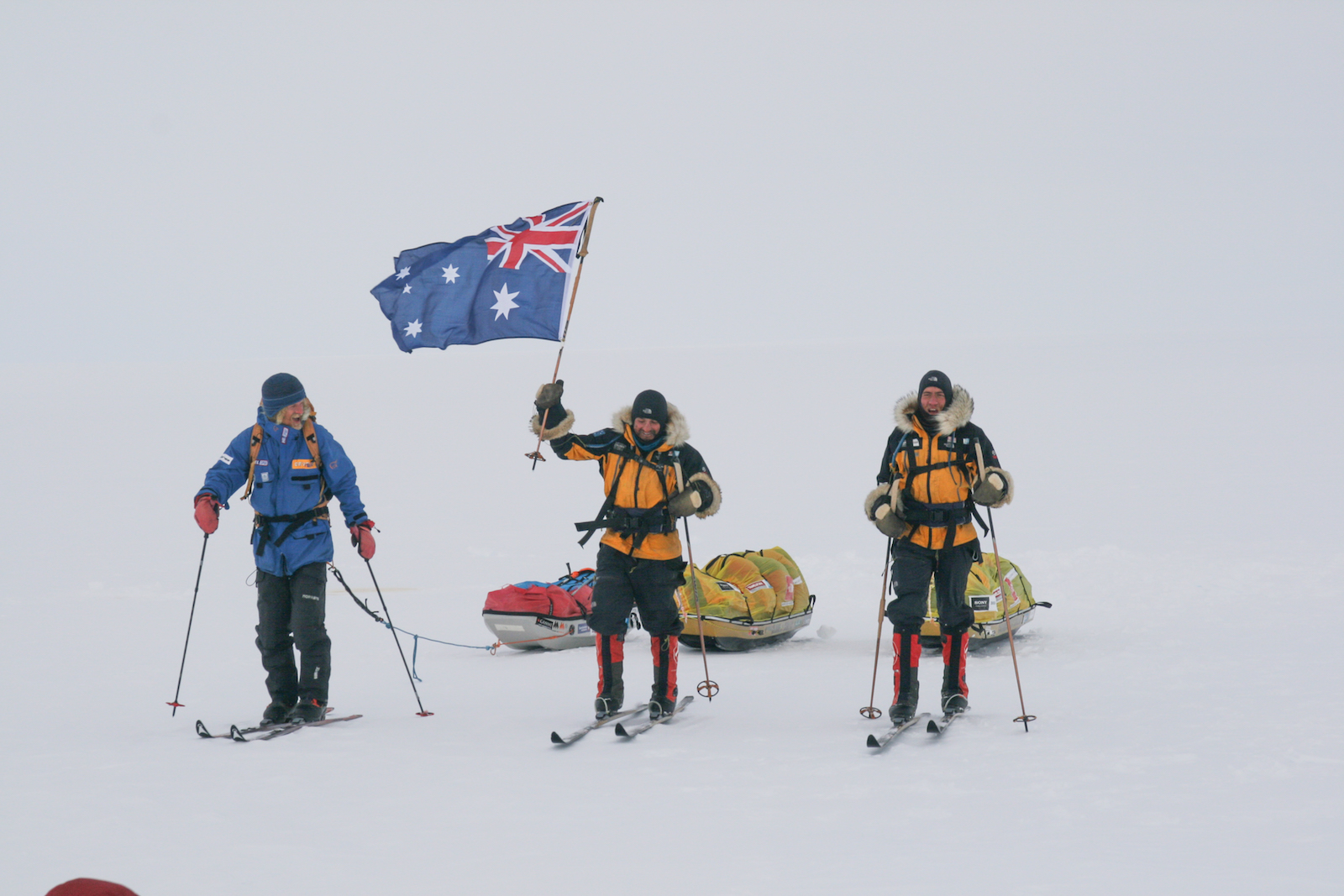 Finding inspiration in a 'Golden Age'
When in the company of the likes of Castrission, you can't help but wonder where they find inspiration. His answer is modest, simple and inspiring all at once.
"I personally get a lot of inspiration from those people who are just happy to step away from the norm and what's expected of them and follow their dreams and passions," he says.
"As a kid I was absolutely fascinated by the golden age of adventure. At the turn of last century when no one had stood at the South Pole there were amazing explorers: there was Scott, there was Amundsen, there was Shackleton. There was Australia's very own Mawson, all of them vying for these amazing adventures down in Antarctica.
"And I've got to say Mawson and Shackleton particularly blew me away in terms of their leadership qualities and their ability to manage people in the most hostile environments on earth. Absolutely inspired to be like them as much as I possibly can."
Take a moment to watch the video embedded above or the pair's two documentaries, Crossing The Ditch and Crossing The Ice, and you quickly discover what stands out about Cas and Jonesy is their unpretentious, down-to-earth charm.
Genuine charm that is palpable. Real people who are high achievers without the tickets attached, despite their epic feats.
"I guess I've been speaking for 10 years now all across the world and something that's really close to mine and Jonesy's heart is being authentic – being normal human beings," he says.
"One of the things that always frustrated me when I read about all those amazing polar explorers back in the day, was it always felt it was the veneer, or kind of shadowing, of covering up what they were really feeling and what was going through their minds.
"So when it came to doing my trip I really wanted to show some authenticity and some transparency in what goes on in big trips and a lot of it isn't pretty; a lot of it's ugly. Even the way I behaved as a human being, I wish I could have behaved better. That's how it was and that's how we wanted to portray it to people.
"I think that's what resonates with people. They see that honesty. I'm not saying whether it was good or bad, it just 'was' and that's how I'm portraying it. "Particularly in Australia, there's no room for arrogance and there's no room for that veneer. You want to show people what happened and let them take away what they want from it."
The highs and lows of extreme adventures
In such hostile environments and stressful situations, Castrission says you are taken you way out of your comfort zone and the easiest person to offload your frustrations, anger and exhaustion on is your best mate.
"He's the only person who is going to respond to you – the wind, the snow and the rocks aren't going to do anything," he says. "And so you often have fights over the stupidest little things but I know it was a kind of a pressure release.
"I know down there in Antarctica the biggest fight we had was one morning when Jonesy made my cup of tea the wrong way. It had nothing to do with the cup of tea, it was because we were feeling terrible, we were absolutely smashed and our progress was abysmal and it didn't look like we were going to pull off the whole thing. It was just a release of the stressful situation."
Yet on the flipside, there were also many special moments throughout the duo's adventures.
There's that power of one again.
"So one of the things I really love about these adventures, two, three months out there, is it condenses about 30 years of emotions to like this intense two or three month period," he says, animated.
"So your highs are higher than you'll ever experience in normal day to day life and same with the lows, so you just rocket in between the two.
"In one day you can experience the highest highs and the lowest lows you've ever had in your life just because the environment is so intense it completely consumes you when you're down there.
"So those lows when you fall down a crevasse or sharks rub up against your kayak are pretty intimidating, but equally the highs of seeing a beautiful sunset in the middle of the Tasman Sea or reaching the South Pole equally trumps that. Your emotions do an absolute rollercoaster."
With such extreme adventures, surely his views of holidays have changed forever? You bet they have.
"My views of holidays, and I guess general life, have completely changed after big expeditions because I think in Australia we can take for granted all the good things we have, and these trips really make you appreciate all those little things," he explains.
"I had a client six months ago who was staying at a beautiful six star resort and I asked, 'how did you sleep last night?' and he told me a story about 'I set my air-conditioner to 20 degrees Celsius and at 20 degrees Celsius it was too cold not to have the blankets on and too hot to have anything on to sleep well, and the pillow wasn't quite right like I have at home', and he kinda went on and on for a about five minutes about this beautiful hotel…
"I guess these trips make you realise we take all these little things we have in life for granted, and appreciate them. So on the Tasman Sea after 10 days our water desalinator carked it. So for 60 days out at sea we had to pump our water for two to three hours just to get our fresh water for the following day.
"So just going up to a tap now and to pour a glass of water it's the best bloody thing in the world."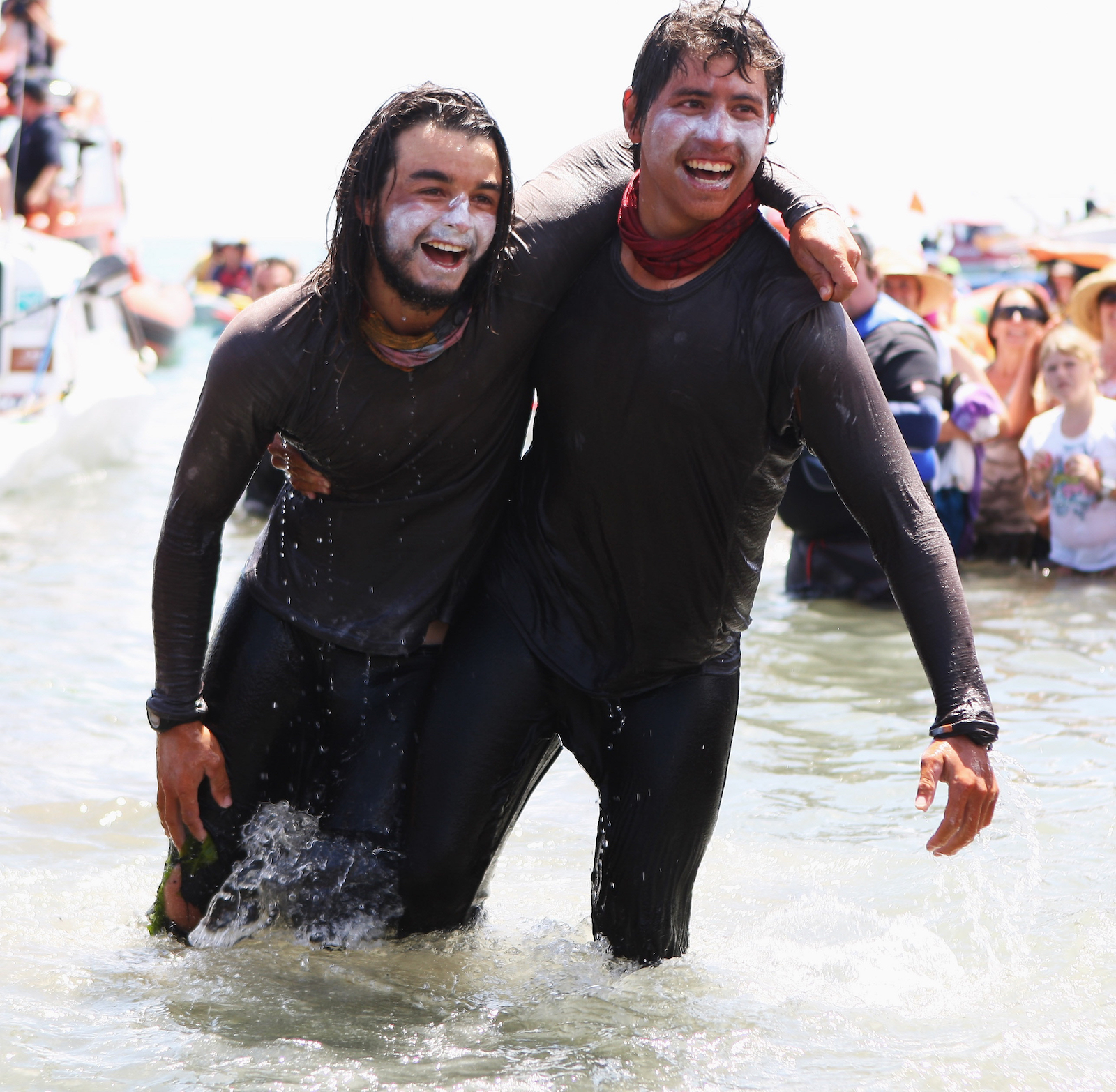 "So those lows when you fall down a crevasse or sharks rub up against your kayak are pretty intimidating, but equally the highs of seeing a beautiful sunset in the middle of the Tasman Sea or reaching the South Pole equally trumps that. Your emotions do an absolute rollercoaster."
Talks, workshops and corporate adventures
It should come as no surprise Castrission is in hot demand for speaking engagements, workshops and companies jumping in line to book his new business, My Adventure Group
"So when we got back from the Tasman crossing, Jonesy and I got a few inquiries for some speaking engagements," he says.
"And we didn't even know about this world! But we were like, 'sweet, we'll go and do a few talks and after a few months we'll be old news and just go back to our day jobs'. So in the last few years that business has just built and built and I've had the opportunity to speak to close to 400,000 people now at conferences all around the world and that has been absolutely phenomenal.
"I love being on the stage being able to share my stories and for the last four or five years I've been able to take that a little bit further and do a little more interactivity and so with the leadership team CTC Travel Group we had a great session today and we were able to delve that little bit deeper than what a keynote is with a workshop and then where my real passion and real love is actually getting teams out of the conference room and out of a formal environment into adventure activities.
"So these days we take corporate groups and leadership teams out on adventure based programs and what I find amazing is by pushing an individual or a team out of their comfort zone, in a controlled environment, the growth you start to see from an individual and that team, the elevated level of trust and collaboration are absolutely inspiring.
"That's what drives me now. I love building teams in these environments and getting people to experience some of the benefits that adventure has given me on their scale.
"So depending on the group and whether its incentive based or a development kind of program, some groups we have flying up in helicopters, celebrity chefs cooking for them, so we cater for that level of the market.
"But then, depending on their fitness levels, we might take them abseiling, canyoning, or climbing."
From exploring all corners of the globe, Castrission rates Australia as good as any destination in the world.
"I absolutely love Australia," he says, wide-eyed, about his adventures in his home country.
"As a kid I never went overseas on a holiday. Mum and Dad always bundled me and my brother and sister into a car and we'd go camping for a couple of weeks; we'd be out in the desert or anywhere.
"It's such a diverse country. And every part of the planet I've been to whether it be high up in the Arctic, down in Antarctica, or mountain ranges across the world, I always dream of just coming back to Australia and heading up into the Blue Mountains where I live now, getting on the rock faces up there and sharing that experience with my kids."
For more information about James visit My Adventure Group and Cas and Jonesy
For conference and event management contact Totem Group
Social media: Cas and Jonesy Facebook page
For your Incentive, Conference, Event and Group Travel specialists contact Totem Group- delivering motivation, engagement, inspiration and rewards.