So who do you turn to for Australia's premier adventure-based team building program? Popular adventurer James Castrission and his My Adventure Group, of course, who are serving up a life-changing experience in the beautiful Blue Mountains let alone an inspirational team building program. Totem Group sends Tim Shuttleworth off on a weekend escape to find out what all the fuss is about.
Cas and team leading the way
To borrow a quote from John C Maxwell, "A leader is one who knows the way, goes the way, and shows the way." James Castrission certainly embodies that very philosophy, the energy charged adventurer and founder of My Adventure Group whose Blue Mountains weekend escape program is an opportunity to explore your potential.
Cas, as he is affectionately known, is also an engaging keynote speaker who wows audiences with a presentation about paddling 3318km "crossing the ditch" without assistance across the Tasman Sea in 2008 before completing the longest unsupported polar expedition of all time four years later when he and best mate Jonesy walked from the edge of Antarctica to the South Pole and back unassisted.
The epic adventures have taught him a lot, none the least an understanding of the true essence of the power of one. Cas said in a recent TDL interview: "Some of these big expeditions have taught me how much more you can achieve when a team is aligned and focused on the same objective."
Out of the office, into the Blue
Speaking of which, his corporate adventure experience in the Blue Mountains is all about improving "Organisational Health" through authentic and real shared experiences. The aim is to drive high performance teams, push your competitive advantage further and faster through three things. One, building effective teamwork. Two, developing leadership skills. And three, skyrocketing motivation, all while having an unforgettable adventure in a beautiful region of New South Wales.
Working hard within a little outdoor luxury
A MyAdventure Group experience is designed to push you out of your comfort zone by day – but that doesn't mean you need to do it rough and camp like a bushman. On the contrary, as Cas and Co will tell you – no expense is spared to ensure you're "glamping" in pure luxury: spacious tents, hot towels, fine dining, luxury bathrooms.
Plus each morning you'll wake to energetic Cas yelling with gusto, "Good morning everybody, today's going to be amazing!" before poking his head in a tent and offering you a warm mug of Chai while you awaken from a slumber in your top quality North Face sleeping bag.
You'll also experience their renowned 5-star "Sounds of Silence" dinner under stars then settle in for a team bonding evening around the campfire. An experience the team will never forget.
We're all in this together…
Early on in the piece there's an instant vibe that we are all on a level – stripped of titles, race, sex, hierarchy and so on and grouped as equals on a like-minded mission to bond and grow as a team. Having grown up at the gateway to the Blue Mountains, it was amazing to return.
This program is held in such a beautiful spot and opens the door to a sense of calm and feeling centred, allowing you to think more clearly. Before you know it the little things don't bother you and you can have a look at the bigger picture – you ditch the "stuff" that burdens us mentally and it's a chance to clear the head.
I love the bush, it allows you to escape technology for a while. It took me back to my childhood in that the Blue Mountains is a place where you can be imaginative – ride motorbikes, go bushwalking, horse riding, swimming… real God's country, as they say.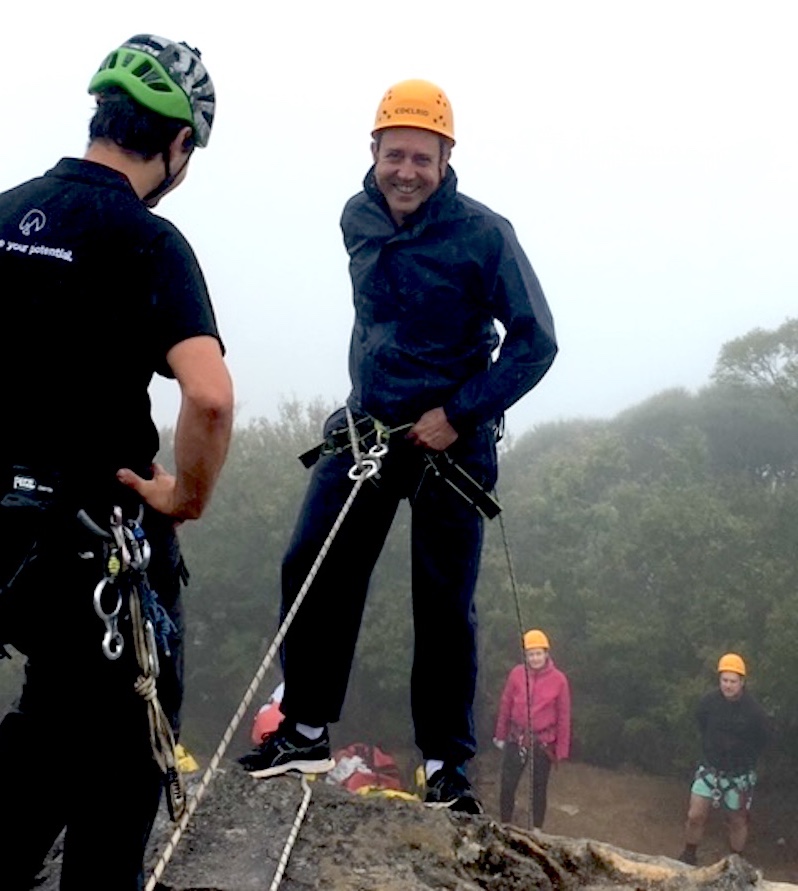 "Early on in the piece there's an instant vibe that we are all on a level – stripped of titles, race, sex, hierarchy and so on and grouped as equals on a like-minded mission to bond and grow as a team."
Challenges that help you grow
James's team at My Adventure Group roll out an experience which includes such spoils as locally sourced deliciously cooked produce, sumptuous wines and facilities that take the term "glamping" to the next level. Even with those luxuries, what their team does that is of most value is provide you with a chance to experience true personal adversity in a safe space.
This challenges your team to remove the facades and question levels of focus, the type of language they use and how they hold themselves physiologically. The activities include such things as a canyon day, early morning yoga and a trail run – they drive internal self belief and external language like "we can do this" and "we will never give up".
It all begins with a little chat
The weekend begins with a motivational keynote for your team that makes you both laugh and cry as James reminds you that your true adventures as both an individual and a team have only just begun. Every adventure is matched to your team's current challenges. Sure, you can reward your team with booze filled junkets and office luxuries but if you truly want to inspire and give back to your staff, you must have a talk to James about what your team's next adventure looks like.
Our challenge was to bring together a group of people who had never met, bond so strongly that we would support each other on each and every adventure we faced.
We wanted everyone to have an amazing experience and to push beyond comfort zones. It didn't matter how far people pushed, either, there were no judgments; only encouragement and praise for people pushing through mental barriers. It was quite amazing that within 24 hours of first meeting, people were sharing deep and personal life experiences with each other in a genuine, non-judgmental and supportive environment.
From the ballroom to the bush
It truly is an effective and unforgettable team adventure. When Cas isn't running team building adventures in the great outdoors, the infectious adventurer is a sure-fire hit on the keynote speaking front. Just ask Tanya Wick, an experienced leader in incentive travel management and overseeing conferences from A-Z.
"Totem Group has had the pleasure of working with James Castrission for leadership workshops and keynote presentations about his amazing experiences and strategies, but with the My Adventure Group program, it is an opportunity to take it to the next level and go from the ballroom to the bush," Tanya says.
"Experiencing an adventure such as this is incredibly powerful for teams and leaders as it helps them step outside of the day to day mindset and a transformational shift happens when they are immersed and challenged. With My Adventure Group, they can grow a team capacity beyond the individual but at the same time, there is a positive return on investment in each person which contributes to long-term sustainable change in the corporate environment."
And Tanya is spot on. Block out a weekend in the Blue Mountains for your team and prepare for a transformational shift in what is a refreshing getaway in the beautiful Blue Mountains.
For your Incentive, Conference, Event and Group Travel specialists contact Totem Group- delivering motivation, engagement, inspiration and rewards.