"The 'basic' champagne is Champagne Ruinart and, yes, you can have it for breakfast!"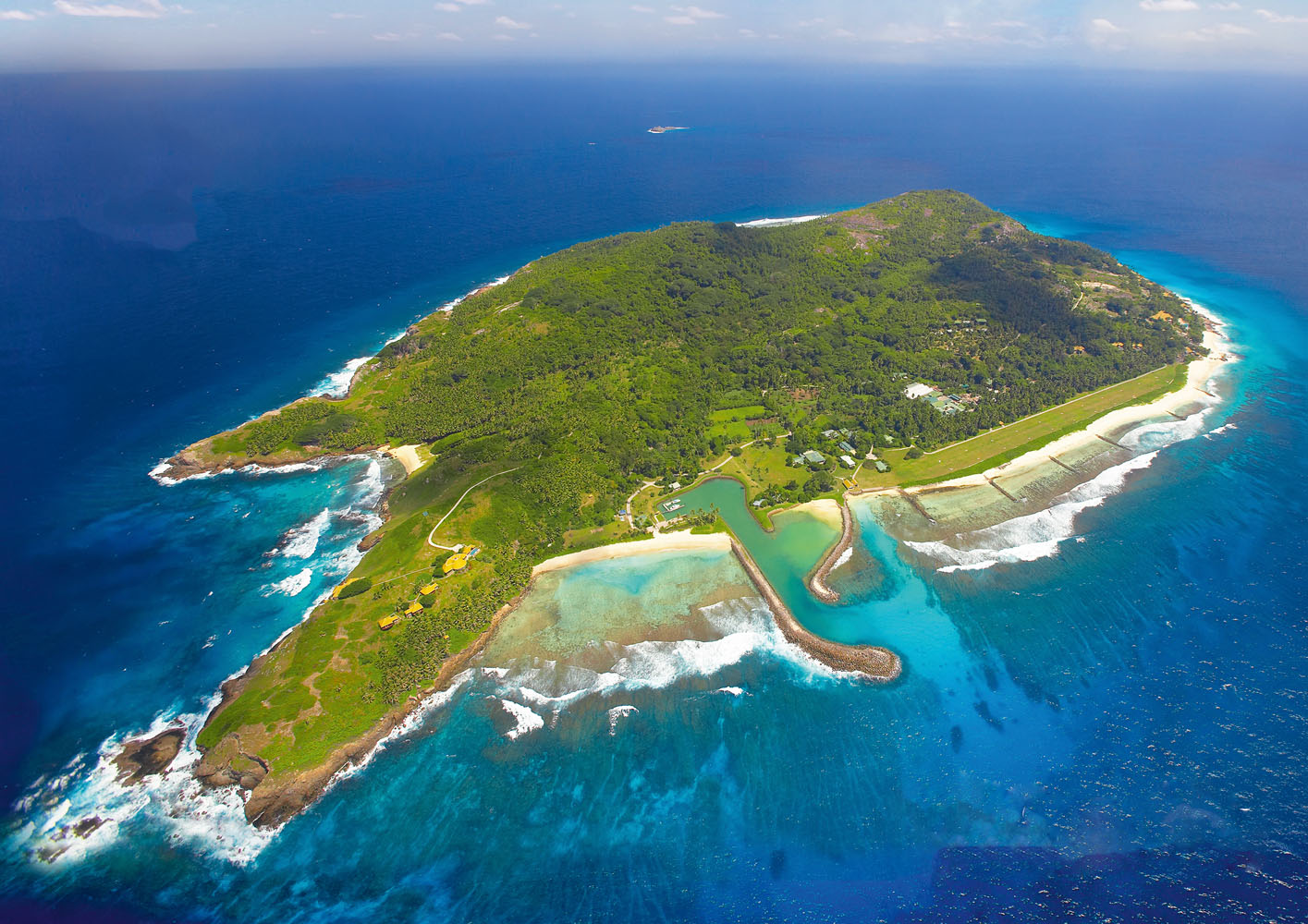 Haven't we all fantasized about jetting off to our own private island? Contrary to popular belief, those elusive private island holidays aren't only playgrounds for royals and rock stars.
Executive Edge Travel, the luxury leisure travel brand of the CT Connections Travel Group, grants insider access to the most luxurious and exclusive private island destinations across the globe for a special family affair, commemorative celebration or romantic escape.
From Velaa Private Island in the Maldives to Azura Benguerra Island in Mozambique to Caribbean private islands such as Sir Richard Branson's Necker Island, snorkeling haven Cayo Espanto off Belize or rustic Petit St Vincent in the Grenadines, the world of private island escapes are just a phone call away… here are five private islands to whet your appetite.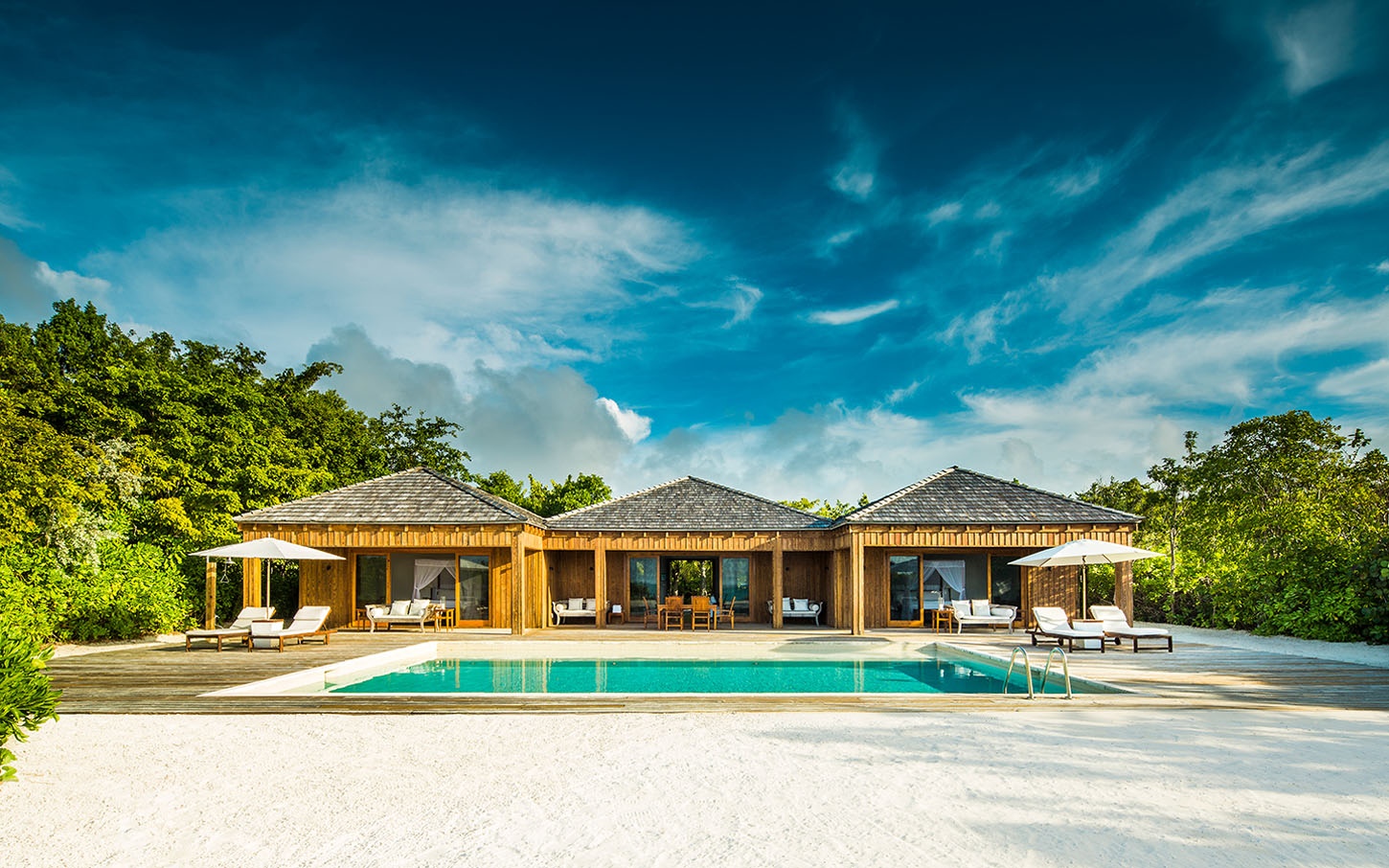 COMO Parrot Cay, Turks & Caicos
A short hour's flight from Miami on its own private island in the Turks and Caicos, COMO Parrot Cay is a well-known celebrity hot spot frequented by the likes of Christie Brinkley, Bruce Willis and Arnold Schwarzenegger but it's also a getaway for the non-famous who simply seek a quiet place to unwind.
Considered by many the best spa in the region, relax and detox in style at Parrot Cay's Eastern-influenced Como Shambhala Retreat which soothes weary souls with yoga, meditation, Pilates, acupuncture and Ayurvedic treatments. Christina Ong, owner of COMO Hotels & Resorts, opened COMO Shambhala Retreat at Parrot Cay which became the first resort where she developed the Shambhala spa concept.   
Along its 1000 unspoiled acres and a mile-long beach, the island has no restaurants (besides the resort), no shops, no houses, no stores and most importantly for the famous, no paparazzi. 
Seventy-five unique guest rooms, suites, villas, beachside houses and private estates have beach chic interiors with classic whitewash and teak finishing. Dinner is served alfresco beside a 5,500-square foot infinity pool or at the Terrace restaurant which serves healthy organic fare to complement a feel-good vacation regimen. Consider it a barefoot elegant health retreat for the privileged.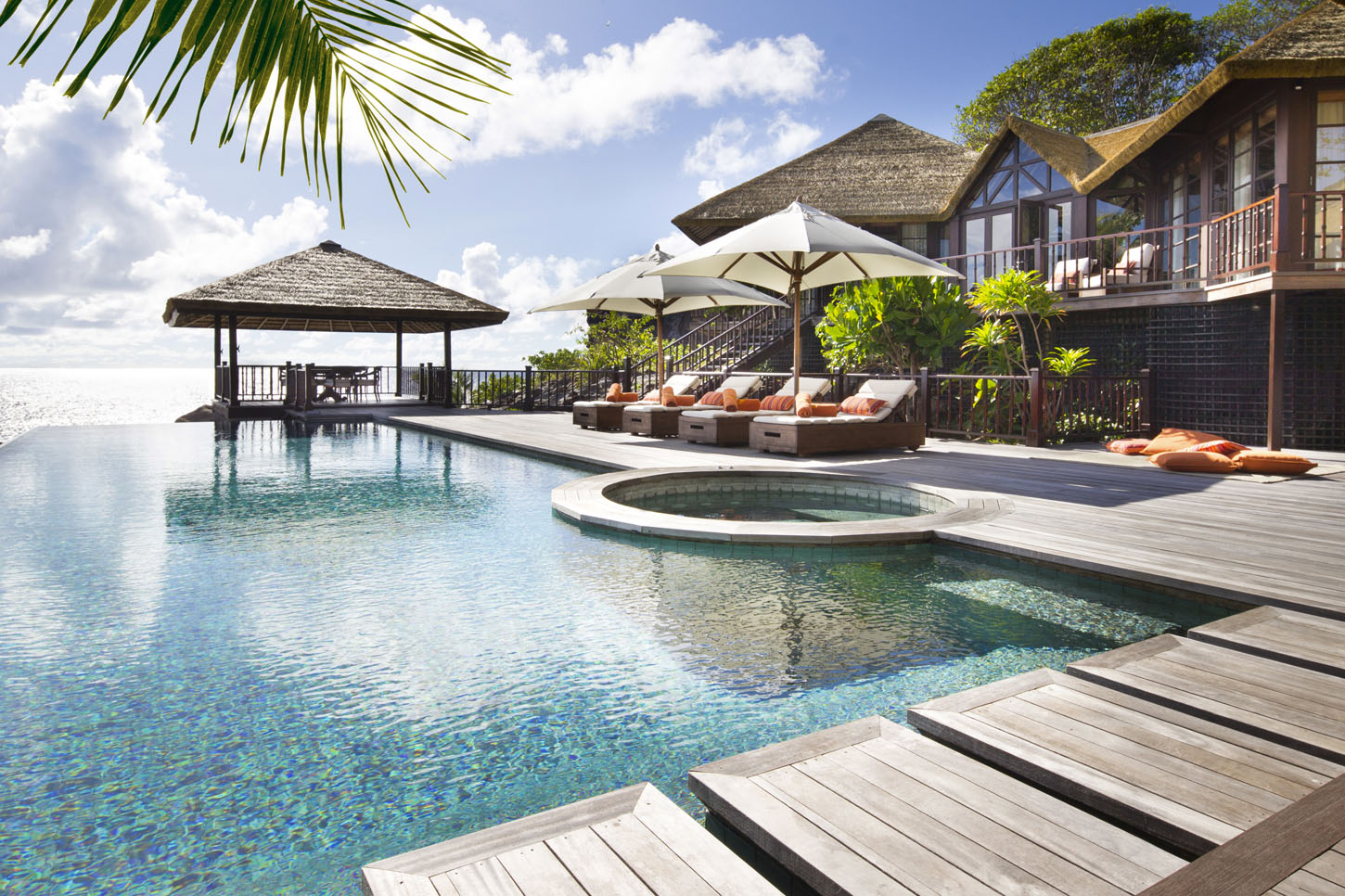 Fregate Island, Seychelles
A mere four degrees south of the equator in the Indian Ocean, Hollywood royals Jennifer Aniston and Brad Pitt reserved the entirety of Fregate Island for their honeymoon – all the villas for two weeks to ensure their solitude.
Then Brad Pitt proceeded to take Angelina there too! Forget Brad Pitt, you too can vacation in the Seychelles in ultra-lux style on Fregate Private Island.
Lying 1500 km off the African Coast, the Seychelles' 115 islands hang seemingly in the middle of nowhere – escapism at its best amongst crystal clear turquoise Indian Ocean, blinding powder white sand, world-class scuba diving, a lush jungle wildlife sanctuary and those oh so famous rock formations.  At Fregate, experience exclusive privacy in the jungle surrounded by seven postcard perfect beaches, including Anse Victorin which is frequently voted best private beach in the world.
Fregate is probably most renowned as a jewel of conservation saving many native species from extinction and re-habituating its indigenous forest which contains over 100 types of birds. Home to the world's third largest population of the Giant Aldabra tortoise with over 3,000 scattered across the island, Fregate has become a sanctuary for these magical creatures.
The 17 palatial residences (13 one-bedroom villas, three two-bedroom villas and one three-bedroom Banyan Hill Estate) boast the largest private pools in the Seychelles. Wake up early and hike the tortoise and turtle trails ending at Anse Victorin for breakfast by the beach or chose your own private beach – just remember to flip the sign to tell others the beach is "taken!" 
A fully inclusive resort, enjoy the multiple dining venues around the island. With a farm to table concept and over 120 varieties of fruits, vegetables, spices and herbs, expect to dine like a king.  Day or night, your every whim is catered to by a personal butler. What more could you want in a private island nature lover's paradise?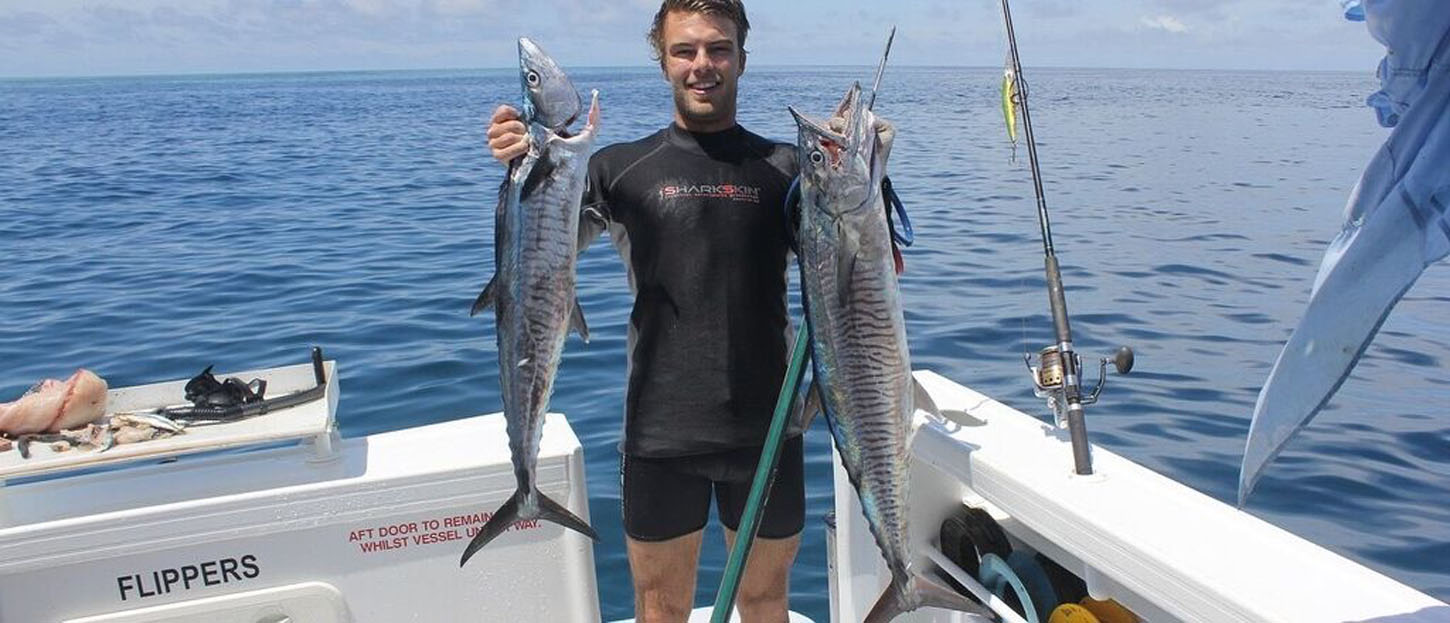 Haggerstone Island, Australia
Privately-owned Haggerstone Island on the northern fringes of Australia's Great Barrier Reef offers a distinctly laid-back Robinson Crusoe tropical feel. 
Roy Turner and Anna Turner have been the custodians of Haggerstone for over 30 years. Roy originally lived in New Guinea and always dreamed of making his permanent home in a wild, remote location.  One day he came across Haggerstone. The couple wasn't intending to run a hotel, just live there. However, about 20 years ago they opened their little secret retreat to the public and haven't looked back since.  Even their two kids, Sam and Tasha work on the island.
Only eight guests at a time become totally immersed in the Turners' way of life and what it means to reside on a remote island 400 miles away from civilization. Roy and Anna's passion is food and they grow their own herbs, fruits and vegetables and cook the fish they catch each day. 
Speaking of, fishing on Haggerstone is unrivaled.  Every day their 45-foot jet boat (carrying up to 12 people) departs around 10am for guests' choice of deep sea fishing, estuary fishing, snorkeling, crayfishing or spear fishing to find Barramundi, Mangrove Jack, Giant Hering, large estuary Cod, small Tarpon, Bluefin tuna and Spanish mackerel which is grilled right on the boat for a fresh seafood lunch on the water. 
Back on the island, rustic accommodation with ocean views are nestled around the island equipped with every creature comfort.   
In the pristine surrounding area, activities are plentiful. Spend the morning exploring the 100km of sand dunes off the Cape York Coast, hiking to the zenith before taking a dip in the fresh water lake.
Or head to Charles Hardy Island for a picnic and snorkeling in clear blue water.
Or take an excursion to Bird Island where typically dozens of turtles can be seen in the first half hour feeding in the shallows. 
Don't leave without trying one of Roy's "Hangis" in which he wraps meat, chicken and vegetables in huge banana leaves, then cooks the combo with potatoes by fire in a dug out hole in the ground using a wire mesh cage.  It is fair to say that a stay at Haggerstone is to become part of the family.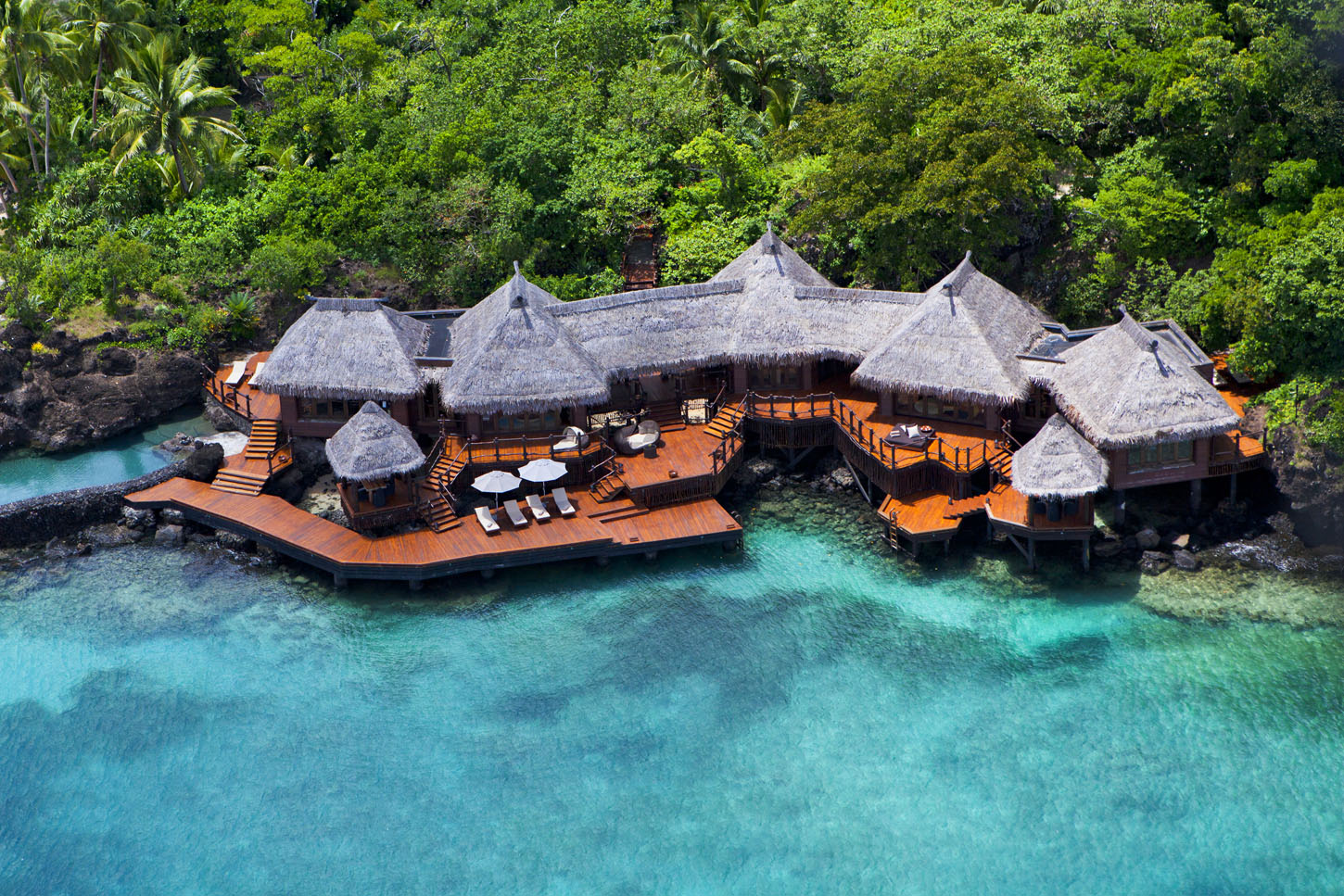 Laucala Island, Fiji
Brainchild of Red Bull's billionaire co-founder Dietrich Mateschitiz, Laucala is a 3500-acre ultra-lux South Pacific private island hideaway in Fiji's northern archipelago representing the ultimate idyllic tropical splendor, abundant activities and discretion with every need anticipated.
Although staff ensure no names are leaked, the likes of Oprah Winfrey and John Travolta have publicly pronounced their holidays at Laucala, exemplifying the celebrity calibre.
Housing almost 400 staff, Laucala has the highest staff-to-guest ratio in the world, which indicates the level of service.
Complete privacy with a no-fly zone and foreshore agreement to keep paparazzi at bay, the island has its own airport for guests to come and go 24/7, the only airport in Fiji with day and night landing facilities for private planes. 
Encompassing 12 square kilometres, its 25 villas are widely spread out and well concealed from neighbors dotting the property amidst palms, sugar white beaches, turquoise lagoons and lush green mountains.
The resort is 85 percent self-sustainable and prides itself on an integral philosophy, incorporating elements of the entire island into each guest's experience, from island-made spa products to cuisine derived from indigenous plants, fruit and aquatic life.
Speaking of cuisine, expect to eat well at Laucala. Laucala runs its own 250-acre produce and livestock farm complete with orchards of avocado and passion fruit, Fijian sheep, heirloom chickens and even a herd of Wagyu cattle.
Organically, the island grows 40 different vegetables including beets, taro, okra, and eggplant, 15 fruits from pineapple to guava to gooseberries, countless herbs, hydroponic lettuces and micro-greens, even coffee, tea, and sugarcane. To enjoy all this bounty, Laucala features five restaurants and bars overseen by top international chefs from Europe and Asia, offering a superb choice of Western, Asian and local cuisines. 
All-inclusive Laucala Island is perhaps best known for its kaleidoscope of sporting and cultural activities for guests of all ages. From an 18-hole 72-par championship golf course, tennis, hiking, biking, yoga, culture village experience, horseback riding to variety of motorised and non-motorised water sports and 14 boats to choose from including a submarine!
Chill out in the largest lagoon pool in the South Pacific ocean watch the world go by.
The Brando, French Polynesia
Originally owned by Marlon Brando himself, The Brando is an exceptionally glamorous resort on the private island of Tetiaroa, only accessible by a 20-minute flight from Papeete by private aircraft.
Marlon called Tetiaroa "beautiful beyond my capacity to describe".
The atoll is composed of a dozen small islands surrounded by a sparkling lagoon 30 miles northeast of Tahiti. 
The Brando sits on a natural reserve with extraordinary biodiversity as pristine as the day Marlon first set eyes on it. The property prides itself on its true, authentic connection to the local community and the Polynesian culture.  The Brando's on-site eco station even conducts studies such as ocean acidification and green sea turtle protection. The Polynesians call it 'mana', a spirit that is felt as a source of positive energy which The Brando embodies.
Thirty-five luxury one, two or three-bedroom thatched beachfront villas where the all-inclusive formula includes all meals, drinks, spas, excursions and activities.  All menus and food selection is supervised by 2 star Michelin Chef Guy Martin, chef/owner of the Grand Véfour in Paris who comes to The Brando to train the team every year. 
The "basic" champagne is Champagne Ruinart and, yes, you can have it for breakfast!
Executive Edge Travel is a globally renowned leader for booking luxury travel experiences/properties.
To book contact your Executive Edge Travel Designer on 03 9519 7777 or email leisure@executiveedge.com.au