Radisson on Flagstaff in Melbourne's CBD is a hotel with heart, discovers Scott Podmore, and one that is ideal for business travellers wanting a room that's central, close to the action and with a personal touch that sets it apart from others.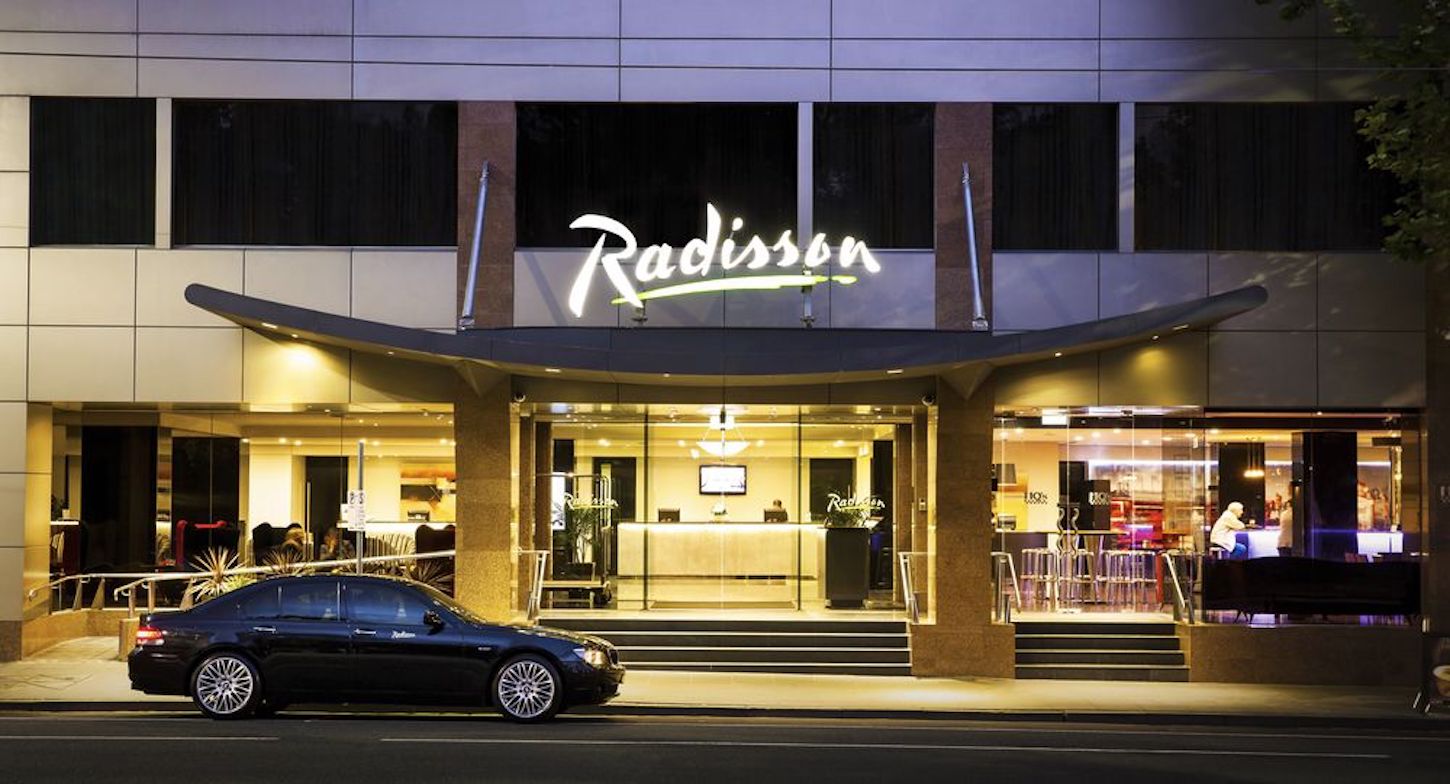 The lowdown on Radisson on Flagstaff Gardens Melbourne
Great location. Beautiful gardens opposite. Service by a team who really understand their product and love their hotel (I discovered most of the staff had been working here for at least 10 years, something that says a lot about the quality of people running the show and the conditions in which they go about their daily duties).
Radisson on Flagstaff Gardens Melbourne celebrated its 20th birthday last year and has been somewhat of a mainstay in the hotel world for longevity. As a 4.5 star centrally located hotel in the heart of Melbourne (William St), it's a winner for business travellers. Accessibility to all of the Central Business District is right out front where the CBD Free Tram Zone stop sits on its doorstep, otherwise business meetings from a selection of countless city venues are only short strolls away.
The hotel also recently reinvigorated its inner sanctum with the announcement of an experienced and award-winning new GM in Justin Phillips (formerly at the helm of Radisson Resort Fiji Denarau Island) and a new Executive Chef, David Pereira, to lead the kitchen at the award-winning HQ's on Willian Restaurant and Bar.
The hotel also has the bonus location of facing Melbourne's historic Flagstaff Gardens and is next to Queen Victoria Market. The hotel features 184 stylish guest rooms, meeting rooms and a rooftop gym and spa.
Radisson on Flagstaff Gardens Melbourne
380 William St, Melbourne, Victoria 3000
The room
The rooms at Radisson on Flagstaff are slick, fresh, light, bright and very comfortable – the ultimate place to plonk and relax after a day of business meetings or wandering the grid of Melbourne's CBD and attractions within.
I landed in an upper floor Deluxe Park View Room, which immediately ticked the boxes for wow factor with a comfy looking King Sealy Posturepedic bed front and centre, and some beautiful views of Flagstaff Gardens beyond the window.
The decor included light timber cabinetry that blends with charcoal flooring in light and bright rooms boasting double exposure/abstract Melbourne cityscapes and nightlife imagery. Extras included fluffy bathrobes, Espresso coffee machine and French press coffee machine. A standout is the bright bathroom, with its minimalist look and feel and sense of space.
The flat-screen LCD TV with movies on demand did the job, a pillow menu is available for those fussy and there's ample space with a work desk and chair as well as a small safe for valuables.
Hotel facilities
The Radisson gets it right on the facilities front with a beautiful foyer area and bar to lounge around, read a newspaper or catch up with clients or friends, while the award-winning onsite restaurant HQ's on William is a prominent drawcard for breakfast, lunch and dinner, but more about that later.
The rooftop gym is large enough for a quick workout to burn off the goodies you won't be able to resist at HQ's and a snug 24-hour business centre is equipped with copier, three guest computers, shredder and printer. Of course, free Wi-Fi is around the clock so you're always connected. If you are a business traveller staying mid week you best be aware of the complimentary shirt pressing (maximum of 2 per day) Monday to Thursday from 5.30pm to 8.30pm.
Meetings & Events
With competitive room rates, superb customer service and a great food hub onsite, Radisson on Flagstaff is super attractive minus any grandeur. For small groups it's absolutely ideal. You're all set for either a seminar, conference, cocktail party or wedding and it's located right on the fringe of Melbourne's CBD with beautiful Flagstaff Gardens on the doorstep for photo ops or outdoor activites. Out-of-town guests can easily access our hotel from the Flagstaff train station by bus or through the free tram system.
All up six meeting rooms make up almost 500 square metres of events space, audio visual equipment is available, and private dining and personalised menus can be provided.
Food
Unexpectedly for this reviewer, this little ripper of a restaurant called HQ's on William with Flagstaff Gardens directly outside the front window exceeded all expectations.
I was expecting something reasonable and stock standard for an in-house restaurant, but HQ's offers much more than that.
The food comes at a very reasonable price point for the quality dishes served up for breakfrast, lunch or dinner. The food packs its punch with a seasonally rotating menu and current highlights include a killer buffet breakfast offering, not overly large, but all the essentials including a very cool cooking station to get that fresh omelette whipped up in a flash. Notable are the house-made Bircher muesli and the free-range, cooked-to-order eggs. The full buffet is available for sit-down dining, and takeaway coffee is available for travellers on the go.
Main menu favourites include HQ's now signature and famous Malaysian Chicken Curry, Confit of Duck, and Steamed Mussels. HQ's has brought some star power into the kitchen with new executive chef David Pereira, who has travelled the world between London, Melbourne and Scotland since the early days of his career with stints at the great Gleneagles Scotland, Crown Conservatory and Le Meridien Melbourne, and Michelin star Cavaliers and Rowley's Restaurant in London. He's also has worked with some of Melbourne's best hotels and top chefs.
Be sure to head to HQ's for Happy Hour specials daily from 5pm to 7pm for some basic spirits, house wines, schooners and sparkling beverages.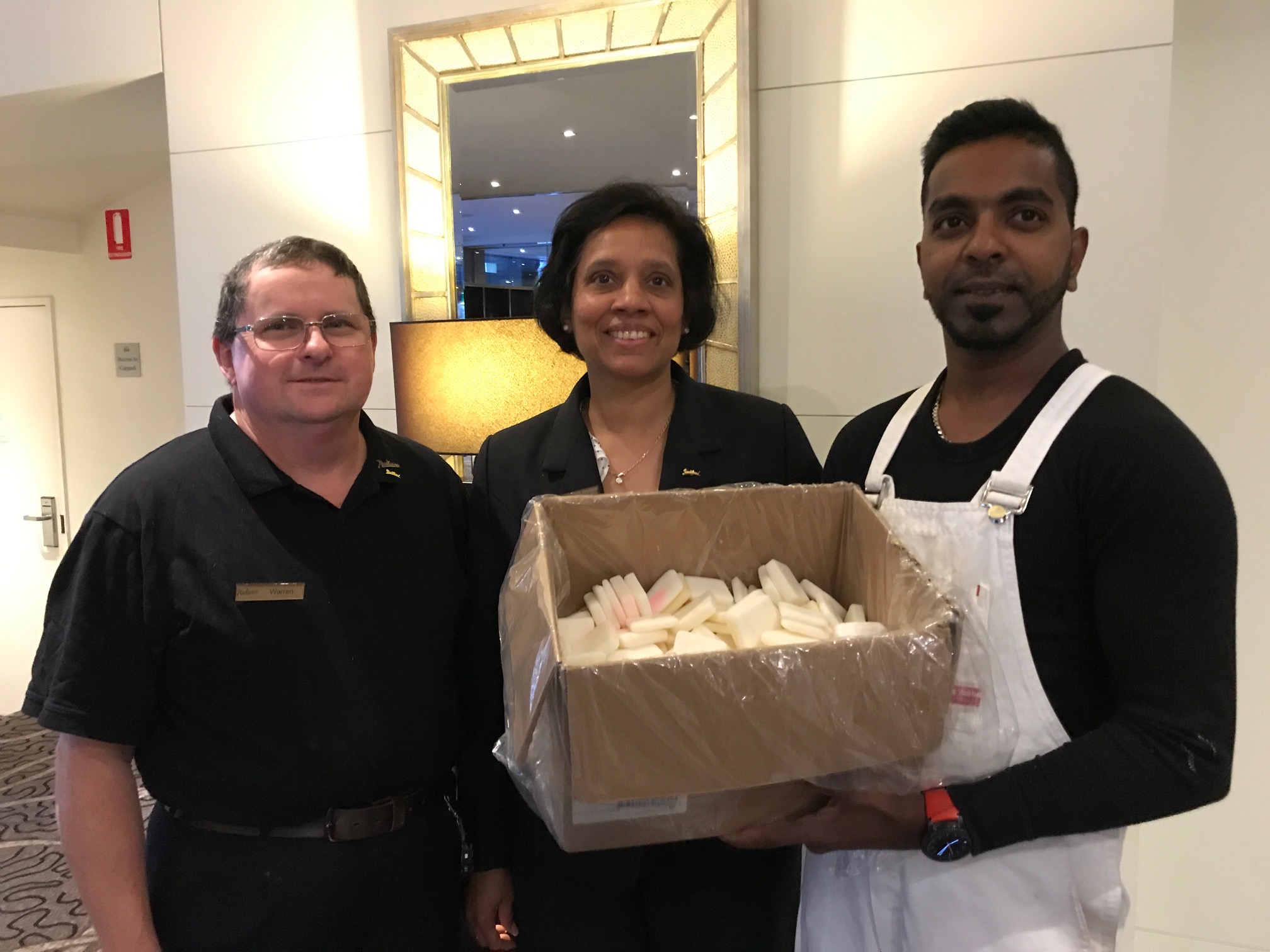 Point of difference
The Soap Aid factor. Radisson on Flagstaff Gardens Melbourne is a true champion of the cause and I was fortunate to talk to the hotel's veteran housekeeper Margaret who runs the team responsible for so far helping re-purpose an enormous 3000kg of discarded soap with more than 30,000 bars of soap going to Africa and India communities.
"It's a process the whole team of housekeepers is on board with, and it has become a daily routine to collect the soap and contribute to such a great cause," said Margaret, pictured above with some of her dedicated team.
So how did the concept come about? While travel creates many opportunities, travellers also contribute to wastage. Globally, travellers and hotels throw away an estimated five million bars of waste or unused soap every day. Large volumes of discarded soap end up in overflowing landfills and directly affect our precious environment.
Recognising this waste and in response to the growing and critical need for soap, Soap Aid developed its' Hotel to Hands' Program, of which Radisson on Flagstaff Gardens Melbourne plays a big role in.
Soap Aid is a not for profit organisation and charity with over 100 'Hotel Champions' registered to the 'Hotel to Hands Program' and 12 'Corporate Champions' committed to the shared vision of supporting lives and communities in need, simply by donating their used hotel soap. Collectively, they have diverted 100 tonnes of soap from landfill, 830,000 repurposed soap bars distributed globally and provided 260,000 children and adults with soap for hygiene and sanitation.
Getting around
A free tram service out front, buses, and trains are all available to get you from A to B around the city.
The airport is about a 25-minute drive away.
10 Words Or Less …
Great rooms, super location, fab food, ideal for business travellers.