Energetic and easy-on-the-eye Tyson Mayr, aka "The Naked Traveller", says travelling through South America flying LATAM has been a big tick off the bucket list. That's saying something for a man who has a full time job travelling the world. A former real estate agent and model, one day almost a decade ago he entered a competition for paid worldwide adventure and caught the attention of the powers that be at US travel company Jauntaroo. From that moment a star was born in the travel and social media landscape.
"It (South America) changed me as a person. You've got this huge land mass so rich in tradition and culture, amazing wildlife and landscapes. There are things you can climb, places you can swim, there's weird food you can try. It's a traveller's playground condensed into one spot." ~ Tyson Mayr (The Naked Traveller)
TDL: You have a pretty special kind of job, right? Tell us about the South America adventure?
Tyson: Yes, I know (laughing). I blog under the name The Naked Traveller, I'm a TV host and I've been to about 90 different countries now. I'm very lucky that I've been to some of the most remote places on earth and some of the busiest parts. I absolutely loved South America, it's my favourite part of the world for travel. It's the first part of the world I travelled to and where I decided 'this' is what I wanted to do full time.
It changed me as a person. You've got this huge land mass so rich in tradition and culture, amazing wildlife and landscapes.
There are things you can climb, places you can swim, there's weird food you can try. It's this travellers playground condensed into one spot.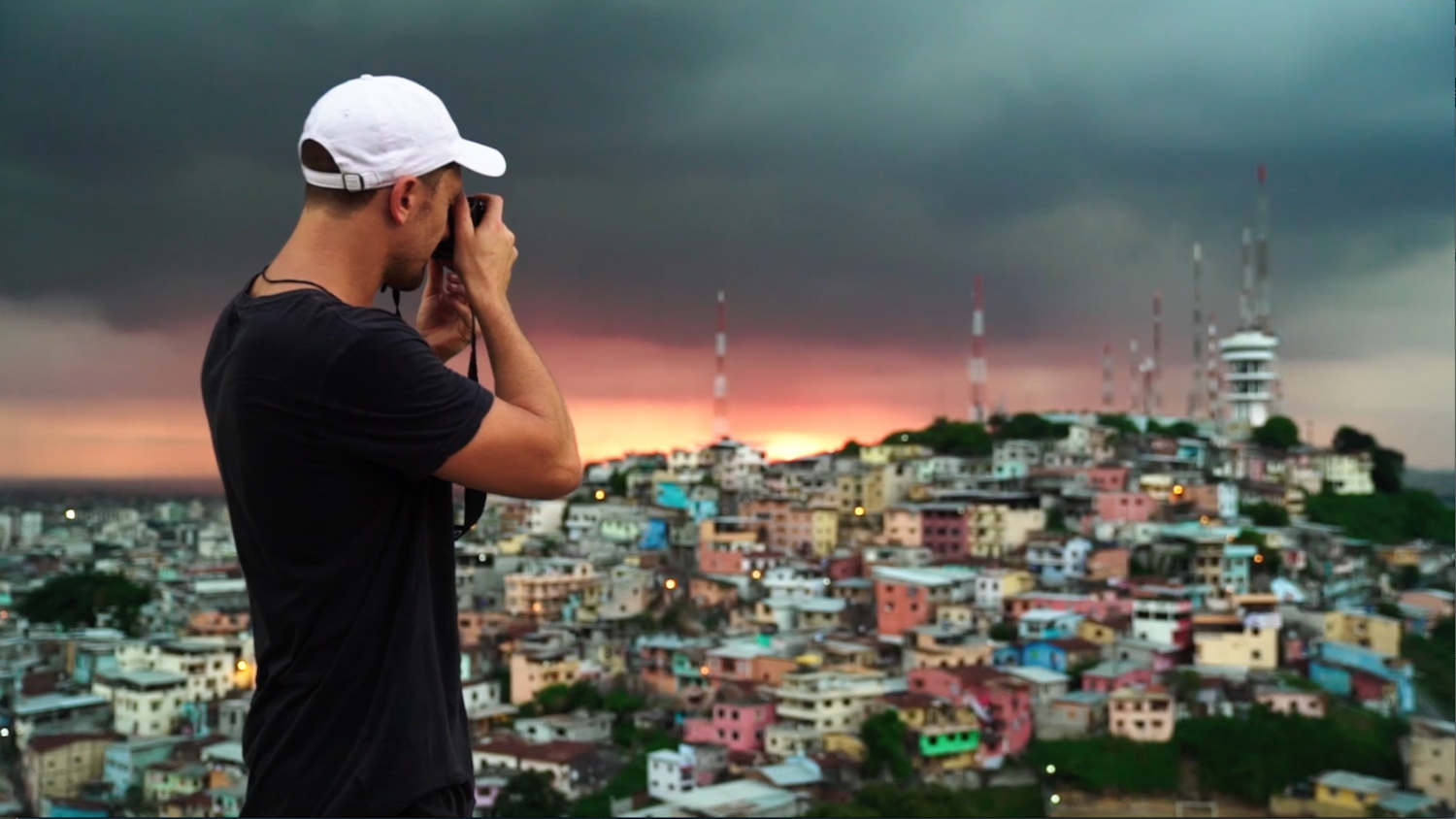 Do you have favourite country in South America?
Equador was one of my absolute favourite countries and a highlight. It packs so much into such a small country.
You've got volcanoes, you've got the closest point on planet earth to the sun and you've got the Galapagos Islands. You have one of the most pristine and bio diverse parts of the world, you have the Amazon jungle rich in so much wildlife, a capital city that is UNESCO heritage listed, like this city that is just beautiful to walk around. And then adventure all around the country. It's honestly just a traveller's dream.
The second reason is because the first time I visited Equador I was on a mission to see a little girl. I was on a project for Mending Kids International who provide medical supplies for children who just don't have access to hospitals. With RainCatcher, another non-profit I work very closely with, I had to deliver water filters to this little girl's community so she had access to clean water after her heart surgery. She was six years old.
Now this is back when I had no money, I had nothing but an action camera and $200, and I had to try and find this girl in the middle of the jungle. It was just the most incredible eye-opening experience.
I had so much local support along the way, everyone was so friendly, it was so safe and I saw all these sites I just wasn't expecting to see and then I reached this little girl. It was one of those moments where I just knew this was what I wanted to do forever. Not so much that particular experience, but live this life rich in experiences like that. I didn't want to be defined by one job title or do one job for the next 60 years. So Equador reminds me of where that all started.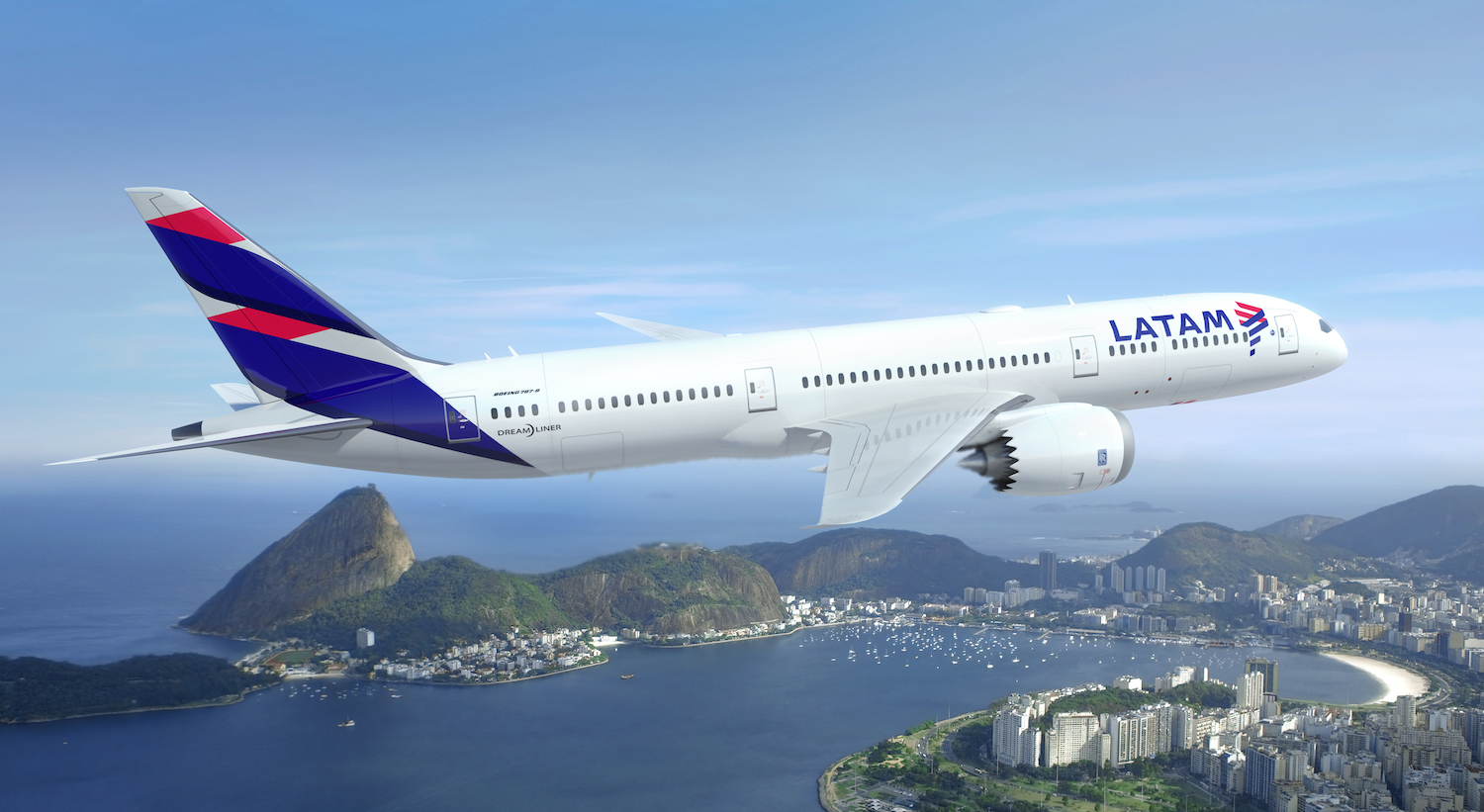 How did you enjoy flying LATAM Airlines?
What makes LATAM Airlines so special is that it actually has South America ingrained in the airline and flight experience. The second you get on board you're greeted with this "Ola", then you sit down with this food menu which is designed with South American cuisine.
You have a wine list designed by a sommelier and they have the best wines in all of South America to enjoy with your meal – they actually match your wine with your meal! So for me it's the perfect way to start your trip: you feel like you're already in South America before you even get there.
Probably the second point is their connections are so easy to get to and around South America. If you want to get there quick, LATAM is the way to do it. We flew from Sydney all the way to the Galapagos Islands. Galapagos is one of the most remote islands on the planet and not easy to get to.
So we did that with one airline and it's cool, too, because the moment you get there there's so much adventure in South America. You're in the Amazon jungle barefooted, you're on volcanoes with wild horses but you get to travel there in such luxury with friendly staff and a flight with LATAM just sets the tone for the entire trip.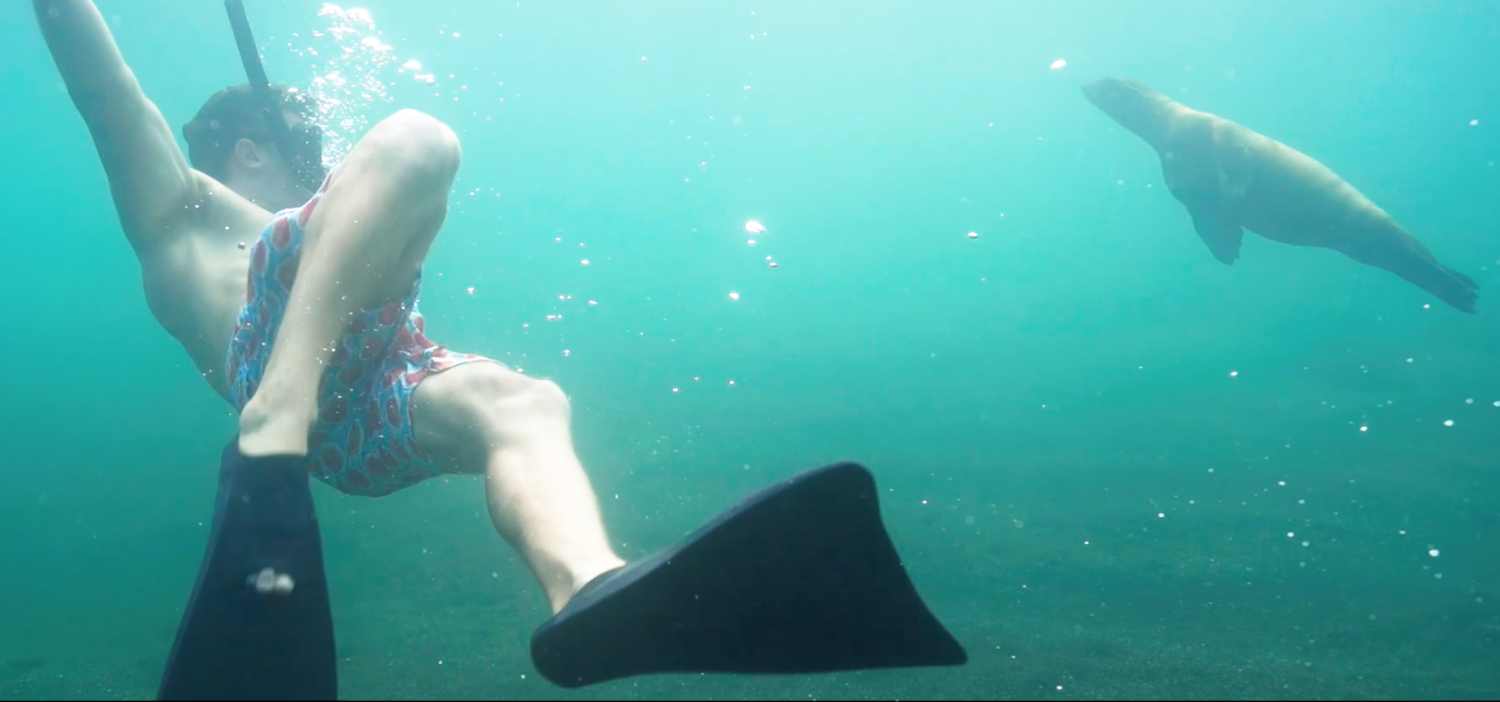 OK, give us your highlights?
No.1 is the Galapagos Islands, without doubt one of the highlights. It's one of the most removed, pristine and protected places on the planet. So bio diverse, you go snorkeling and you're surrounded by sea lions who come up and play with you, there are sharks off in the distance, and penguins swimming around you.
It just blows your mind how many animals are right there in front of you and around you. Marine iguanas feeding right there underneath you, turtles bobbing behind you. If you like wildlife and you're into science and Charles Darwin, this is the epicenter, the spot you need to go to.
No.2 is the Amazon jungle and we were very lucky to team up with a company called Adventure Journey, who are local guides who have been guiding basically forever.
So they took us deep, deep, deep into the Amazon jungle. We were there with semi-contact tribes, spotting things like pygmy marmoset, anacondas, monkeys everywhere you looked and we got to put a cool little twist on it when we got to paddleboard down the river in the middle of the Amazon.
No.3 would have to be Cotopaxi volcano. We weren't even meant to go there, we did a little detour in there and out of nowhere the clouds open up and this volcano emerges and then at the base of it wild horses start frolicking around.
That was just one of those moments where we stopped, cameras down and just enjoyed it. It was one of those "is this real life?" moments. Then we decided to camp there, and it was such an amazing memory… I'm smiling just thinking about when we saw the horses turn up right in front of us.
It was incredible. That's the thing about South America, you never know what's going to happen.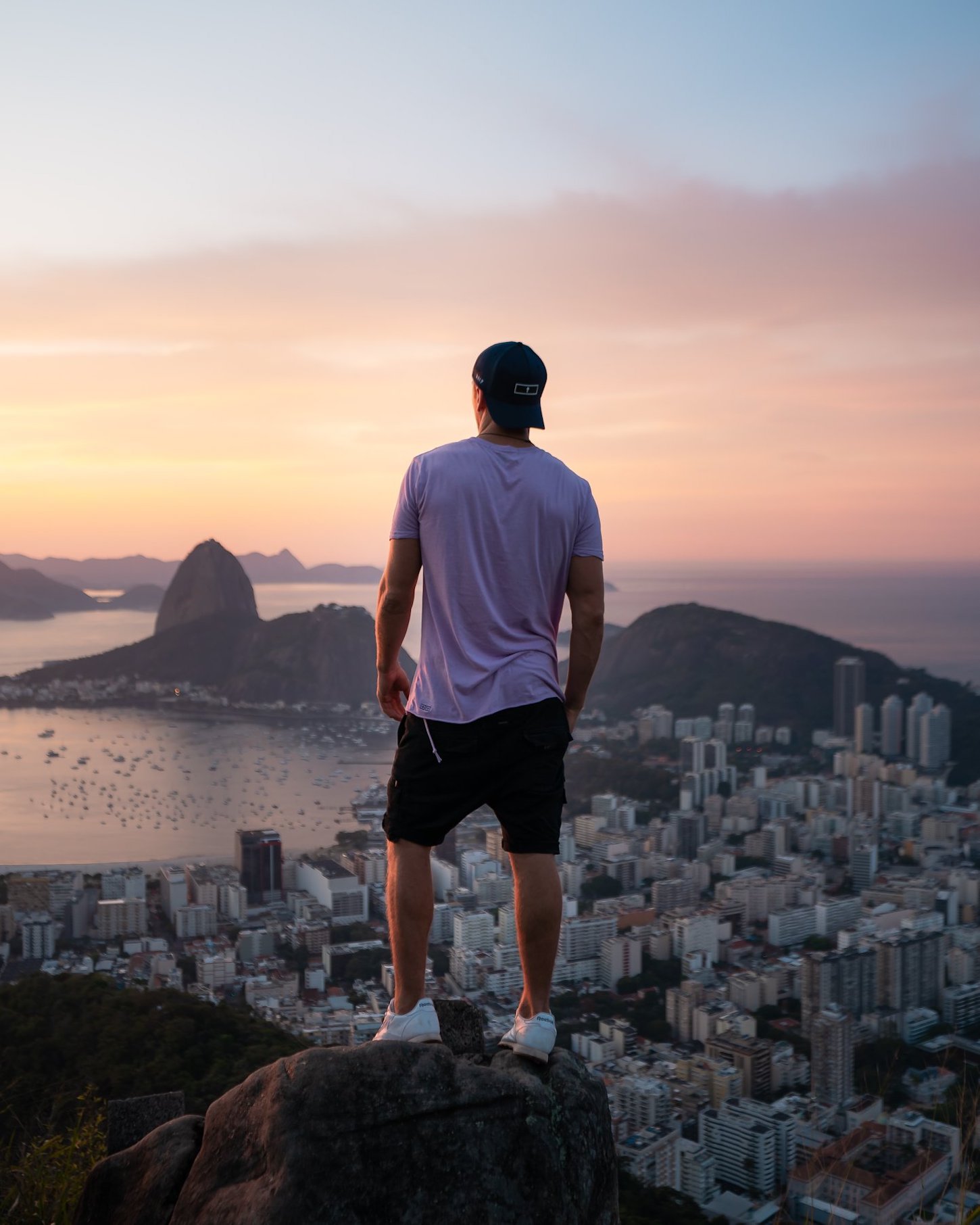 "I think South America is one of those places that truly has preserved its cultural heritage. It's something the locals are proud of even if they're not Indigenous themselves. They're proud of how their country started."
Biggest tip for travel in South America?
Learn a little bit of Spanish. It's not a necessity but it makes it more fun. It's so good when you can go up and introduce yourself in the local language. Have a little basic conversation or even do sign language, too, it's such a universal language. You get so good at asking for a beer or whatever you need. And if you do learn a little bit of the language, the locals really appreciate it and you get to have some fun with it.
What's on your bucket list?
I am very lucky in that I'm about to do a series with National Geographic, where I am doing the world's biggest bucket list moments – I get to do Antarctica, trekking with gorillas, Nepal, Iceland… at the same time it has this responsible travel element to it, so I'm very excited about that, and because I'm producing it I'm basically choosing the experiences and destinations I really want to do.
What was it about the people and the culture that really stood out for you in South America?
I think South America is one of those places that truly has preserved its cultural heritage. It's something the locals are proud of even if they're not Indigenous themselves. They're proud of how their country started. And what makes it so unique is the second you cross that border or go to a different region, it changes.
We might look at South America as this one big collective, but there are so many differences between each country. As you travel around in between it, yeah, you see amazing things but you're learning about local cultures, local customs, the food they eat, the ceremonies that they do. It's fascinating and the people are so friendly wherever you go.
CHECK OUT OUR CELEBRITY TRAVELLER INTERVIEW WITH SINGER-SONGWRITER PETE MURRAY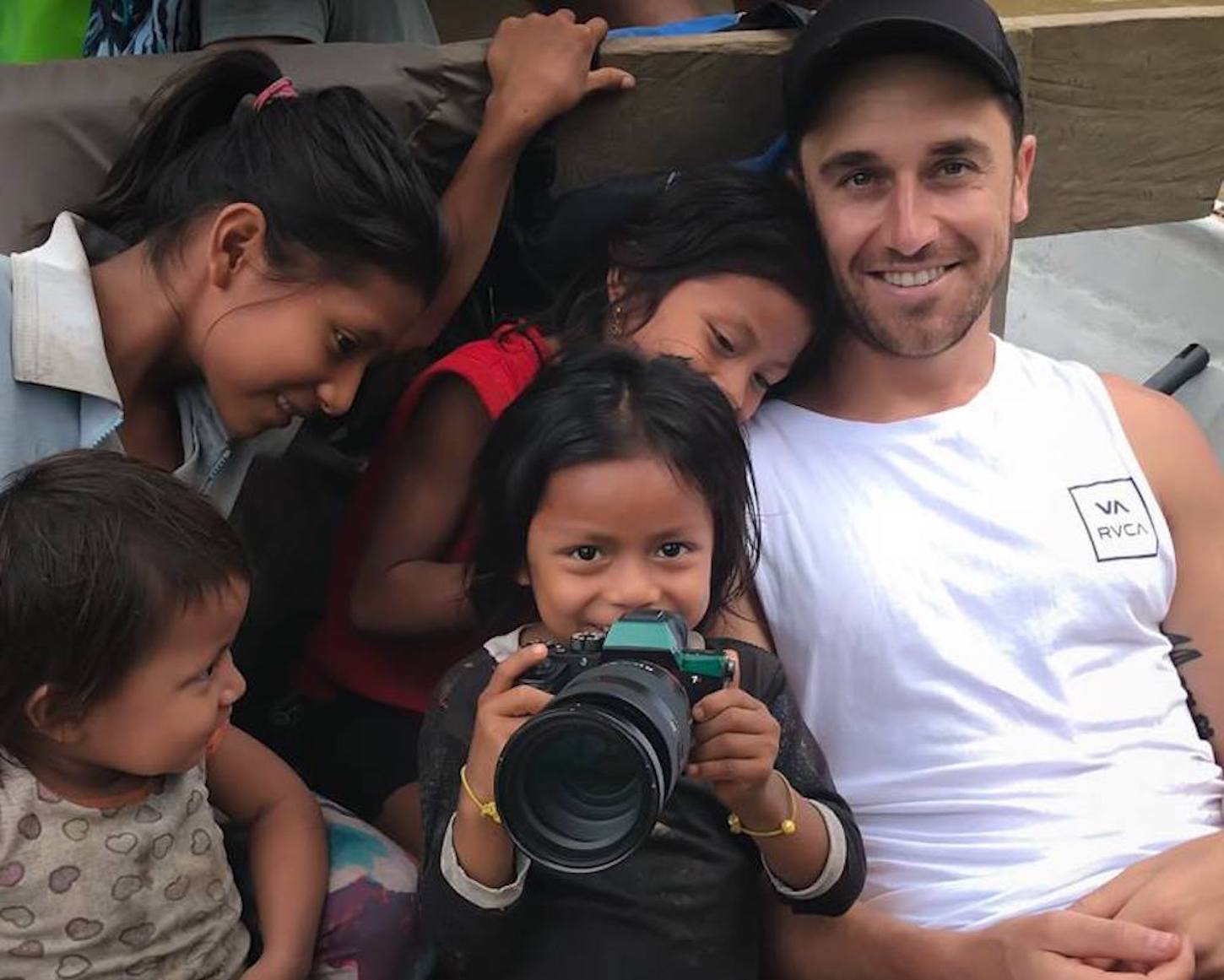 Give us your 5 must-do South American activities?
Everyone knows the typical tourist things you must do like Iguazu Falls, Rio de Janeiro, Machu Picchu, the salt flats (Sala de Uyuni), the Galapagos, the Amazon jungle… but I'm going to share just one thing which is possibly the most moving thing I've ever done.
There's a non-profit that operates close to Cusco in Peru that takes you to a Quechuan community. This is 5000 metres above the Andes, there is no road to get there. You have to trek for a day and a half from the closest point where the cars drop you off and then you get there and you're at this altitude where you can barely breathe. You're living in these tiny little rock houses where they have fires burning 24-7 inside the rock house with locals who have lived there for centuries, still living exactly the same way. Absolutely fascinating. That, for me, again was one of those collective moments that continued to change me as a person and see the world just a little bit differently.
Any outstanding and memorable food experiences?
Always. I think my first one was in Peru when I tried Cuy (pronounced coo-ee). For those who don't know, Cuy is a wild guinea pig and it's considered a delicacy in South America. Me, personally, I found it was just too much work for a little bit of meat. Tasty, but you have to really work to get in there. But my most recent food experience was in the Amazon jungle where they have these tiny little bugs that look like Witchetty grubs.
You cook them up, you have to bite their head off because you can't eat the head and then swallow this rubbery, gooey texture that tastes…. horrible. Not a fun experience, but you have to do it. It's one of those things where people have been doing it for centuries and it's a delicacy there, so why not do it. Get out of your comfort zone. That's when you truly learn things about yourself and the rest of the world.
Any final words for our readers?
Get out and see the world. If you have any questions leave a comment below, find me on social media @tysontravel. Get out and see the world, explore it, step out of your comfort zone. It's such a big world and we can go out and do all these amazing things. I'll see you guys in either Chile or Brazil (smiling). Chow.
LATAM Airlines flies direct from Australia to South America. For all types of inspirational travel packages to South America flying LATAM Airlines click through the link below to Executive Edge Travel, the leaders in luxury travel holidays.

Find out more about The Naked Traveller, Tyson Mayr, at @tysontravel on Instagram, Twitter and Facebook, and TYSONTravel on Youtube.
Executive Edge Travel is a globally renowned leader for booking luxury travel experiences/properties.
To book contact your Executive Edge Travel Designer on 03 9519 7777 or email leisure@executiveedge.com.au