From hot new hotel openings and seaside bliss to authentic cultural experiences and immersive exploration, luxury travellers today are seeking more than just 5 star accommodation.  Kimberly Rosbe serves up a taste of the 8 best for your 2019 travels.
'Travel My Way' Uganda
Executive Edge Co-Founder and Head of Leisure Yvonne Verstandig and co-host Suzy Zail, internationally published, award-winning author, have curated a once in a lifetime 'Travel My Way' tour to Uganda affecting real change for Ugandan girls. Let Yvonne's 'Travel My Way' tour take you on a powerful, 10 night transformational journey November 2-12, 2019 to discover the real Uganda. Meet with female leaders of change, participate in round-table discussions, visit classrooms and girls' empowerment clubs. Whether you're searching for wild cats on safari or gorillas in the jungle, visiting remote tribal villages, meeting a Ssenga, building a mud-hut for a disadvantaged family or being trained by a village elder to weave a basket, each experience will place you beside community members who will deepen your experience through the sharing of stories and hands on participation. Discover the Africa that lives amid the heady smells of street vendors, in bustling city markets and remote jungle villages. Watch a witchdoctor at work, create art with a local painter. Dance, drum and wander the markets. Learn, grow and be inspired.
More than 50% of the Ugandan population comprises of people below the age of 14. It's the youngest country in the world having the maximum number of youth, with the average age of the people going up till 50-60 years.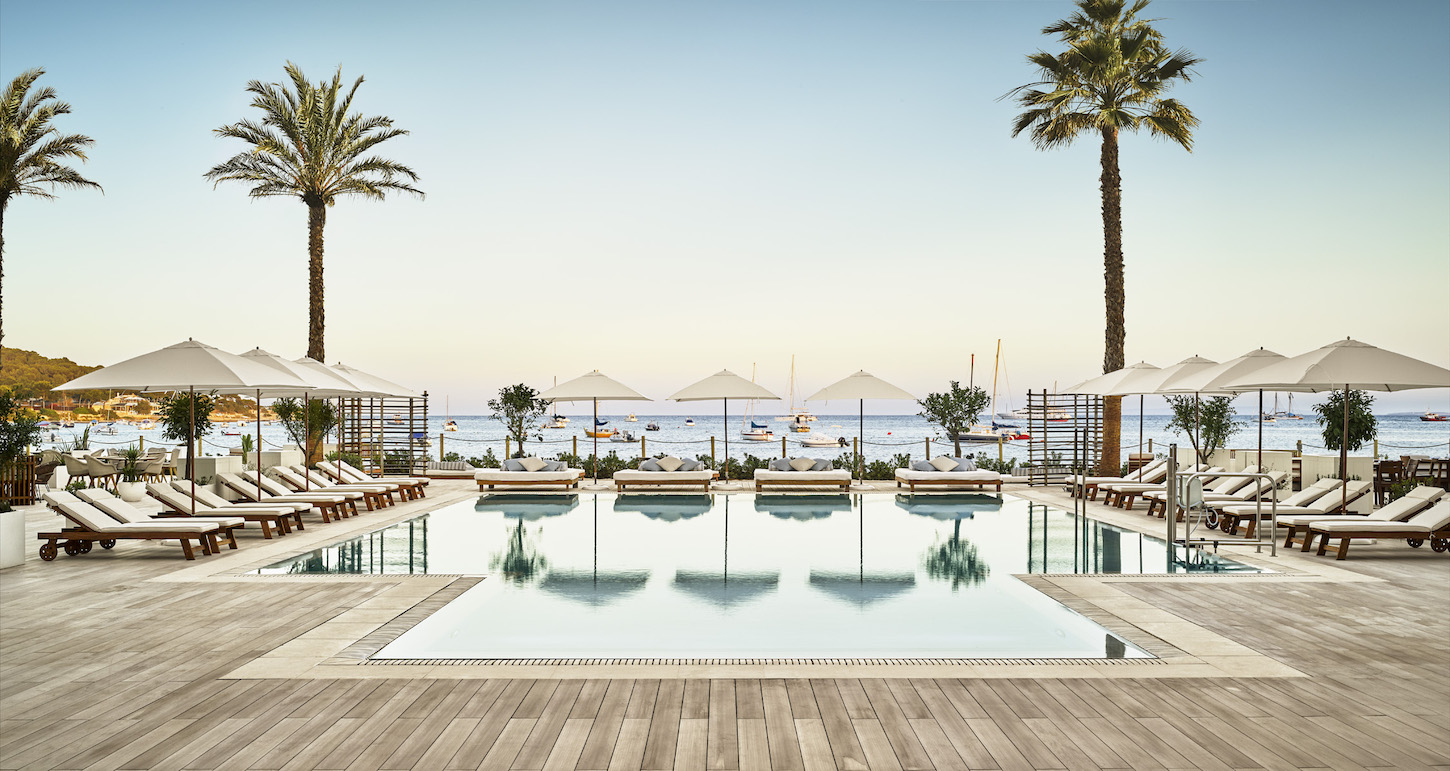 Nobu Hotel Ibiza Bay, Spain
Nobu's sizzling new Ibiza Bay Hotel brings boutique signature service to Talamanca Bay. Bragging rights to the hottest culinary reservation in town, this laid-back refuge takes a more breezy approach to the intense club scene. Featuring hot tubs, hammocks and softer Balearic beats, Nobu Hotel Ibiza Bay caters to a more sophisticated crowd who wish to avoid the all-night reveling. With an on call mixologist to make drinks in rooms, enjoy two beachfront saltwater swimming pools, a spa operated by Six Senses, a yacht, Kid's Club and blow-dry salon. Select from three restaurants – a classic outpost of Nobu Matsuhia's eponymous Japanese restaurant, Mediterranean fare at Chambao or healthy gluten free at Celicioso. Light and airy bedrooms designed in true Balearic style – mother of pearl features, aqua and white tones, wicker chairs and hammocks. Take a tailor-made excursion to the historic villages and pine-covered hills of the island's interior. And, certainly, make time for Ibiza Town, where traditional tapas bars line the streets of the Old Town and exclusive boutiques fringe the promenades of Marina Botafoch.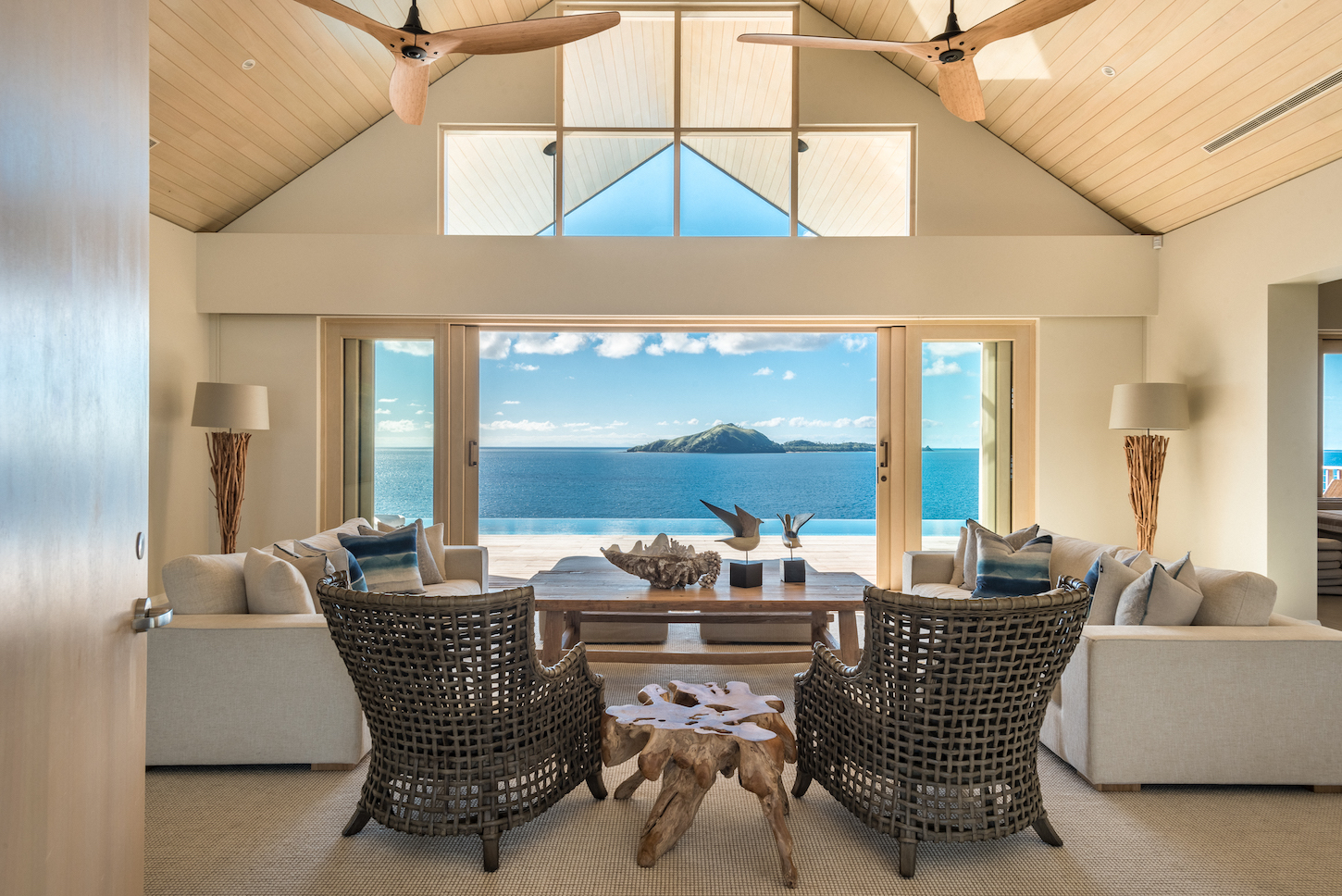 Kokomo Private Island, Fiji
Fly by seaplane or a 20 minute chopper ride from Nadi and land on a whole new level of private island exclusivity.  A retreat for families and a haven for honeymooners, Kokomo Private Island blends Fijian nuances with modern aesthetic in tropical paradise personified. Each opulent Beachfront Villa or Luxury Residence boasts striking views of the island with the utmost privacy, each with infinity pools and surrounded by gardens. Encircled by the famous Great Astrolabe Reef (the planet's fourth largest reef), Kokomo Private Island showcases world-class diving and snorkeling. Kayak or sail around the island with dolphins jumping by your side, explore underwater caves, trek to a secret waterfall or unwind at Yaukuve Spa Sanctuary with the healing powers of holistic therapists. Embracing a dock to dish approach, Kokomo sets a new standard for Fijian cuisine where island grown locally sourced produce is transformed into gourmet dining to be enjoyed beachfront, poolside or in-villa from sunrise to sunset at your beck and call.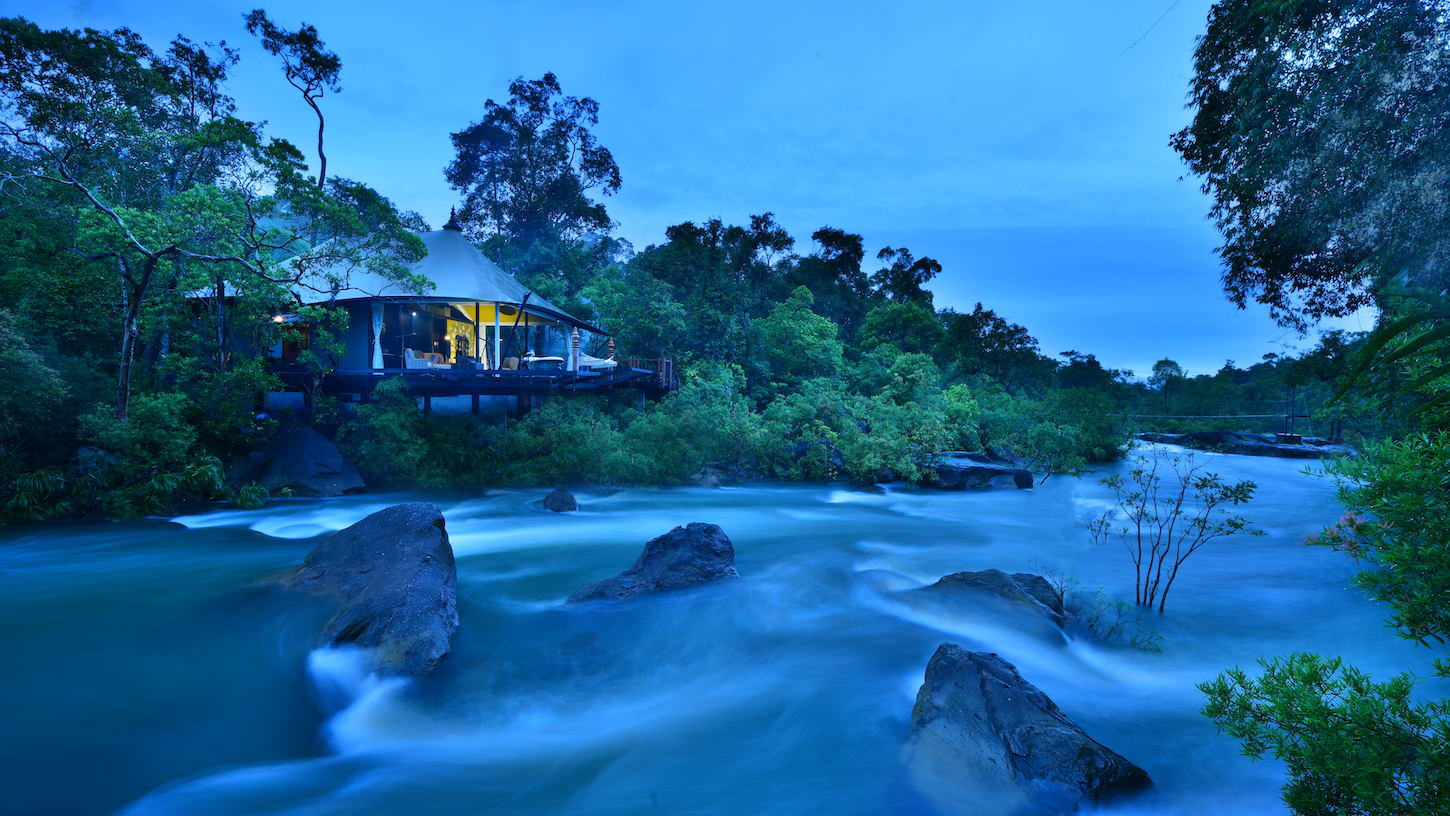 Shinta Mani Wild, Cambodia
Hidden deep in the wilderness of Cambodia's South Cardamom National Park, daring world-renowned resort designer and owner of Shinta Mani Wild, Bill Bensley, has created a radical new concept for a luxury camp experience which touts hospitality coupled with conservation and preservation. Intent to protect 350 hectares of river valley from poaching, mining and logging, Shinta Mani Wild partnered with the Wildlife Alliance, The Royal University of Phnom Penh and the Cambodian Government to devise a new conservation model driven by high-end tourism. Channeling the ultimate luxury jungle safari, currently 5 decked out 100 square metre tents perch above swiftly moving waters while another 10 are in the making.  Zipline 380 metres over waterfalls and jungle to enter the property, then embark upon adventures exploring the wild ecosystem aboard luxury expedition boats. Dine on local delicacies like mud crabs at Waterfall Restaurant and make your way to Boulder Spa, whose chemical-free treatments feature reviving Khmer tonics made from medicinal plants foraged from the rainforest and bottled onsite.
'explora' Atacama, Chile
Founded upon the premise of a new attitude towards travel in remote regions of South America's Southern tip, explora Atacama, located 8,200 feet above sea level between the Pacific Ocean and the Cordillera de los Andes, is an immense area of land and mystery.  The Atacama culture champions its agricultural and textile history, expressed in archeological monuments, cemeteries, churches and villages where its traditions still live in religious festivities, crafts and the local folklore. Cordilleras, volcanoes, saltpetreses and hot springs add intrigue to the environment.  Accompanied by seasoned guides, set out into the surreal beauty on 40 some explorations via foot, horseback or bicycle. After all your adventures, chill nearby at Termas de Puritama, an exclusive hot-spring pool, then dine at the restaurant featuring local ingredients like quinoa and chañar. explora properties are all-inclusive so every meal, beverage and activity is included.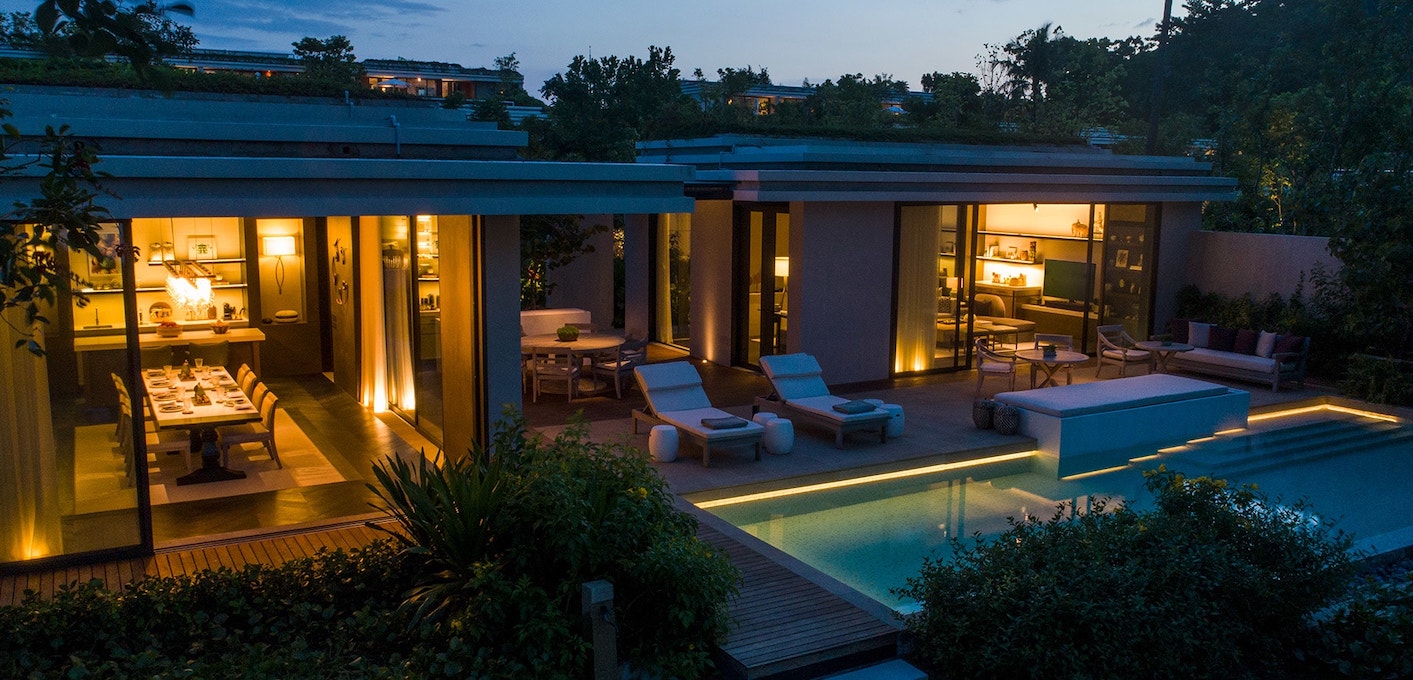 Rosewood Phuket, Thailand
Hidden away amid mountainous headland, Rosewood Phuket commands one of the last remaining secluded beaches in Phuket along 43.5 acres of verdant crystalline beachfront forest.  Be immersed in tranquility in your tropical cocoon, while the winding coastal road still provides convenient access to authentic experiences of the island's cultural attractions and historic Old Town. Submerge yourself in underwater explorations of the dramatic marine environments of the Andaman Sea. Innovative architecture combines with subtle Thai influences which blend naturally into the lush landscape. Rosewood Phuket's accommodations envelope guests in the soothing ambiance of a beachside retreat with floor-to-ceiling windows opening onto individual terraces, verdant garden sanctuaries, a private infinity pool and chilled outdoor seating. Expect Rosewood Phuket's holistic wellness concept to reenergize your mind, body and soul.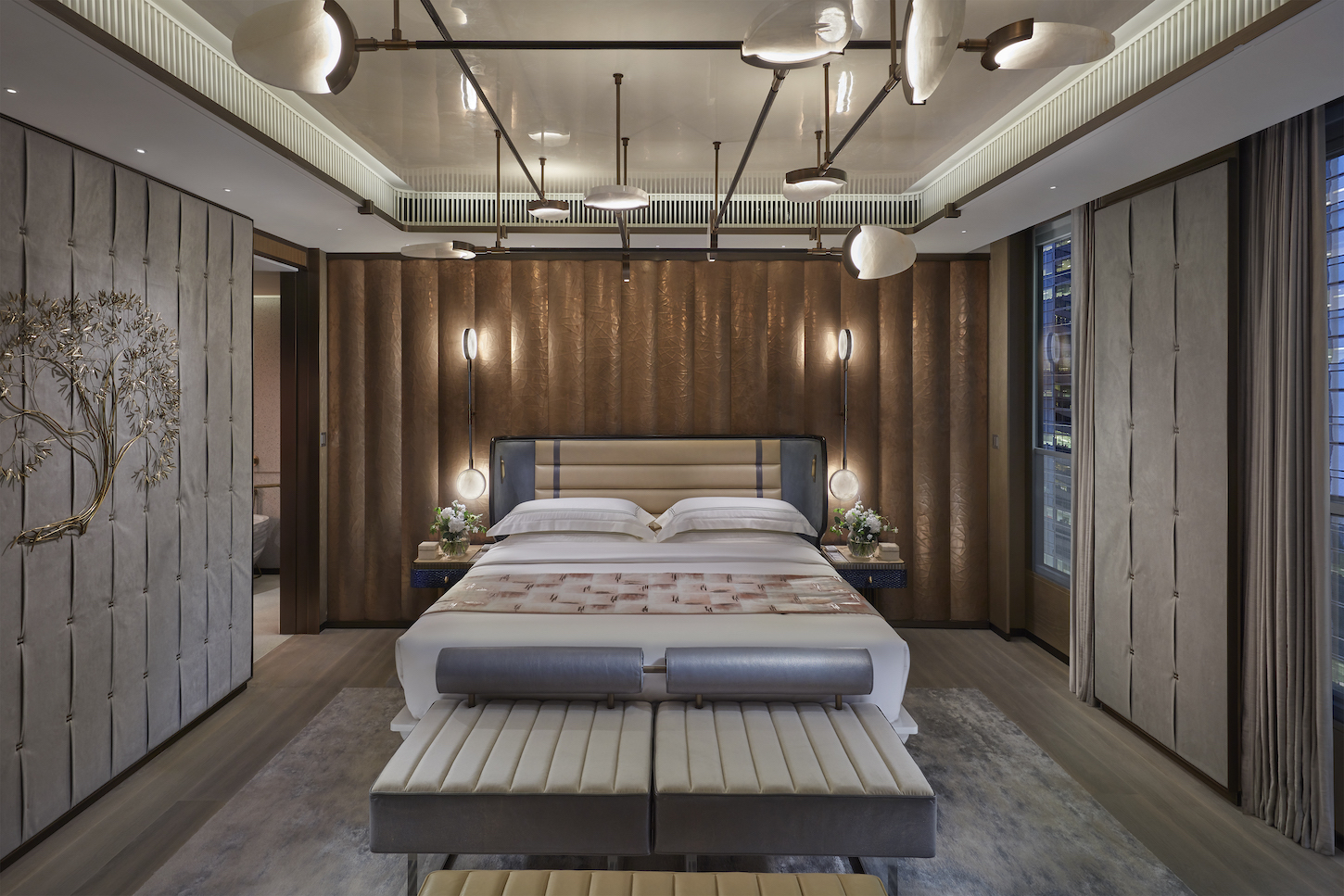 The Landmark Oriental, Hong Kong
Channeling James Bond in a 007 movie, covertly ascend the staircase to the mezzanine level of The Landmark Mandarin Oriental Hong Kong's MO Bar, enter a faux phone booth and wait for a call. Startled by a ring, a secret door opens into one of the world's latest hot spots. Shhh… please don't tell. Yes, that's right. The name is PDT, short for 'please don't tell', a new cocktail bar concept at the hotel in collaboration with the legendary New York speakeasy PDT as a throwback to the years of Prohibition. As the first and only international outpost of PDT outside New York, PDT Hong Kong pays homage to its Manhattan roots with the notable signature style of PDT NYC including playful spins on the taxidermy, herringbone pattern wood on the ceiling, leather booths and the copper topped bar, all designed by Nelson Chow. The Landmark Mandarin Oriental, Hong Kong, has also recently had a full room and suite refurbishment by interior designer Joyce Wang. Given creative freedom to rethink the modern hotel experience, the talented Wang envisioned all 111 rooms and suites with a cosy yet sophisticated residential ambience with all the aspirational technical bells and whistles.
Read our article on The Landmark Mandarin Oriental, Hong Kong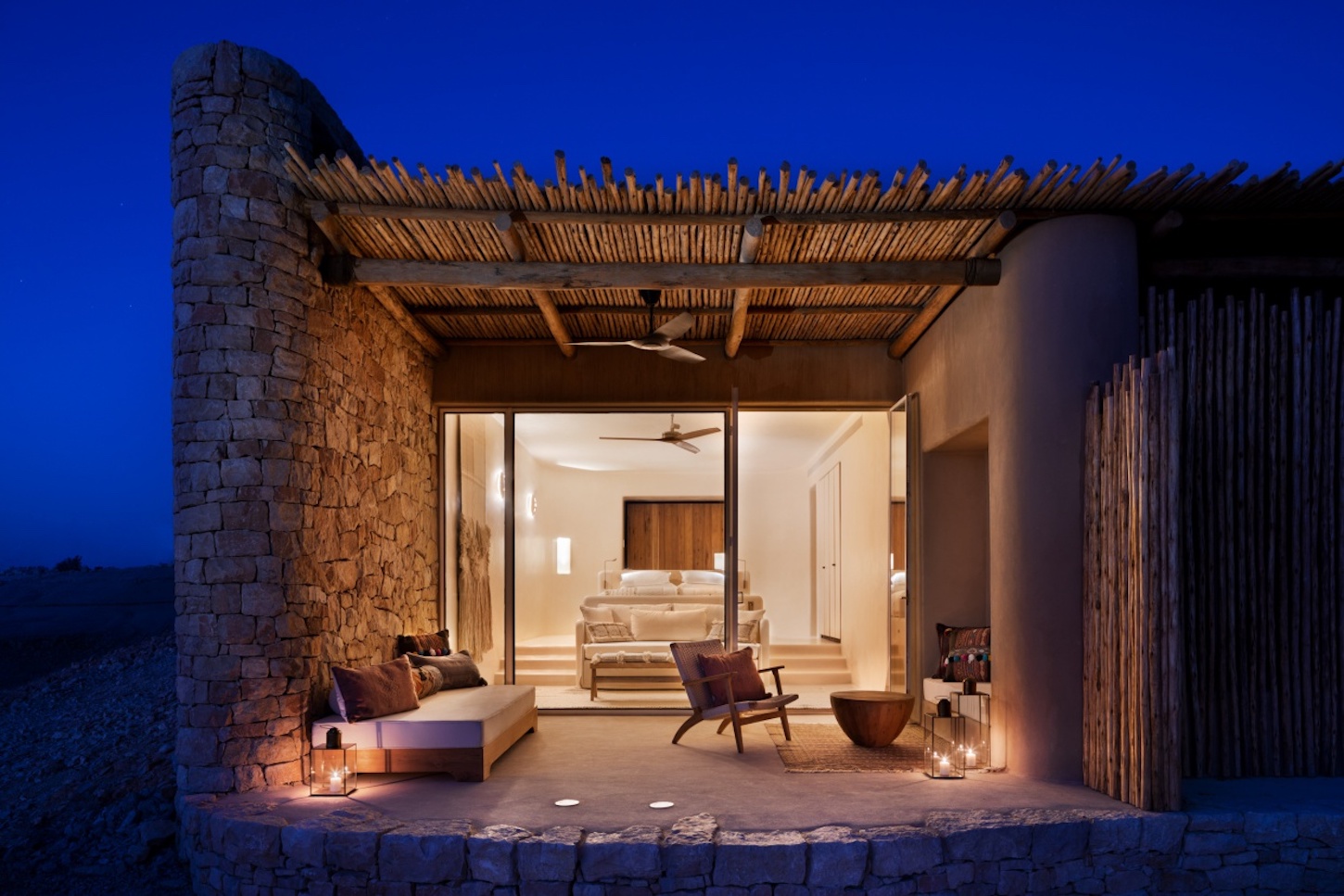 Six Senses Shaharut
Enchanting and biblically proportioned, the Negev Desert is the epitome of desert landscapes. It is on this boundless horizon, often described as the nexus of heaven and earth, that the new Six Senses Shaharut will call home. Nestled into a dramatic cliff  where sunsets meld into orange dunes, this inspired location named  'Shaharut ' translates as 'the moment just before dawn.' Opening in a matter of months, Six Senses Shaharut will feature 58 suites and villas integrated into the otherworldly terrain. Villas are built from and inspired by local rock and pigments with landscaping featuring cacti and indigenous desert blooms. The extraordinary Six Senses Spa includes single and double treatment rooms, steams, saunas and hammams. Engage in overnight camel camping to extreme sports, hiking, jeep safaris and wine tours in this supernatural desert setting.
Executive Edge Travel is a globally renowned leader for booking luxury travel experiences/properties.
To book contact your Executive Edge Travel Designer on 03 9519 7777 or email leisure@executiveedge.com.au