Flying Etihad Airways in a rear-facing Business Class seat was a little awkward to begin with but Sharon Ho settles into an enjoyable journey from Abu Dhabi to Melbourne with an airline providing a gateway to the Middle East and Europe.
Bird in the Sky
Etihad Boeing 787-9 Dreamliner, 28 Business Class seats and 271 Economy Class seats.
Where to?
Abu Dhabi to Melbourne, 13 hours and 20 minutes.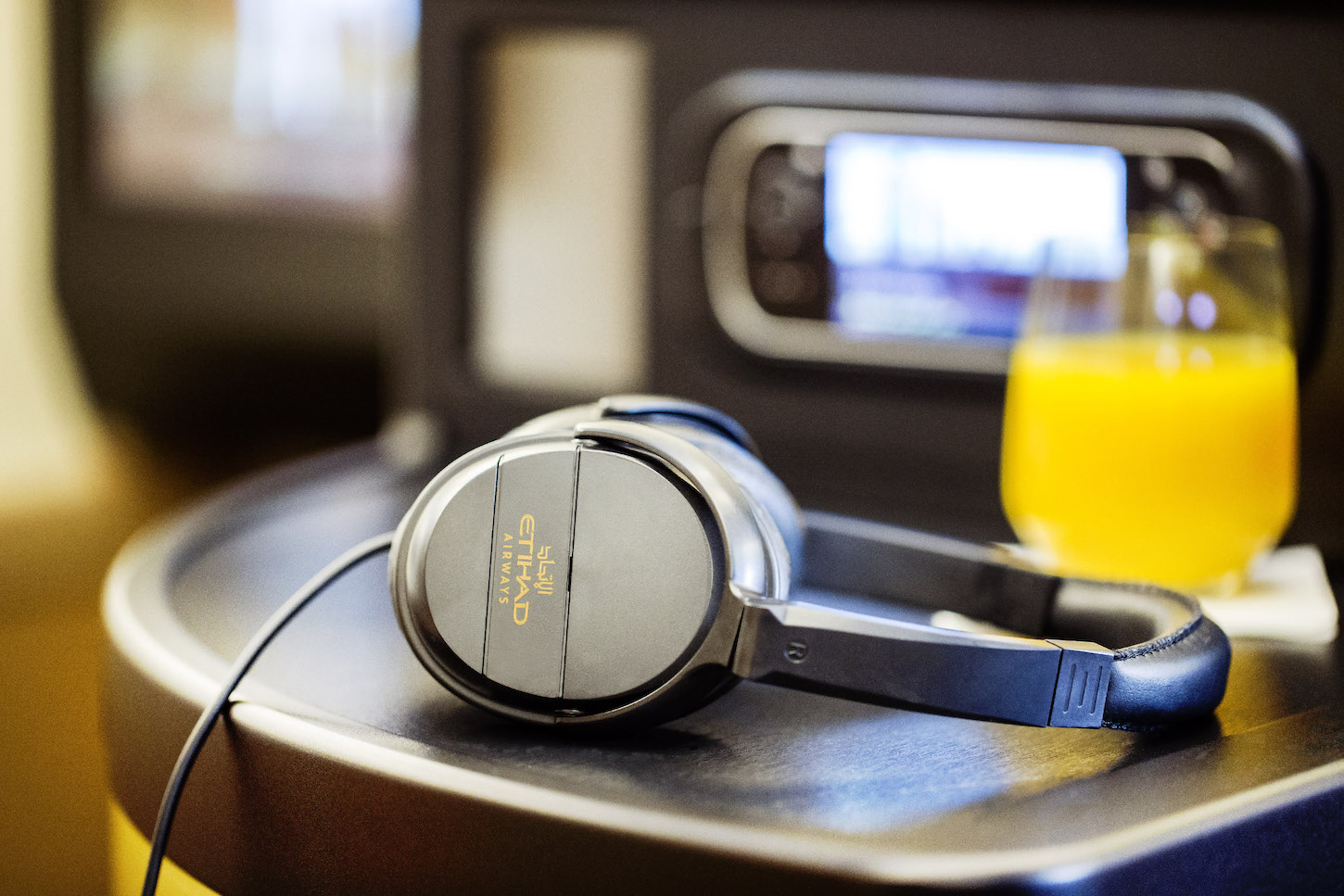 Class
My Etihad Business Class flight to Melbourne was on the return leg from Abu Dhabi after a short "bleisure" trip. Travelling on my own, I enjoyed my allocated window seat that was tucked into the corner which provides a bit more privacy. The rear-facing position seat felt a little awkward initially, but it didn't take long to settle into a comfortable private space. A little apprehensive of the takeoff and landing, plus the idea of motion sickness running through my mind, but fortunately, not for a second did I feel like I was going to be sick.
And it didn't matter which way you face once in the sky. As it was a Friday evening flight, I decided to wind down for the week and wasn't going to require my laptop for work purposes. So soon after boarding the plane, I looked for the overhead compartments to store my hand carry (plus some last-minute shopping at the airport) and there was plenty of overhead storage space.
More importantly for an overnight flight, the concealed storage compartment to the right of my seat was appreciated, which was great for placing some of my personal items for easy reach during the night. I could fit my thermal flask (I always like to travel with my own bottle especially since I have a preference for warm water to cold, so I didn't have to keep calling the attendants), my personal amenity and make-up kit and phone.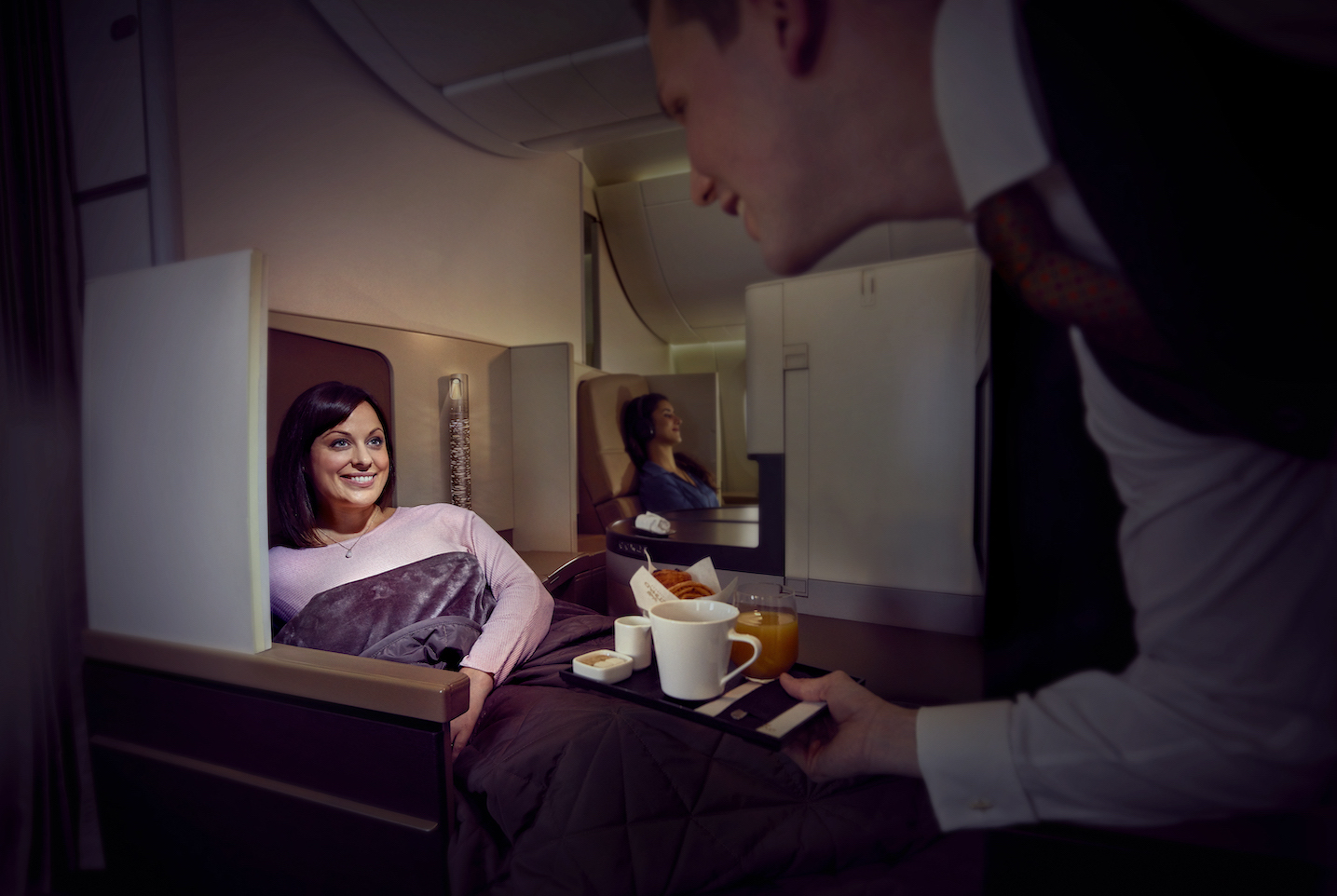 The seat
The seat itself was very comfortable. Its automatic lumbar support when seated upright is especially good for passengers like me who have back issues. For a night flight, being able to convert the seat to a fully flat bed of 6ft and 8 inches provided me with an exceptional 9 hours rest. The fleece quilt and decent sized pillow further accentuated the comfort. It was also nice that there was an open space underneath the ottoman; big enough to store shoes or a laptop if needed.
The Business Studios offer direct aisle access, a fully-flat bed and an increase of 20 per cent in personal space. Upholstered in fine Poltrona Frau Leather, the Business Studio is equipped with an in-seat massage and pneumatic cushion control system which enables guests to adjust the firmness and comfort of their seat.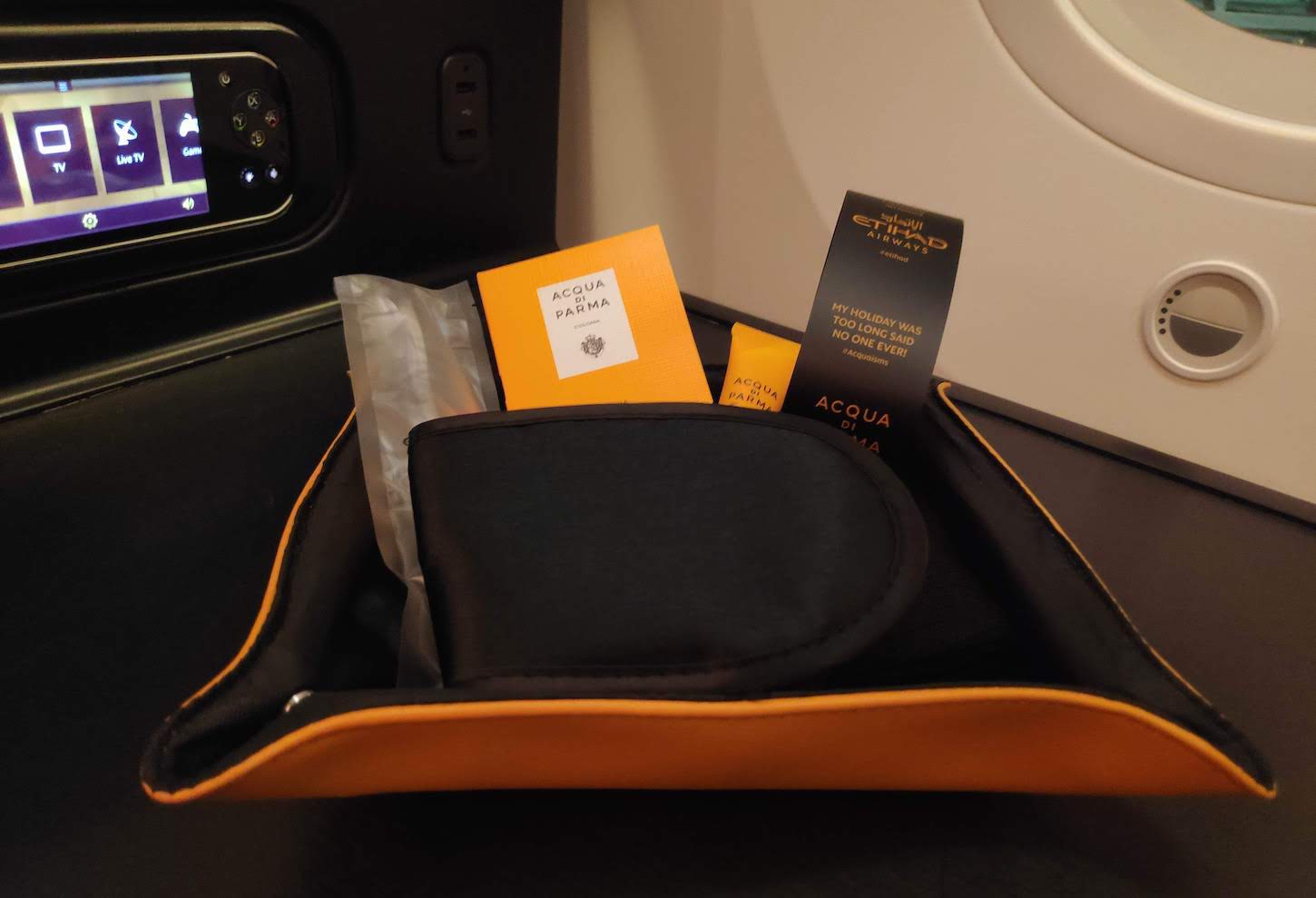 I liked the design of the pouch which can be buttoned to create a stylish and useful valet tray, allowing me to store items like my glasses and watch just before retiring for the night.  The kit contains the Italian fragrance brand Acqua di Parma colonia sampler and hand cream.
Amenities
I liked the design of the pouch which can be buttoned to create a stylish and useful valet tray, allowing me to store items like my glasses and watch just before retiring for the night.  The kit contains the Italian fragrance brand Acqua di Parma colonia sampler and hand cream. Personally, I would have preferred basics like lip balm, hydrating mist and eye cream to keep my skin moisture during the flight. Also, in a pretty competitive business class market, it is a pity the airline decided to make way with the pyjamas as that would help elevate their product.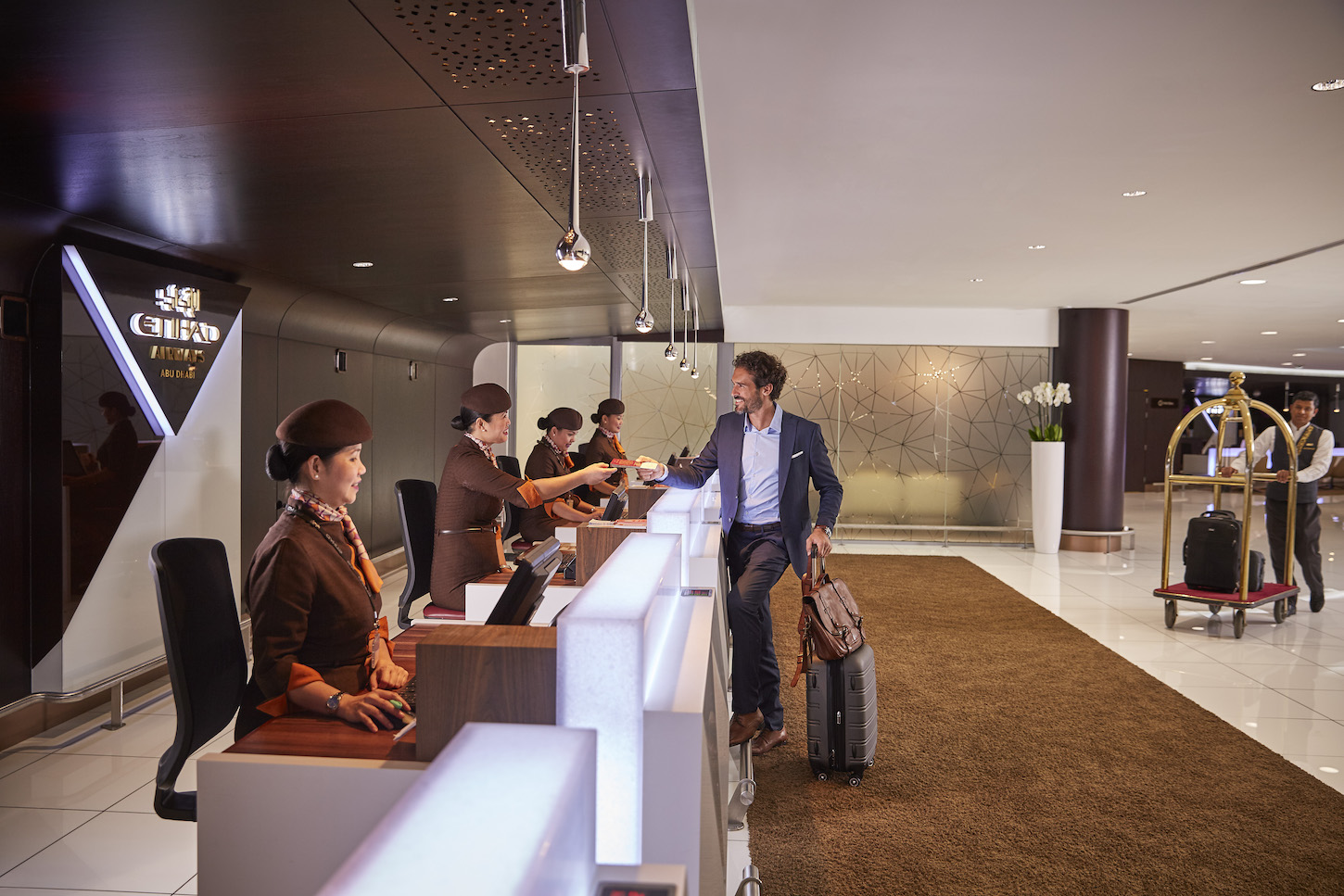 Baggage
A generous 40kg for checked luggage, two carry-on cabin bags with a maximum combined weight of 12kg. One personal item with a maximum weight of 5kg. For example, a handbag, a laptop bag or Duty Free purchase.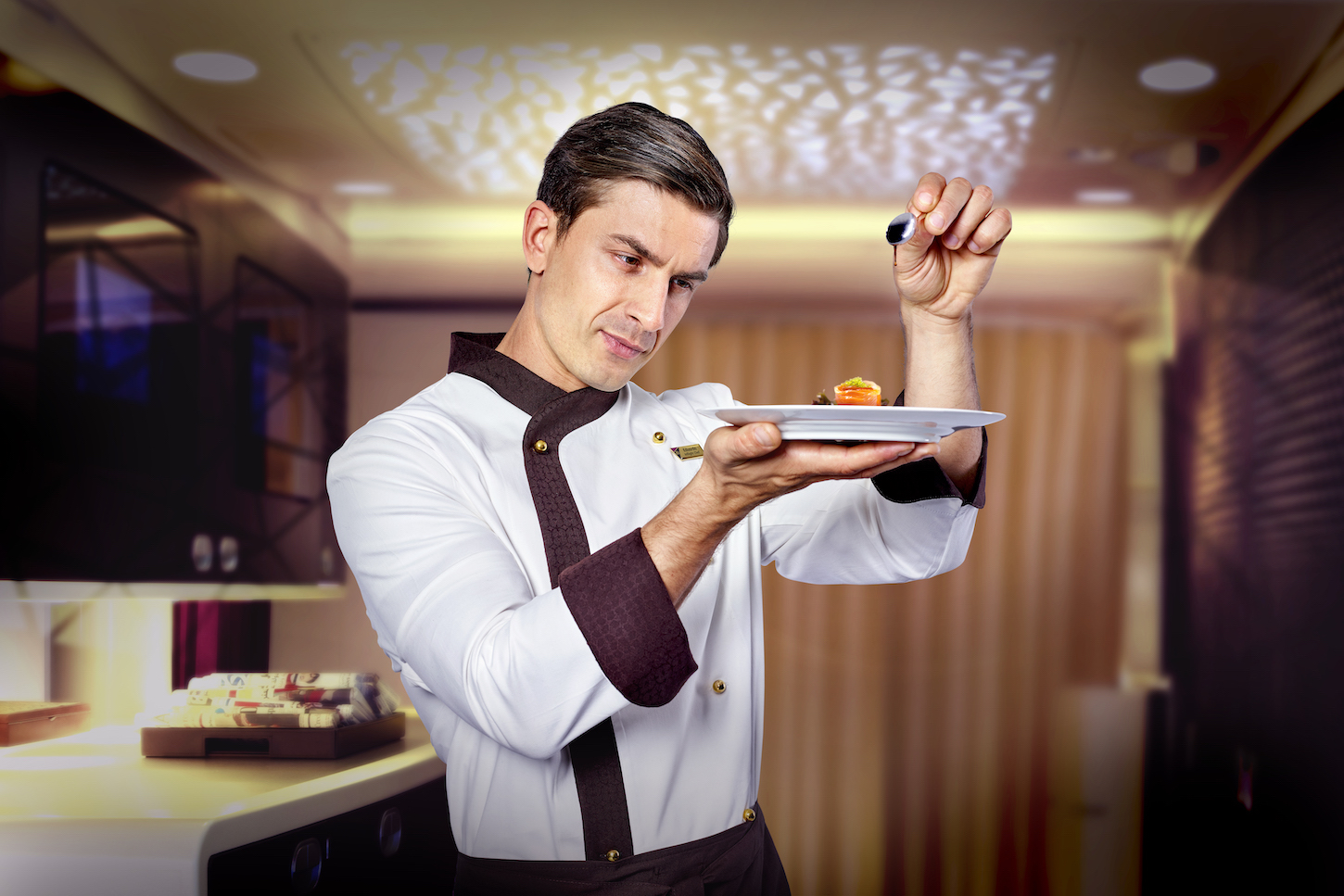 Food Facts
Upon boarding the crew promptly offered me a glass of sparkling, but as not being much of a drinker I opted for a simple refreshing juice. By the time we were in the skies, it was late. Feeling peckish but not wanting a full meal, the a la carte option allowed me to 'choose well'. I chose a starter instead of main: the Thai coconut basil soup with rice noodle was light and tasty, and a perfect supper. To finish off the evening I had cheese, crackers and fruits with a cup of Jasmine Green tea.
After a wonderful night's sleep and ready to order breakfast, I requested a morning shot of skinny latte which came promptly. Later, cereal was served followed by an asparagus and brie omelette with potato and spinach rosti, beef sausage, mushrooms and tomato. The crew informed me there would be a time space of half an hour between the two serves and that fitted me well. Service wise, the crew were top notch, food presentation was beautiful but the thing that really stood out was the flexibility of being served at any time.
Entertainment
No complaints with the entertainment offering. The full touch screen was the right size of 15.4 inches and noise cancelling headphones were comfortable. There were sufficient new movies and TV shows to keep one entertained. For Business Class, I would have thought Wi-Fi was complimentary but it wasn't. However, I didn't feel the need to stay online given it was a night flight. Also, call me old school, but given we are online so much nowadays, it's enjoyable to be offline for a short period of time, as long as loved ones or work knows where I am at that point of time. It's a chance to switch off, sit back and really enjoy some mindfulness and me time.
Service
Service generally was okay. After boarding, the crew came by promptly to offer a drink as I settled in. Both alcoholic and non-alcoholic options were good. Noticeably (just from observation compared with other airlines)  the crew did not greet me by salutation and surname. It is a small gesture, but seasoned travellers will notice these sorts of little touches, especially if they have travelled with another tier one commercial carrier. Other than that, the crew worked around my preferences. For example, a request for breakfast an hour after my coffee was accommodated.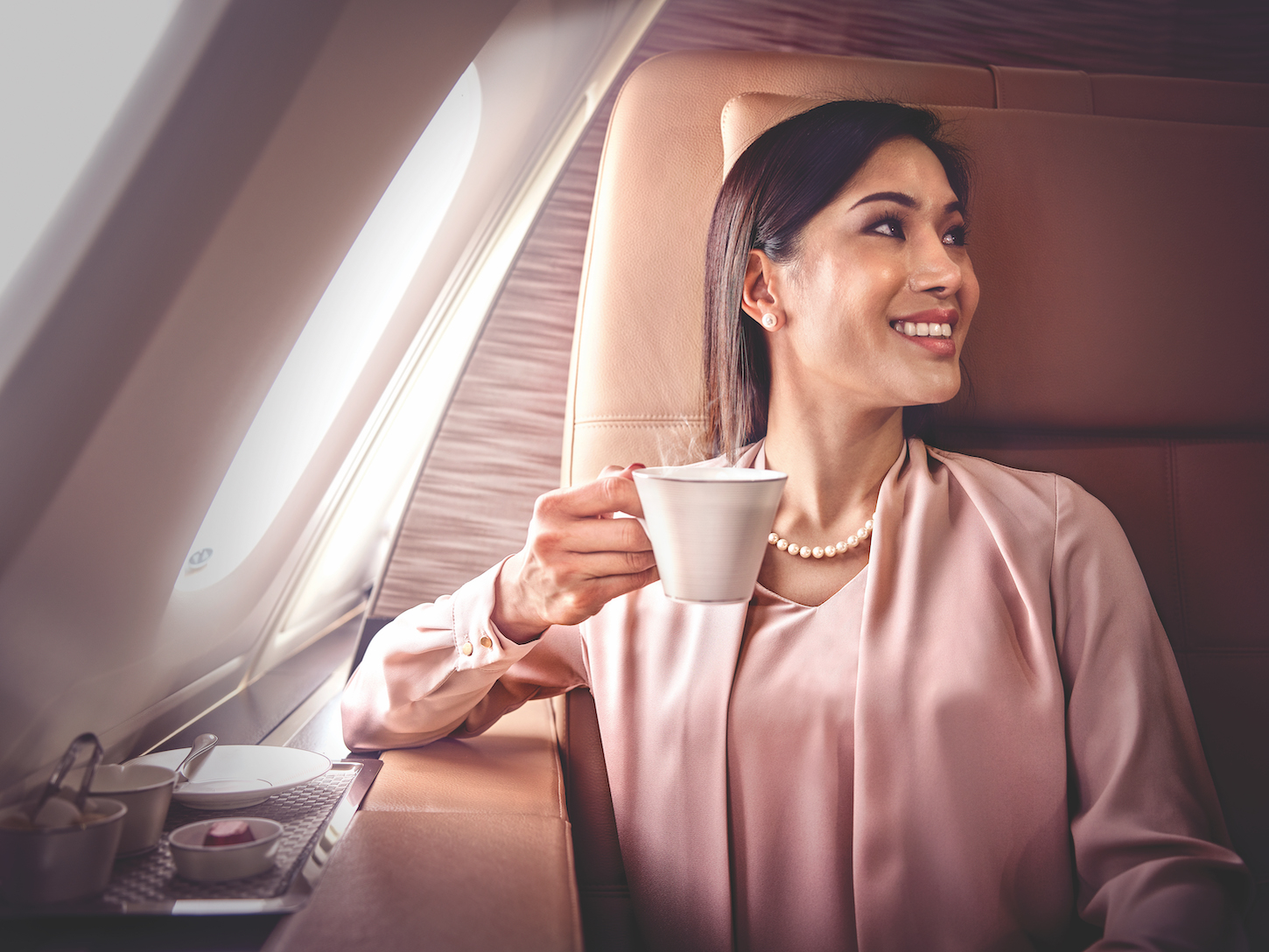 Point of Difference

Because the journey was so smooth, there was no jet-lag. Also for those who are Velocity members, you can accrue points flying with Etihad Airways because of their partnership with Virgin, so long haul fights are definitely perfect for gaining those valued points to keep up with the status.
How Often
Two daily flights from Melb to Abu Dhabi and same from Abu Dhabi and back. Both are afternoon and evening flights.